Warm Up This Fall With Some Coco: "Conan" to Air on TBS
Late Night Favorite, Conan O'Brien, Returns to Television Starting Nov. 8
Published: November 3, 2010
Few would have guessed when Conan O'Brien first debuted as host of NBC's venerable "Tonight Show" that he would be readying himself for a new television gig just over a year later. "I'll be honest with you," O'Brien said on his final "Tonight Show" broadcast, "Walking away from the Tonight Show is the hardest thing I have ever had to do." Yet after surviving a messy dispute with NBC and striking a surprising deal for a new talk show on cable, the redheaded comedian has a lot to be excited about. His new self-titled show "Conan" makes its debut this month on TBS.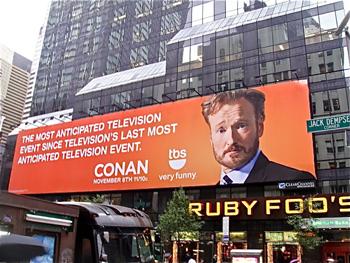 The late night wars earlier this year were nearly impossible to avoid. After Jay Leno's experimental 10 p.m. talk show, "The Jay Leno Show," failed to connect with audiences and ratings of O'Brien's "Tonight Show" suffered, NBC executives invited Jay Leno back to his original 11:30 p.m. timeslot. But when they asked O'Brien to begin his show at midnight for the first time in the history of "Tonight," he politely refused, inciting a passionate divide between fans of the two entertainers.
Though short-lived, O'Brien's "Tonight Show" reign signaled a changing of the guard as hipper, younger and sillier comedy dominated the late night airwaves. The massive outpouring of support for O'Brien outside the NBC offices and on the Internet in the wake of his decision to leave the network cemented his favorable reputation with the younger generation of television viewers.
Even while he was temporarily banned from being on TV due to a contractual agreement with NBC, "Team Coco," as his supporters became known, flocked to O'Brien's "Legally Prohibited from Being Funny on Television Tour." The vaudevillian series of 42 concerts across 33 towns featured familiar faces from O'Brien's "Tonight" stint, a bevy of celebrities and musical performances. The talk-show host donned a sequined Elvis-style suit and played comedic versions of songs like Gloria Gaynor's "I Will Survive" and Radiohead's "Creep" on his guitar. And in a strange twist, he also performed two dates at New York's Radio City Music Hall, inside the home of NBC, Rockefeller Center. Ultimately the popular tour provided the funnyman with an outlet to entertain and prepare for his next endeavor on television.
In April, O'Brien announced plans for a new nighttime talk show on TBS, shocking news for many who assumed he would sign with Fox, the last of the major networks without a talk show. Instead, "Conan" will be the second talk show on TBS ever, scheduled to air immediately before comedian George Lopez's "Lopez Tonight."
O'Brien remains confident in his unorthodox decision. In an interview with Steve Kroft on CBS's "60 Minutes," O'Brien said, "I do not look down my nose at cable.  And I think anyone who does isn't paying attention to television these days.  This world is changing very quickly."
Yet while O'Brien is looking toward the future of the television medium, the specific direction of "Conan" seems less certain. Though it was clear to the host and crew of O'Brien's "Tonight Show" that they had to tone down the absurdity of recurring bits to fit the respected franchise, nothing has been premeditated at TBS. In an episode of comedian Marc Maron's "WTF" podcast in July, Andy Richter, O'Brien's sidekick who will return for "Conan," admitted, "There's not a lot of, 'Uh, now we strategize.' We just don't talk about that."
The familiar faces from "Late Night" and "Tonight" will still be there alongside O'Brien and Richter. O'Brien's longtime band will be on "Conan," though they'll now be jokingly dubbed "The Basic Cable Band."
One noticeable exception is bandleader Max Weinberg who chose not to come to TBS. Despite persistent Internet rumors that O'Brien and Weinberg had a falling out, Weinberg and the "Conan" team insist that he left on good terms. An official statement from the "Conan" staff explained Weinberg decided not to join the show after undergoing invasive open-heart surgery.
"My association with Conan, his staff and crew has been a deeply rewarding experience for me," Weinberg wrote in a press release about the split. "I wish Conan and his show the best and I do look forward to dropping by." In his self-deprecating style, Conan added, "I hope he can find time to stop by the new show, sit in with the band and pretend to find my monologue funny." O'Brien's guitarist, Jimmy Vivino, will pick up the bandleader duties and James Wormworth, former Weinberg fill-in, will now sit at the drums full-time.
Despite minor changes, "Conan," which will remain in Los Angeles where the cast and crew originally moved for "Tonight," already retains a familiar feel. TBS' incessant advertising for the show features lively, spastic jazz tunes, the kind favored by O'Brien's band, and visual references to the work of classic comedians like "Monty Python," appealing to O'Brien, a well-known history and comedy buff.
Internet promotions for the show have continued the juvenile, spontaneous comedy O'Brien is known for. The show's website, teamcoco.com, recently hosted a 24-hour live camera feed where interns and staff dressed up like dancing tacos, held an aerobics session in 80s workout attire and bear suits and hung out with infamous reality show star Dog the Bounty Hunter.
On Oct. 21, O'Brien's first guests were announced on the website and include Seth Rogen and the host's close friend, rocker Jack White. Little else is known about what will happen on Conan's initial TBS broadcast just days away, and nobody, even O'Brien himself, seems to know where the comedian's life will take him next. But you can bet "Team Coco" will be tuning in to find out.