Poets Bring Love for New York to Fordham
First Poets Out Loud Reading Event of the Semester Draws Large Crowd
Published: September 22, 2010
When students hear the word "poetry," some recall the morbid lines of Sylvia Plath recited in 10th grade English classes while others let the aroma of cappuccino, visions of black berets and the sound of snapping fingers bombard their senses. At Fordham's Poets Out Loud (POL) reading series the faculty poets in charge seek to alter students' preconceived notions and encourage them to write poetry both while attending college and in their later lives.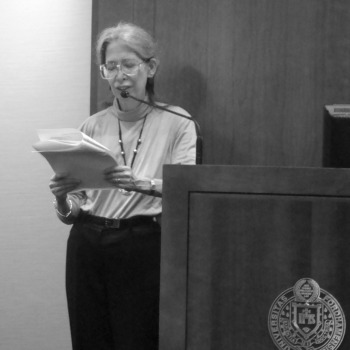 On Sept. 13, shortly after 7 p.m., approximately 100 people gathered in the 12th Floor Lounge of the Leon Lowenstein Building at Fordham College at Lincoln Center (FCLC) for the start of the 19th annual POL reading series. The event marked the first POL event of the semester, which focused on poetry about New York City.
The audience consisted of graduate and undergraduate students, English professors and lovers of poetry. "That is one of the joys of working on this, bringing together the community of poets," said Heather Dubrow, professor of English and director of the POL reading series.
The opening reader, Dom Blanc, a second-year graduate student at Rose Hill began with "Alice of Gotham," a dark and gritty poem set in New York City. After Blanc received a hearty round of applause, Dubrow introduced the first of two professional readers, Bob Holman. He discussed the importance of the "Big Daddy" of New York City poetry, Walt Whitman, then proceeded to recite several of his own poems about New York, including one about activities in Central Park and one written and read entirely in Spanish.
In her introduction of the second featured reader of the evening, Dubrow said the poet, Rosanna Warren, writes with "a fierce, intense, honesty." Warren recited a variety of poems ranging from one entitled "Wall Street" to another called "Hospital Chair," concluding with a poem about Fredrick Law Olmstead and the dark history behind Central Park.
This year for the first time POL joined forces with Young Women's Leadership School of East Harlem and Girls Write Now, an organization that pairs young women with mentors, giving students a chance to learn poems featured in the POL series. According to Dubrow, POL will continue to work with Cristo Rey High School located on East 106th Street.
Also new this year, participating high school students have an opportunity to attend poetry workshops run by Fordham University graduate students. At the end of the academic year several students will be chosen to read their own poems out loud along with professionals during a POL reading.
Sebastian West, FCLC' 14, attended the event on the suggestion of an English professor. He said it provided him with a different outlook on poetry. "I thought the poetry was interesting, especially since I'm not used to it, and have trouble understanding the meaning," West said. "But the inflection in the poets' voices as they recited their poems put poetry in a new light for me."
In addition to the readings, each year POL gives out a Poets Out Loud prize. The competition is organized by Elisabeth Frost, associate professor of English and the editor of the Poets Out Loud book series.
"The prize is administered as an open competition for professional poets," Frost said.
Any poet can enter their manuscript, for a fee, and after being reviewed by qualified poets and a final judge, Fordham University Press publishes the winning poet's writing. According to Dubrow, this year POL is publishing two manuscripts with financial support from Fordham University Press. POL welcomed Poets & Writers, a new sponsor this year, with the aid of public funds from New York State Council on the Arts, a state agency.
On Nov. 4, the second POL reading of the semester, taking place at 7 p.m. in the 12th Floor Lounge, will focus on the connections between poetry and visual arts and poetry and music. Featured poets will include Bino Realuyo and Anna Rabinowitz, along with Amanda Calderon.
These readings not only serve as a forum for professional poets but also expose lovers of poetry to different styles and help them make connections between poetry and everyday life. To further inspire students to pursue poetry on campus both Warren and Dubrow insisted, "You must read a lot and write a lot."  Holman, in a true testament to the differences among poems and poets, gave students this advice, "If you're not nuts, don't get into poetry."