Game, Set, Match: Coach Hawthorn Retires After 54 Years
Published: August 25, 2010
When Bob Hawthorn took the reins of head coach of tennis and squash at Fordham University, Elvis Presley was still starting out in New York City, and tennis was normally played on grass and clay courts.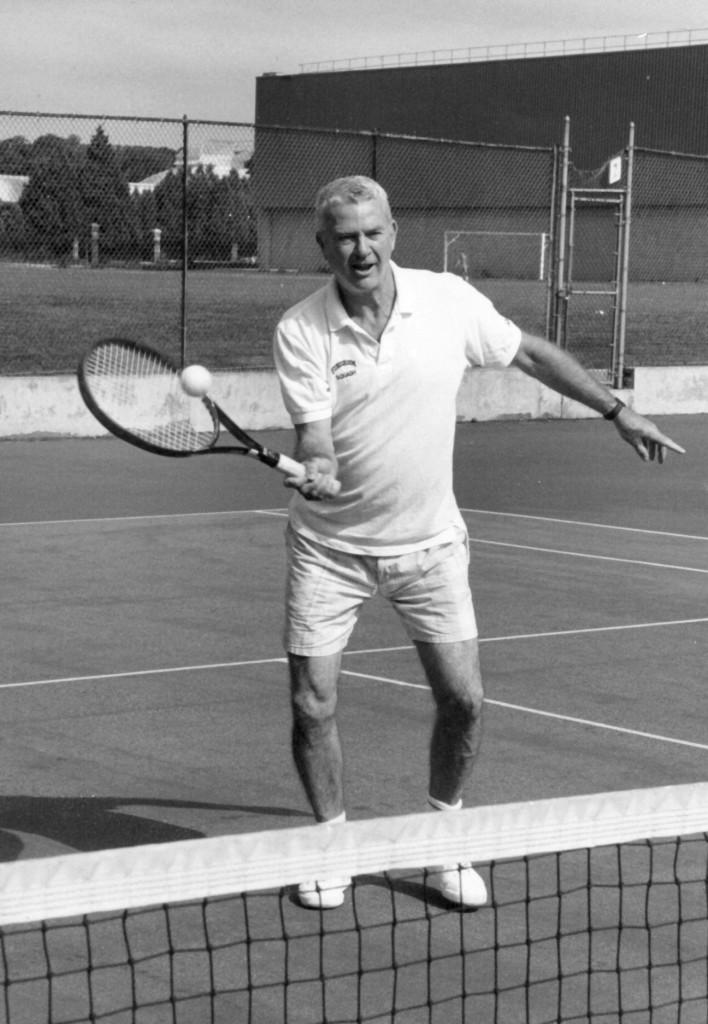 Now 54 years later, as Coach Hawthorn announces his coaching retirement, hard courts are now the dominant playing surface in tennis and Lady Gaga currently tops the charts.
With so much change happening over his long coaching career, Coach Hawthorn has always remained the same—loyal as ever to Fordham.
Coaching tennis and squash for more than half a century, Hawthorn's departure from Fordham ends the longest tenure of any coach in school history. As he departs from his Rose Hill office, Coach Hawthorn leaves behind a legacy full of awards, conference titles and university-wide recognition.
Arriving at Fordham in 1949 as an undergraduate student, Coach Hawthorn was a standout tennis and squash player. He was inducted into the Fordham University Athletic Hall of Fame in 1977.
Shortly after graduating from Fordham in 1953, Hawthorn enrolled in the graduate school at Rose Hill. While pursuing a Master of Science degree in education, he became the head coach of squash in 1956 and eventually, by 1958, was the new men's tennis coach.
A winner of numerous conference titles during his time at Fordham, Coach Hawthorn led the Rams men's tennis team to three straight Metro Atlantic Athletic Conference (MAAC) titles from 1983-85.
As well as team awards, Hawthorn was also honored for his outstanding coaching, winning the Fordham University Top Coach of the Year award, also known as the "Iron Major" award, three times in 1976, 1984 and 1985.
In addition, under Coach Hawthorn three student-athletes received the Lombardi Award as Fordham's Male Student-Athlete of the Year.
One of his former players Bill Ramsay, FCRH '82, winner of the 1981 Lombardi Award talks about Hawthorn's ability to "bring the team together."
In addition, Ramsey describes Coach Hawthorn's skill in finding the best in people and using that to elevate their game. "Bob Hawthorn was a tremendous influence on me as a player as well as a person. He was able to give an encouraging word after a defeat, but was also able to say the right thing to motivate you and raise your game when needed," Ramsay said.
Because of coach Hawthorn's commitment to the Fordham University tennis program, the outdoor tennis courts at Fordham were renamed the Hawthorn-Rooney Courts in 1999—a dual honor held by Hawthorn and former women's tennis coach John Rooney.
In February of 2006, Hawthorn was honored with his induction into the College Squash Association (CSA) Hall of Fame. The CSA further honored Coach Hawthorn by creating a Hawthorn Championship Division.
"Bob Hawthorn is a Fordham treasure. His many years of hard work, dedication and love for the University and especially the men's tennis and squash programs will always be appreciated," Frank McLaughlin, Fordham's executive director of Athletics, said.
Just this past spring coach Hawthorn received the 2010 Jack Coffey Award. One of Fordham's most prestigious awards, it is only given to a Fordham administrator, alumnus or coach for outstanding contributions and dedication to the athletic program.
Having been one of the final hires of Jack Coffey himself, it was a fitting ending for coach Hawthorn's career with the Rams.
Beginning his new life in retirement this fall, coach Hawthorn will always be remembered by those who served under him as being "one of the guys."