Charlotte Stoddart Helps British U-20 Team to European Title
Published: August 25, 2010
While many of us were enjoying the spoils of summer by going to the beach and hanging out with friends, Fordham forward Charlotte Stoddart, FCRH '13, was having a very different kind of summer.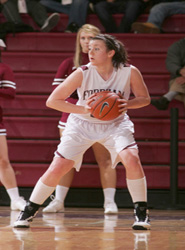 Busy at work this year representing Fordham and her home country of Great Britain at the under 20s (U-20) European Championships, Stoddart was part of the title winning British U-20 woman's basketball team.
It was a very memorable summer for the 6 foot 1 British native who never would have imagined that she would be part of the team that gave Britain its first ever European Basketball Division B title.
Stoddart began her national service for the UK in June and attended the first-ever mixed UK men's and woman's basketball selection camp. At the camp, Stoddart was chosen to be part of the 15-person Great Britain Standard Life Under-20 squad.
Stoddart had represented Britain many times before in U-18 and U-16 competitions.
On July 5, shortly after being selected for the British national team, Stoddart and her team left for Baden, Austria to play friendly exhibition matches against Austria's U-20 team.
In the first match, Stoddart helped her team by scoring seven points, on route to a 70-35 victory over the Austrians. However, their joy was short lived, as they lost to the Austrians 49-48 the following day.
Next up Stoddart and the team traveled south to Bulgaria on July 9 where they were scheduled to play  more warm-up matches. Although the Bulgarians were a higher ranked team, Stoddart's team completed a three game sweep of the Eastern European side, boosting their confidence for the upcoming U-20 European Championships.
The team then traveled to Kavadarci, Macedonia on July 18 for their first group stage match against Belgium. Stoddart did her part for the team, scoring four points and grabbing six rebounds in a British 61-42 victory over Belgium. The next day, Stoddart played even better, scoring seven points in a 54-50 British win over Hungary. Overall, Stoddart and the British finished second in their group earning them a place in the next round.
On July 23, Israel in the quarterfinals, the British played well defeating the Israelis 72-65. "After winning the quarterfinal against Israel we were so excited.It is not often that a Great Britain team has made it to the final four," Stoddart said in her blog on Fordhamsports.com.
The succesful run didn't end there. With Stoddart's help the British made it to the championship finals where they met the Slovak Republic.
Although the UK was already promoted to Division A with their semi-final win, Stoddart was aiming for European glory. "Even though we had reached one of our goals of being promoted-now that we made it to the final we wanted to go all the way," Stoddart said in her blog.
While she wasn't much of a factor offensively, Stoddart made her presence felt with her defense. Notching a game high of three steals, Stoddart and the British defeated the Slovak Republic 47-46, earning Britain its first U-20 title since it joined the competition in 2006.
It was a proud moment for Stoddart as she became a part of British history. "Standing on the podium to receive our gold medal and cup was amazing. They played our national anthem and we were all so proud of what we had accomplished as a team," Stoddart said on her blog.
Stoddart finished the championships averaging 4.0 points and 2.3 rebounds. It was her last time to represent Britain in the youth age groups.
With the end of summer, Stoddart is excited about coming back to the United States and playing for Fordham.
With the Fordham woman's basketball team finishing the 2010 season with a disappointing overall record of 8-22, Stoddart hopes she can improve the Rams chances for victory next year.