Student Pledges Lawsuit Against University Disputing Disciplinary Actions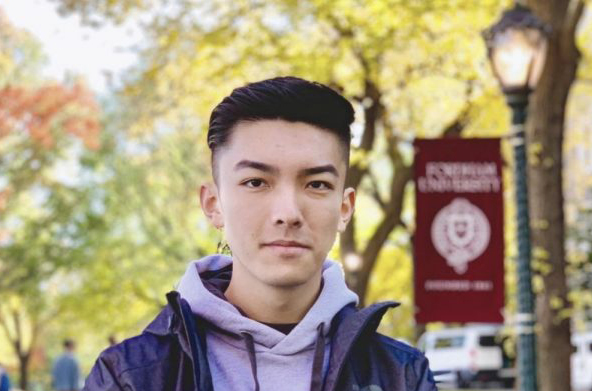 A student has threatened legal action against Fordham after the university took disciplinary action in response to two Instagram posts that it found to be a violation of the university's code of conduct.
The information became public on July 14 when Austin Tong, Gabelli School of Business at Lincoln Center '21, posted a letter to University President Rev. Joseph M. McShane, S.J., and the Fordham Board of Trustees to his Instagram. In the letter, he claimed that Fordham was "breaching its own code of conduct, and treading on the fundamental freedoms of this country." 
Tong had previously posted a photo on June 3 of the retired police captain David Dorn, who died while responding to a looting in St. Louis, Missouri. "Y'all a bunch of hypocrites," the caption reads, expressing his disapproval that Dorn was not given as much widespread attention as the deaths of other Black people whose deaths sparked protests.
The next day, Tong shared a photo of himself holding a gun with the caption, "Don't tread on me. #198964." The hashtag references the date of the Tiananmen Square Massacre, in which troops fired into a student-led, pro-democracy demonstration, wounding and killing thousands. 
After receiving immediate backlash from students, Tong issued a follow-up comment that read: "To everyone and @fordhamuniversity: this post or my mentality is SOLELY for the memory of the thousands of armless students who had no method of defense and were massacred in 6.4.1989, and in no way advocating violence to anyone.
"This post is my appreciation toward the United States and the priviledge in this country to have the right to bear arms, to have a populace that can defend itself from tyranny. Tiananmen Incident is a huge deal in my motherland and to my ethnicity, and so is civil rights in America, but this post is solely my belief that freedom comes from a strong and armed populace. Violence against any citizen should not be tolerated, and the Second Amendment protects us from that."
In a letter dated July 14, Keith Eldredge, assistant vice president and dean of students at Lincoln Center, found Tong guilty of violating the university regulations relating to bias and/or hate crime and threatening or intimidating behavior.
Tong defended his posts in his letter, stating, "I expressed my appreciation of the 2nd Amendment and mourning of the anniversary of a Chinese Democratic movement by posting a picture of my legally purchased rifle in my home, and my sympathetic feeling toward Black Police Officer David Dorn.



"The content of both posts are fully by my love for this country, fully within the boundaries of law and university code, and in no way expressing threatening or hateful thoughts – yet the University subjectively and maliciously assumed my intentions as hate crime and threat."
Numerous users expressed support for Tong, commenting that the university infringed on his right to free speech without reasonable cause. Conservative news outlets Campus Reform, The Epoch Times and The Glenn Beck Program have also reported on Tong's case, which Tong praised on July 16 on Instagram.
An equally large number of users opposed Tong, commenting that the posts provoked fear and were insensitive amid the Black Lives Matter movement, which has led and amplified a widespread outcry against violence. 
"Austin, I am extremely disappointed that you are actively utilizing your platform to invalidate the BLM movement rather than using your time to facilitate conversations about the issues at hand/trying to raise awareness," Carrie Kinui, Fordham College at Lincoln Center '21, commented on Tong's post of Dorn. 
Many users also tagged the university's official Instagram account in the comments of the June 4 post. Soon afterward, @fordhamuniversity commented, "Hi all. The University is aware of this post. Thanks for the mentions." The comment received 145 likes, and over 20 students requesting that disciplinary action be taken. The post has received 553 total comments as of July 17. 
The University Code of Conduct prohibits "threats, intimidation, coercion, and/or other conduct which threatens or endangers the health or safety of any person." However, it also includes a clause prohibiting behavior "which prevents or limits the free expression of the ideas of others," which Tong also noted in his letter. The university states elsewhere on its website that students are expected to adhere to the code of conduct both on and off campus, and social media is included under the off-campus category.
This isn't the first social media incident that Fordham has investigated. In 2018, a photo of 10 Fordham Rose Hill students posing with an alt-right symbol on Murphy Field began circulating around social media.
The university conducted an investigation into the picture, and Christopher Rodgers, dean of students at Rose Hill, assured that the university had addressed the situation with the students involved.
In a short statement, Rodgers said, "Fordham University neither condones nor allows hate speech. After researching the background, symbolism and context of the University took steps to address the situation with the students involved."
It is not apparent whether the students received disciplinary action.
As of July 17, Tong will be disallowed from entering campus without advance permission, may not participate in extracurricular activities and must complete implicit bias training.
Tong said he would pursue litigation as far as the Supreme Court if Fordham upholds its decision without providing a "just and reasonable answer." On July 17, he launched a GoFundMe to raise funds to begin the process, reaffirming his intent to sue the university.
The Supreme Court is set to hear another free speech case in its next term, filed by students barred from distributing Christian leaflets on the Georgia Gwinett College campus in 2016. The last court case students leveled against Fordham began in 2017, when members of Students for Justice in Palestine (SJP) sued the university for being disallowed club status. In 2019, The New York Supreme Court approved SJP's status as a club, a decision that Fordham has since appealed.
The Observer reached out to Tong for further comments, but he declined to be interviewed at the time. Eldredge and Assistant Vice President for Communications Bob Howe also declined The Observer's requests for comment.
Hear more about Tong's case from Lindsie Rank, program officer for the Foundation for Individual Rights in Education, on Retrospect:
Summer Report: Austin Tong and Free Speech on College Campuses