Order in the Courtroom! Mock Trial is in Session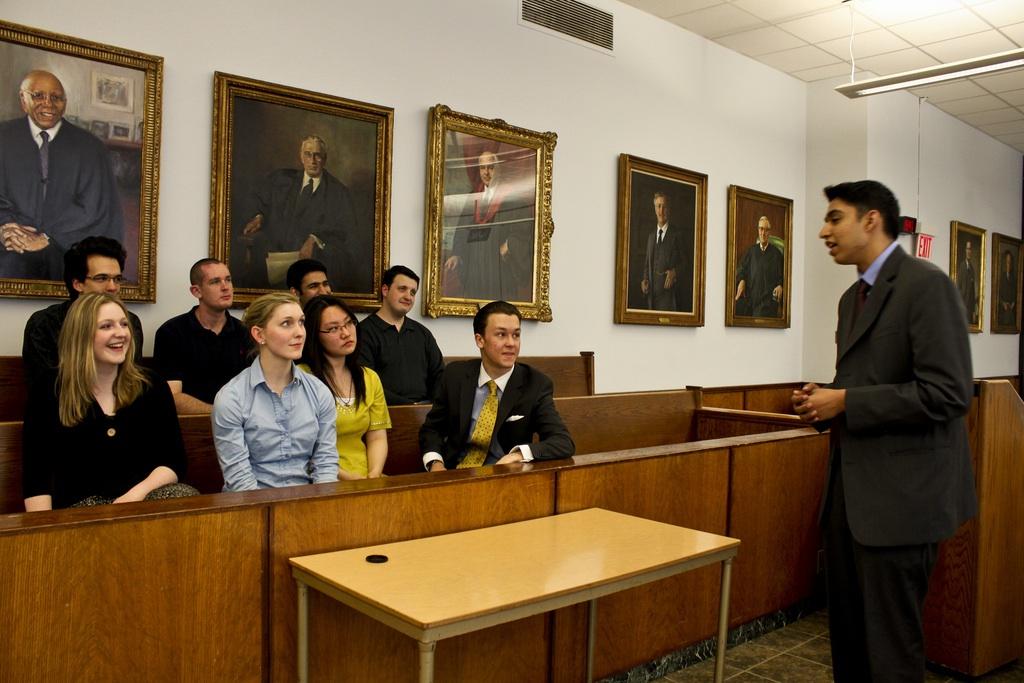 Published: May 5, 2010
A man lies dead in a duffel bag, high up in the Caulkin Cliffs. A Southern bimbo, a business man with a gambling addiction and a crafty nerd may have some answers. But it's up to Fordam College at Lincoln Center's (FCLC) Mock Trial team to resolve the case.
Competitive, dramatic and thrilling, these words, which also can be used to depict bullfighting and Iron Chef America, describe Mock Trial at FCLC. The intrigues of crime and courtroom are fully played out at competitions between schools across the country. Students act as attorneys and witnesses, and use a mixture of public speaking, acting and critical thinking skills to try to win their case.
According to a senior member of the FCLC team, Thomas Vorsteg, FCLC '10, "It's like competitive stylized acting."
This year's team was made up of 15 students and split into an "A team" and a "B team." The A team, made up of more experienced members, finished with four wins and four losses in the Atlantic Regional round of the American Mock Trial Association National Tournament. The B team, made up of mostly new members, finished with three wins and five losses.
"Those are very solid records," Vorsteg said. "The B team ended up losing to the team that made the last bid to Nationals."
One of the keys to success in Mock Trial competitions is versatility. "[Most] 'Mockers' want to pursue some sort of law career in the future, but the strongest programs are made up of versatile people. Shane Skowron (FCLC '10) and John Bashaar (FCLC '10) want to join the military, and Farooq Usmani (FCLC '10) is going to med school."
According to Vorsteg, having a combination of competitors on a team is beneficial because each player offers his or her own perspective to the case. In addition to having different aspirations, each "Mocker" has different motivations for joining the team.
"I am extremely competitive and I felt this would be the best outlet for it. I don't just want to study law—I also want to practice it—so it made sense to join," William Bergesch, FCLC '13, said.
"This could not be taught in a classroom. There's no class at Fordham that could teach you about trial advocacy as well as Mock Trial does. Experiencing it gives you something you couldn't get just from learning about it," said Alanna Parisi, FCLC '12.
Although most members are interested in gaining experience in a simulated courtroom, an interest in law is not crucial. Members have found that Mock Trial is also a great way to improve one's public speaking and feed his competitive drive.
"I did [Mock Trial] in high school and really enjoyed it, so I wanted to continue in college. It was a way for me to improve at public speaking, and it was very competitive, so those two aspects led me to join the team," Skowron said.
"I wish more people knew this… it's such a great way to represent your school on a national level. Students are in charge of the program," Vorsteg said.
The team will be losing six senior members this year, and will have tryouts for new members this fall. Students can be attorneys, witnesses or both. Attorneys do direct and cross examinations, and may also deliver opening and closing statements.
"The witness roles change. You can be a professor, a cop, a social worker who has been stabbed with an HIV-infected needle, a six-year-old girl who has been kidnapped and held for ransom in a hotel, a driver, an actor, anything! The witnesses add the color to the performance," said Vorsteg.
Even if aspiring members do not have any interest in being attorneys, or feel that they do not have the experience necessary to compete in Mock Trial, they are still welcome to join the team. Vorsteg insists that passion, dedication and a willingness to learn are the only required ingredients.
Those interested in joining the FCLC Mock Trial team should contact the administrative captain, Heidi Schneider, FCLC '12, at [email protected]