Fashion Forward NYC
Spring 2008: Fashion is Fun Again
Published: September 27, 2007
With another New York Fashion Week comes another round of trends and essentials for the coming season. This year's Spring 2008 'must-haves' will likely belong to relative newcomers Marchesa and Erin Fetherston. Both collections had the reigning queen of style and society, Vogue Editor In Chief Anna Wintour, nodding and smiling during their shows. Wintour's smiles are about as rare as the lunar eclipse, so we can be sure both collections can count on successful seasons.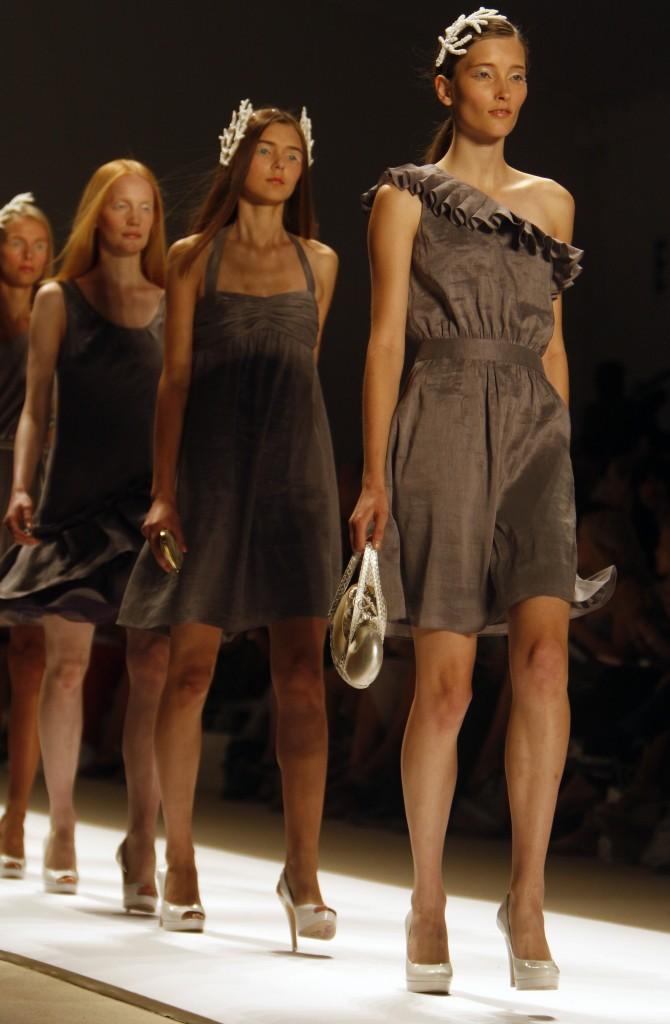 So what does this mean for mere mortals? The coming spring will follow the standards set by the fall collection. It will be a season highlighted by a sort of wearable opulence that looks effortlessly chic. Erin Fetherston used airy fabrics to create sweeping dresses embellished with just a touch of shimmer. Marchesa dramatized classic sheaths by slicing out fabric in the sides, creating a subtle form of sexy. Even Marc Jacobs started with basic pencil skirts and jackets, but did them in whimsical neons and added flower appliqués.
For those not in favor of dressing like a modern fairy-tale princess, more structured looks will serve as alternatives. The golden boys of Proenza Schouler deliver a line of military-inspired suits, dresses, and jackets in deep colors and substantial fabrics. Gwen Stefani's well-received fashion week debut, L.A.M.B., followed in a similar vein with bold prints and boyish cuts. Meanwhile, men are encouraged to dress up. Well-tailored blazers dominated runways and pants in bold, daring prints.
Overall, spring's styles are more imaginative than collections of the recent past.  Many designers have managed to seamlessly combine their fantastical ideas with a down-to-earth sense of a modern adult's life. Spring 2008 fashion allows even the most practical men and women to play dress-up with their wardrobes and integrate a grown-up sense of whimsy into their daily lives.
Fall Fashion 2007

Cinched waists, slim sheaths, full sleeves and voluminous coats: this season, fashion gets glamorous again, reinventing the art of getting dressed. Fashion goes back to its basics, covering up while using tried-and-true shapes to enhance the figure. Revealing clothes give way to a more subtle form of sensuality, as the waist finally makes a comeback.
From high-rise pants to cinched dresses and tops, this season's creations allow women to show off their figures rather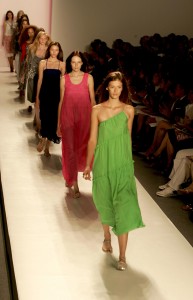 than hide them in masses of shapeless fabric. Any loose, bubble dresses that remain are belted firmly at the waist. Sheath dresses have also returned, showed in everything from tweed to satin. To avoid looking too severe, wear a sheath over bright, bold tights for a mod look.
Skinny pants are still around, although they are now balanced by the menswear inspired wide-legs favored by another Hepburn (Kate, who famously walked around a movie set in her underwear when her studio refused to let her wear pants during an interview). Tweed is another major menswear trend that has been reinvented this season, appearing in everything from headbands to boots.
No outfit will be complete without a hat, and this season's hats come in myriad of styles.  This is great news for urbanites who spend lots of time braving the wind tunnels of the New York streets.  Most of the hats for fall were created with practicality in mind, although Donna Karan created miniscule hats adorned with huge plumes of carefully constructed feathers hiding the eyes. Whether you favor scarves, stovepipes or furs it doesn't matter; just cover your head.
Although trends are heavily promoted, they are meant to serve as inspiration for your own personal style.  You may want to take cues from fall's popular styles, but ultimately fashion is about self-expression. In fashion, originality and commitment to individual style is always valued above all.