Rams Quarterback Phoenix Bound
John Skelton Drafted by Arizona Cardinals in the Sixth Round of the 2010 NFL Draft
Published: May 5, 2010
From leading the Rams to a Patriot League championship in 2007 to breaking every passing record in school history, John Skelton, CBA '10, has been the face of Fordham football for the past three years. Now a senior on the eve of graduaton, Skelton has reached new heights yet again.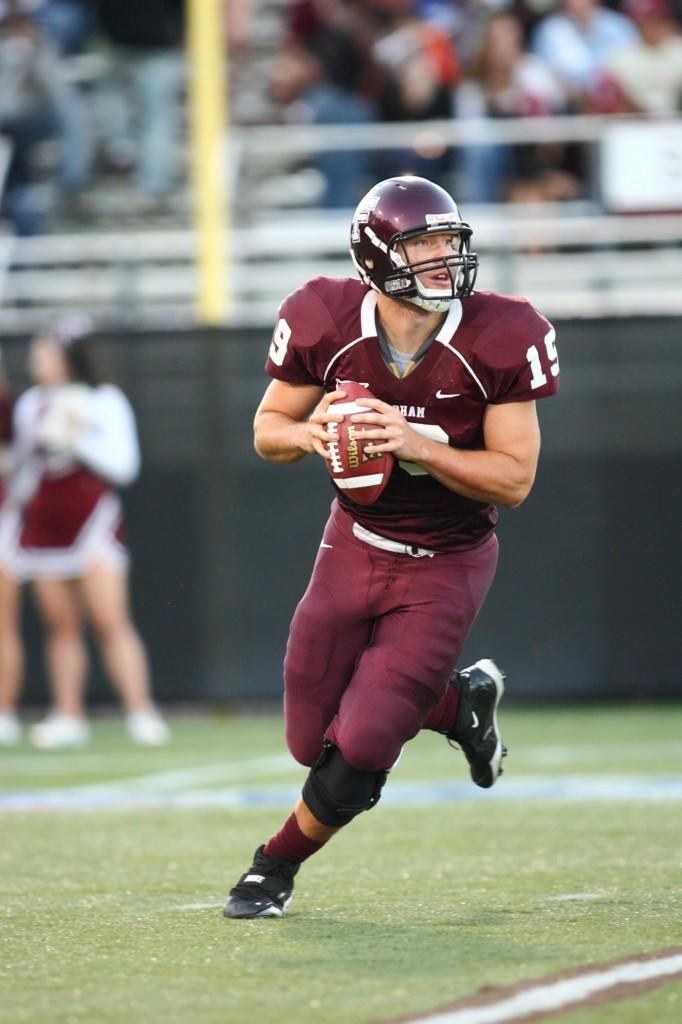 On April 24, the 6-foot-5, 243-pound Skelton was drafted by the Arizona Cardinals. Selected in the fifth round (155th overall), he was the sixth quarterback to be picked up in the draft.
As the 18th Fordham player to be drafted by an NFL team, Skelton joins an elite club of NFL-inducted Rams, including NFL Hall of Famer Alex Wojciechowicz, who was drafted to New York Giants in 1938.  The last Fordham player to be drafted was Kenny Parker in 1968, also taken by the New York Giants.
Skelton believes that he has what it takes to be NFL player. "I'm going to do everything I can in improving my footwork, improving my fundamentals [and] getting the mental aspect of the game down I'm ready for all the challenges the NFL has to throw at me," Skelton said in a conference call with the Arizona Cardinals shortly after being drafted.
Coming to Fordham in 2006 Skelton's journey to becoming a great quarterback started like any other college freshmen quarterback he needed an opportunity to prove that he belonged on a college football team. On Sept. 16, 2006, Skelton got his chance.
Stepping on Jack Coffey Field for his first colligate game against Columbia University, Skelton made his debut for Fordham. Completing three of seven passes for 29 yards, Skelton's first game was nothing memorable for Fordham football fans. For many people back then Skelton was just an ordinary quarterback on the roster; however, when the 2007-2008 football season came, Skelton's true talent began to take flight.
After becoming the new starting quarterback for the Rams in the 2007-2008 season, Skelton's first game in the starting position was against Rhode Island on Sept. 1, 2007. In the game Skelton shined, completing 23 of 28
passes (82.1 percent) for 208 yards and two touchdowns. Because of this effort the Rams came away with a 27-23 victory over Rhode Island. This was just beginning of a great season for the Rams as they finished with an overall record of 8-4, a conference record of 5-1 and the Patriot League title all thanks in part to Skelton's play.
The 2008-2009 season was not the best season for the Rams, who finished 5-6 overall and 1-5 in the conference. Despite the bad record, Skelton, with his powerful arm, still produced amazing performances for Fordham fans. One such performance was against Marist College on Nov. 1, 2008 where Skelton threw for a scorching 341 yards completing 22 of 28 passes (78.5 percent) for four touchdowns and no interceptions in a 45-21 Rams win over Marist.
This season Skelton's stats only got better. In a phenomenal year he completed 284 of 441 passes (64.4 percent) for 3,708 yards and 26 touchdowns. He set new school marks for completions and passing yards, breaking Kevin Eakin's former school records of 247 completions for 3,072 yards, set in 2003, as well as breaking Steve O'Hare's completion percentage record of 63.1 percent set in 1997. He had a career high in passing yards against Holy Cross on Oct. 31, 2009 with an incredible 427 yards leading the Rams to 41-27 victory over the Crusaders. Although the Rams failed to make the playoffs for the second straight year, Skelton was recognized for his individual performances and was selected to play for the prestigious East-West Shrine game in January.
As Skelton prepares for his long journey to Phoenix, it will be interesting to see how Skelton will fair in the NFL, equipped with a powerful arm and determination. It may be only a matter of time before we hear Skelton's name in the headlines again. Skelton leaves Fordham with impressive college football career stats, completing 802 passes for 9,923 yards and 69 touchdowns. He shatters Joe Moorhead's career completions record of 518 while also at same time surpasses Eakin's career marks for passing yards (6,112) and touchdowns (45).