Fordham Alum Charged in NYPD Attack During Black Lives Matter Protest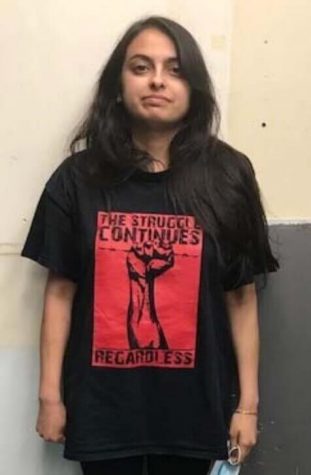 A Fordham alumna, Urooj Rahman, Fordham College at Lincoln Center '11 and Fordham Law '15, was arrested in New York City on May 30 for allegedly throwing a Molotov cocktail, a type of homemade firebomb, at an unoccupied New York City Police Department (NYPD) cruiser during the Black Lives Matter protests. 
Rahman is a human rights lawyer at Bronx Legal Services, working to defend low-income tenants facing eviction. She was arrested with another lawyer, Colinford King Mattis, with the firm of Pryor Cashman LLP.
Rahman first graduated from Fordham in 2011 with a Bachelor of Arts in political science. She began at Fordham Law in 2012 and graduated with a Juris Doctor in 2015. 
An NYPD surveillance camera recorded the incident, and both Rahman and Mattis were later found in a van with supplies for making the Molotov cocktails, including toilet paper, a Bud Light beer bottle and what is suspected to be gasoline, according to a U.S. Department of Justice news release. 
Rahman and Mattis were arrested on federal charges for being in possession of explosive device components and for causing damage to a police vehicle by fire and explosives. 
Since Rahman is a resident of Brooklyn, where the attack occurred, she did not travel across state lines to incite violence, which is a federal crime. Rahman was born in Pakistan but grew up in Bay Ridge and has been working for Bronx Legal Services for almost a year. Her friend Salmah Rizvi told Gothamist, "She's never promoted violence and she'd never harm another human being." 
The Observer reached out to Rahman for comment but did not receive a response. 
On Monday, June 1, both Rahman and Mattis were released on bond after each meeting the $250,000 bail set by a magistrate judge. They are also subject to home detention and electronic monitoring. On Tuesday, June 2, federal prosecutors asked a federal appeals court to halt this decision and return them to custody. According to the court document, "No electronic monitoring or apartment door can adequately safeguard the community against individuals with that mindset."
Both of the attorneys were participating in the protests that have erupted in all 50 states over the death of George Floyd during an arrest by four members of the Minneapolis Police Department. Many of these protests have been violent, including the use of force by police to disperse crowds. Whether police or protestors have been responsible for initiating the violence has been disputed. 
Both sides of the political spectrum, including Democratic Minnesota Gov. Tim Walz and Republican President Donald Trump, have blamed the violence on outside agitators from out of state. However, while Walz suggested that it was the work of white nationalists, Trump has denied the involvement of white nationalists and instead blamed antifa, a term that stands for "antifascist" and is often used to describe a collection of far-left organizations that frequently use violence to counter-protest. 
According to a Federal Bureau of Investigation (FBI) report obtained by The Nation, the FBI does not have any evidence that antifa groups carried out any violence at the protests over the weekend. The Bureau report did warn, however, that individuals in a far-right social media group were calling for violent acts against protestors and law enforcement. 
In cities around the country, the vast majority of protestors have been peaceful, with occasional looting and other property damage occurring mostly at night. Many cities, including New York, have instituted curfews in an attempt to prevent further destruction.
Update June 5, 2020: After a viral Tweet on June 3 from Andy Ngo, a journalist with the conservative Canadian publication The Post Millennial, Rahman has been subjected to significant online harassment. Commenters have called for her deportation (despite a lack of clarity regarding her immigration status) and have launched attacks on her race and perceived religion, as well as criticized Fordham for her education. Some commenters have even made public death threats.