Video on Demand: A Cure for Cinephilia?
With movie theaters closed until further notice, Fordham's cinephiles have multiple options when it comes to satisfying their craving for motion pictures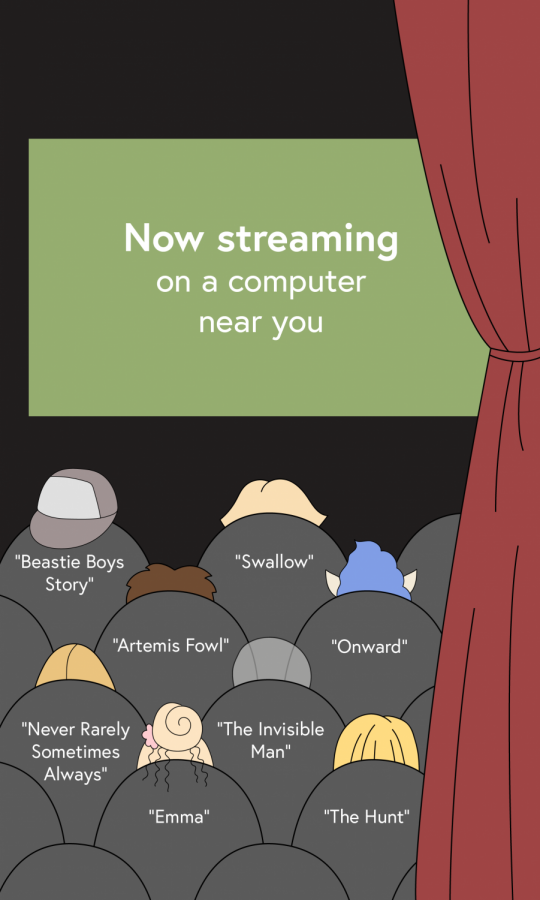 Upon hearing that movie theaters throughout the nation were temporarily closing, the film industry seemingly came to a standstill. Suddenly, cinephiles were forced to realize that it might be a while before they step foot inside a movie theater again. More importantly, the 2020 theatrical release schedule drastically changed as a result of this sudden closure. 

Universal and Sony Pictures have already announced that the majority of their 2020 films, including "F9: Fast and Furious 9" and "Ghostbusters: Afterlife," won't be released worldwide until spring of next year. Paramount made the decision to delay their blockbuster sequels, "A Quiet Place Part II" and "Top Gun: Maverick," from March and June to September and December, respectively. 

Even films that are scheduled to release in 2021 have now become subject to unexpected production delays. Director Matt Reeves' upcoming reboot of "The Batman," for instance, was recently pushed back from June 25, 2021, to October 1, 2021, in large part because Reeves himself willingly came out to the public and revealed that only around 25% of the film's principal photography was completed prior to the production's shutdown. 

Nevertheless, through Video on Demand Services (VOD) such as Netflix, Hulu, Amazon Prime, Vudu and Kanopy, students and cinephiles have practically unlimited access to a wide selection of cinematic entertainment. With films that range from Oscar-nominated dramas to lighthearted romantic comedies and everything in between, there is certainly enough variety to tide everyone over, regardless of their preferences. Considering how much downtime students have had since face-to-face instruction was suspended, avid watchers can finally get around to viewing some of the films that they've somehow missed out on.

However, just because the theaters have closed doesn't mean that distributors have done the same. Universal, whose films "The Hunt," "Emma." and "The Invisible Man" were released right before the pandemic began, directly offered consumers films that were technically "still in theaters" to make up for lost box office potential. Disney, meanwhile, has already released the Pixar-animated "Onward" to both VOD and Disney Plus, and it announced that the Kenneth Branagh-directed "Artemis Fowl" will be skipping theaters altogether when it arrives digitally on June 12. 

On the more independent or arthouse side of the moviegoing spectrum, Focus Features has released Eliza Hittman's Sundance-winning coming-of-age drama "Never Rarely Sometimes Always" to VOD, while IFC Films recently decided to do the same with Carlo Mirabella-Davis' psychological thriller "Swallow." Cinephiles can also check out Spike Jonze's "Beastie Boys Story" documentary, released just last Friday to Apple TV Plus. 

"

While cinephiles such as myself would much rather walk to AMC Lincoln Square 13 from the Lincoln Center campus instead of simply browsing through the "virtual cinema," there's nothing they can do to change the reality of this situation."

While there is no doubt that this pandemic will eventually subside, the question still remains: Will movie theaters even be able to stay afloat if they continue to remain closed? After all, with recent reports concerning AMC Theatres' current financial struggles making headlines across different media outlets, where does that leave the rest of the industry? In other words, once everything is said and done, will there still be a future for moviegoing?

Even when contemplating just how much of an impact this pandemic has already made on the industry, it's still hard to say whether or not they've seen the worst of it. Although, with some theaters hoping to reopen by late July, it might not be long before going to the movies becomes a mainstream practice again.

But as it stands, theaters have yet to do so. And while cinephiles such as myself would much rather walk to AMC Lincoln Square 13 from the Lincoln Center campus instead of simply browsing through the "virtual cinema," there's nothing they can do to change the reality of this situation. In the meantime, though, they might as well work with what they have.
About the Contributors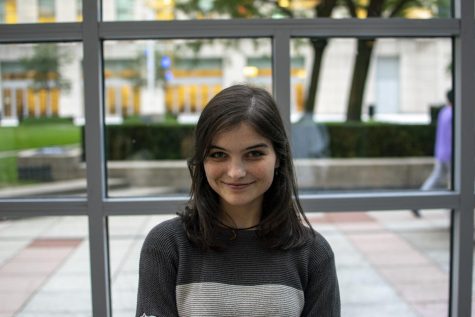 LARA FOLEY, Layout Editor
Lara Foley, Fordham College at Lincoln Center '22, currently serves as a layout editor. She studies new media and digital design and loves to doodle. She adores working alongside her fellow layout editors and conquering the labyrinth that is InDesign! She has two cats and a doggo back home in Los Angeles.