'The World's Collection': Libraries Seek to Broaden Access to Digital Archives
While Fordham's library system and the New York Public Library (NYPL) branches remain closed, their staffs are turning their efforts to augmenting and streamlining their digital stores.
Both of these libraries are responding to Fordham community members and city residents, respectively, now scattered around the world, as the shutdown of New York continues due to coronavirus (COVID-19) concerns. There are limitations to the amount of new material they can provide to patrons while fully remote, but both Fordham and the NYPL are using this time to make accessibility of previously available materials a top priority.
The digital collections at Fordham's libraries encompass an ever-growing trove of books, photographs, letters, videos and more related to the history of both the university and the neighborhoods that surround its campuses. Certain special collections come from sources solely within the university, such as archives from various academic departments including theater, visual design, English and psychology. Others are sourced from Fordham-affiliate organizations with an off-campus reach, such as archives built in conjunction with Italian American and African American history initiatives, both based in the Bronx. 
Besides the digital collections, the library also has an institutional repository called "[email protected]" which provides open access to published materials by Fordham community members. A map on its homepage shows visitors' locations and downloads in real time, and between March 1 and April 17, it saw nearly 6,000 visitors from six continents.
According to Mariah Lewis, metadata management librarian at Fordham Libraries, the ongoing process of building these collections has slowed. Most organizations have temporarily reduced or ceased operations, so they are not providing much new material to add. Another large part of building the online collections is the digitizing of the library's print stores, which has also been put almost entirely on hold since staff are not in the building to scan materials.
Instead, Lewis and her colleagues are making improvements to their existing content. "I want to look at this and be sure everyone can access our content, whether that's making sure the keywords and metadata are accurate and helpful, to making sure the website's working," she said.
Such tasks were already part of Lewis' daily routine, so her own transition to online work has been fairly smooth. In addition, library staff scanned a number of archives in advance to upload for the public throughout the shutdown period, having anticipated the transition to remote work. She said the staff's current projects include adding previously scanned materials to the Fordham postcard and Fordham football pamphlet collections.
As might be expected, viewership of these digital collections appears to be on the rise. Monthly page views on the digital collections have steadily risen in the past three months, from 15,055 in January to 20,269 in March. Data is incomplete for April; as of April 15, the collections have gotten 9,790 views. If the second half of the month experiences a similar viewership, however, April views are on track to at least match, if not exceed, the March total.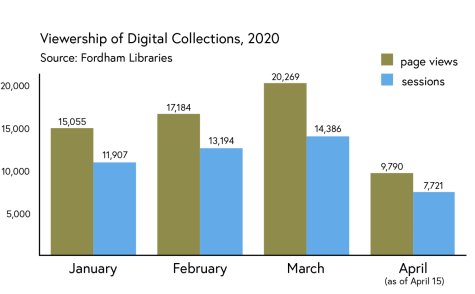 The NYPL reported a similar uptick in digital readership. According to NYPL Assistant Director of Media Relations Amy Geduldig, the library's website saw a 6% increase in visitors in the first week of the shutdown alone. The digital research collections, which consist of approximately 890,000 items, specifically saw a 3% increase in traffic during that time.
The NYPL's virtual reference desk, AskNYPL, experienced a 101% increase in inquiries in that first week. The library is now focusing on parlaying the efforts of formerly in-person reference workers into servicing the platform and potentially introducing a live videoconference service where employees can answer questions with patrons "face-to-face." 
Similarly to Fordham, the NYPL is focusing on refining all of its digital platforms during the shutdown while physical digitization efforts are stalled, according to Brent Reidy, NYPL's senior director of digital research.
In addition to its own collected archives, the NYPL provides access to databases owned by outside sources. Normally, there is a paywall for users who try to access them without a library card or from outside a physical library location. "We've been working with a number of leading databases and vendors to release restrictions during our public closure and during the COVID crisis so that patrons at home can have access that they used to only have at our branches," Reidy said. The New York Times, The Wall Street Journal, Ancestry, JSTOR and EBSCO are among those entities.
The NYPL is also investing efforts into e-reader programs for patrons. In addition to the existing SimplyE app, through which patrons can sign up for a library card and view about 300,000 of the library's e-books, the NYPL also rolled out a new platform called Digital Research Books, which allows users to search and read public-domain and open-source books aggregated from places like Google Books and HathiTrust. Though originally scheduled for a later release, the library launched the beta version of the platform early in response to the library closures, and Reidy hopes to get feedback and refine it during the shutdown.
Both Lewis and Reidy envision the current moment, too, being preserved in their archives one day. After seeing other libraries begin to compile materials from people living through the pandemic for preservation, Lewis expressed interest in doing the same. She said Fordham Libraries is in the initial planning stages of a coronavirus archive, and she cited faculty hosting symposiums online and music students doing digital recitals as just some of the potential sources for material if the world stays remote for the foreseeable future.
Both Lewis and Reidy envision the current moment, too, being preserved in their archives one day.
"I'm curious to see if people still keep trying to do these oral history projects, because you might be able to do it over Zoom, and then if we record that and upload it, it's just as helpful as being in a room interviewing people," she noted. "We want to make this a historical event that we can look back on and use in future studies … I think we might eventually, if this goes on for a while, have such a need for this that we're going to have to redefine our workflows and make sure we're able to take on everything."
For the NYPL, the preservation of life during the coronavirus would mark the latest project in the library's already-extant history of collecting materials related to public health. The library's collections include multiple centered around the HIV/AIDS epidemic, such as the Gay Men's Health Crisis Archive, according to Reidy.
He said there is no concrete plan in place for how the NYPL plans to build a coronavirus archive yet. "What we're trying to do is have all the conversations with our peers to see where we can complement what Columbia's already doing, what NYU's already doing, what 200 institutions across the country are doing as well," Reidy said, "so that we're all sort of together, being comprehensive and cohesive as a group, rather than overlapping in ways that don't use resources best."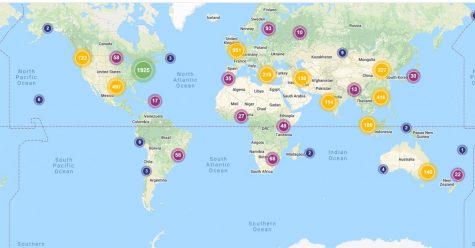 And really, these new digital projects — preserving archives, broadening access and collaborating with other sources — aren't truly new. As evidenced by [email protected], a worldwide, digital audience has long been a target. And for the NYPL, its digital efforts simply bolster the library's core mission to provide widespread digital access for the masses.
"This is the world's collection. This is the public's collection," Reidy said. "A decade ago or 15 years ago, I think that there would be so much less possible in terms of things that can be accessed, meaningful work that could be done from a distance.
"There's not much to be thankful for in this moment," he continued. "It is a scary, dark moment. But I'm thankful that we're in this position to have so much available and have so many resources we can provide."
A previous version of this article misstated the name of the Gay Men's Health Crisis Archive. It has been updated with the correct title.