Welcoming the Class of 2024 Digitally
High school seniors and rising college freshmen, including Fordham's incoming Class of 2024, have had to grapple with a number of losses: graduation, prom and the chance to familiarize themselves with their prospective colleges in person. After the state of emergency was declared in New York due to the coronavirus (COVID-19), New York City, along with Fordham, shut down. Due to the cancellation of all spring events, incoming students are having to take virtual tours, attend online Zoom sessions and rely on Facebook groups to get to know their future classmates.
Without the traditional in-person Admitted Students Day, incoming students are unable to fully interact with current and future students. Some students have yet to even visit the campus. Dylan Larsen, a student from Pine Bush High School in Middletown, New York, intends to commit to Fordham College at Lincoln Center (FCLC) without ever seeing the campus in person. However, he hopes to be able to visit in June or July. Fordham is currently letting admitted students sign up for self-led tours at both campuses as early as June 15.
Larsen stated that he isn't worried about not having seen the campus in person. He explained that "there are plenty of photos and videos of the campus and the dorms for me to get a great grasp of it. I've also been to Manhattan many times, so I have a grasp of the city." 
In addition to virtual tours, Fordham is offering virtual admitted students days through Zoom for all admitted students. However, these Zoom calls lack the ability for incoming students to speak with their future classmates. One student on the call was Jenna Fazzone from Shaker High School in Albany, New York. Fazzone committed to Fordham College at Rose Hill (FCRH) and said that although she was able to ask all of her questions on the call, she had hoped to meet her new peers at Accepted Students Day. 
"
Unfortunately, I will have to wait until the fall to meet people in person."
— Jenna Fazzone
Bella Sabino, a student from Immaculate Heart Academy in Bergen County, New Jersey, also attended a Zoom session for FCRH. Sabino echoed Fazone's thoughts that although the Zoom call was helpful, it was not ideal. Sabino explained that current students gave their perspectives on Fordham and then provided their emails for admitted students to use if they had more questions. However, due to the online format, it was not clear who was on the call, limiting the questions being asked.
"I just wish that the zoom session was more unfiltered," Sabino said. "I know I had a lot of questions about the party scene at Fordham but I was so scared to ask because I did not know if different directors, teachers or general adult figures were listening."
Incoming students also had other significant concerns directed at the Office of Undergraduate Admissions regarding the acceptance of Advanced Placement exams, whether students can defer to a later start date or if there is flexibility with the deposit deadline, and potential online options for international students who may not be able to attend in the fall.
Patricia Peek, Ph.D., dean of undergraduate admissions, emphasized the office's commitment to continuous communication with incoming students and sensitivity to their concerns. Over the past month, the changing nature of communication with the class of 2024 has generated a new understanding of what students need to hear.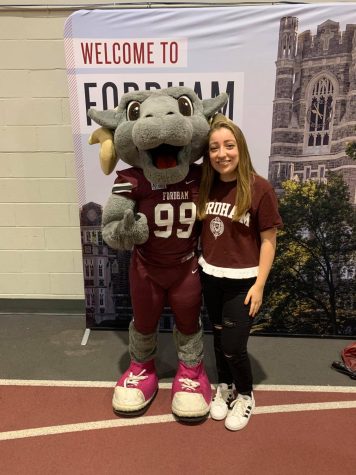 "What we have learned already is that our expanded virtual options will serve students well post-pandemic. Our new information sessions and chat options will be great alternatives for international students, as well as improve access for students who are unable to visit campus for various reasons (distance and expense most notably)," she stated.
"Our plan for the future is to create an even more comprehensive visit program designed to meet students where they are, as well as on our campuses," Peek continued.
Sabino explained that the hardest part of being an incoming freshman is the possibility of not having a normal college experience.
"The class of 2024 already has dealt with the heartbreak of our senior events, proms, and even graduations being canceled, and so all we yearn for is a 'normal' college experience, but COVID-19 might not allow that to happen," Sabino said. "While we are all grateful for our health and safety, all the uncertainties are overwhelming and upsetting." 
Conor O'Kane, assistant dean of first year students, has been in contact with both current and incoming freshmen since the university closed. He has been utilizing Zoom to communicate and answer questions that any freshmen may have, creating posts on incoming freshmen pages and conducting virtual presentations for admitted students.
"I've been so impressed with how well students have adapted, and that they've done so largely with a sense of generosity and grace," O'Kane said. "I think it's one of the great gifts that current and incoming students have brought to this challenging time. I'm deeply grateful for that and it makes me very hopeful for the future."