Quinn, Visual Arts Affected by Noise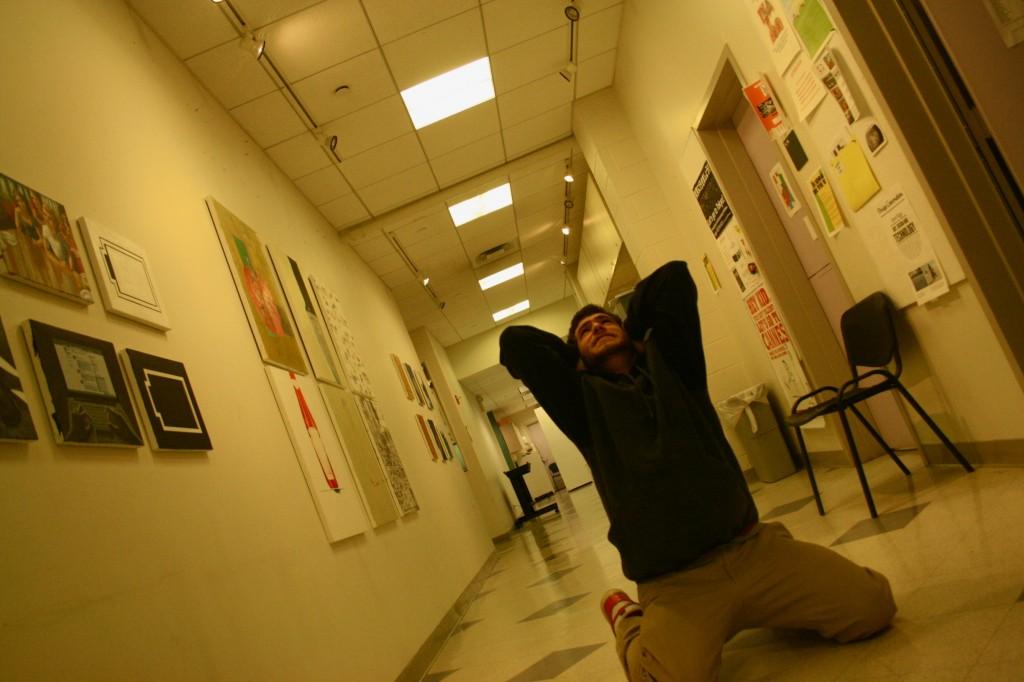 Published: April 20, 2011
Since construction began on the new law school and dormitory at Fordham College at Lincoln Center (FCLC) in February, students, faculty and staff have been dealing with the consequential noise, specifically those who work within the visual arts complex and Quinn Library.
The drilling site, located directly behind the visual arts department and adjacent to the library, has caused inconvenience to students and faculty who use both spaces.
Although there have not been many outward complaints to administration, Joseph Lawton, professor and program director of visual arts, said he believes no one from administration walks the halls of the visual arts department. "If anyone from administration made real light of [the construction] then [they would see] it's inexcusable. It's certainly disruptive, and if they think any other way then they have not really come down to hear it."
However, he also said, "Most faculty and students have been very good spirited and good hearted to ignore the noise as best possible, but realistically it's very annoying and disruptive."
The construction noise has also affected the Quinn Library, particularly towards the back of the library.
Brian Byrne, vice president of FCLC, said, "To develop the campus there's going to be some disruption. If you're impacted, study elsewhere if it's really affecting you."
Earlier this month, Byrne said he went to the library and saw people with their earphones on and still studying. "The vibrations didn't seem to be terrible down there and people weren't running out of the place."
However, after a visit earlier this week, he added, "It certainly is noisy and the complaints from some do not surprise me."
Byrne explained that the school has noise monitors throughout the campus "to insure that we do not exceed code limits but that does not mean it will not be noisy."
According to Dorothy Wenzel, director of the Office of Student Leadership and Community Development, an email was sent on Mar. 25 apologizing for the conditions of the construction and warning students about noise in the library.
The notice failed to reach a number of students mailboxes and did not mention the effect it will also have on the visual arts complex.
Celine Tokat, FCLC '12, said, "I didn't receive anything in my e-mail from Facilities that warned us about Quinn Library. I came to the AV room to try and do my work, but all I hear is this BOOM sound and it gives me a headache so now I barely come."
Christopher Tshoi, FCLC '13, also described how much the AV room has changed.
"This room used to be quiet when I walked in, but now instead of whispering to each other in the room, you're actually shouting over the noise," he said.
Luke Villapaz, FCLC '11, works as a computer lab assistant in the library's AV room and said the construction noise does not stop until about 5:30 p.m. "The farther back you go in the library, the louder it gets," he said. "You can't hear it in the front of the library, but it is ridiculous in the AV room."
Lowenstein Facilities was unavailable to comment on this.
The visual arts complex is also experiencing disturbances. Lawton teaches photography courses that require the use of the darkroom, which is closest to the construction site.
Although the Dean's office offered to switch classrooms, Lawton said, "There is no other dark room in this school so our classes are specifically geared to the subject we teach, so moving them elsewhere is not such an easy proposition."
Instead of switching classrooms, Lawton said subject matter taught in the classes has changed. "There have been some issues with not only just the noise, but the actual enlarger shaking a little bit in which case you can't get a critical focus."
Lawton said, "Whining and complaining is not going to do anything [about the noise] either, but it has to be understood that there's an effort being made by the students who pay the tuition and the faculty to make do with a rather rough situation."
Jessica Wendroff, FCLC '14, and photography student, even referred to her experience in the darkroom as walking into "Thor's dungeon."
She said the constant pounding during class makes hearing a professor difficult. "Students are now suggested to only use the darkroom after construction has ended for the day because the vibrations ultimately make pictures blurry."
Overall, Byrne said that he felt FCLC has been "very generous and understanding of the situation."
As a way to cope with the noise, Jin Lin, FCLC '12, bought earplugs and said, "I just plug in my earplugs so the construction doesn't affect me as much, but I left my earplugs at home, so I'm not getting a lot of work done."
Gabrielle Dominguez, FCLC '11, said, "If anything I'd go to the third floor computer labs, which is not as comfortable, but you've got to do what you've got to do."
Villapaz suggested another solution. "The library should issue free earplugs or something that can help students block the sound out," he said.
Byrne said that there are alternative places for students who want to study such as the second and third floor lounges in Lowenstein, as well as empty classrooms.
Despite the disturbance, Lawton said the new building is one he looks forward to seeing and that he understands the construction is a necessity.
The Master Plan construction may not immediately benefit the classes of 2011-2013, but Byrne said there is a "halo effect."
"For every Fordham graduate, you carry Fordham with you wherever you go and to the extent that further physical developments will help the University advance its reputation," he said. "Then, it is to your advantage down the line to be the graduate of a school that's getting better."