Triple the Schools, Triple the Laughs
Stove's joined forces with two other comedy groups for a diverse and energetic show
Few spaces exist on Fordham's campus that can effortlessly combine laughs surrounding fraternity culture, knitting on dates, jazzercise and full-movie reenactments in under five seconds. Stove's Cabin Crew broaches all these topics and more gathering a community of students to experience their skilled and organic improv. On Feb. 21 at the Lincoln Center campus, three university comedy teams united to produce an evening that really packed a punch. 
Fordham Rose Hill's comedy team, Stranded in Pittsburgh, and Pace University's group, Yes Anderson, combined forces with Stove's Cabin Crew to draw a crowd of friends and strangers alike, all eagerly giving two hours of their time to see Fordham's first- ever multi- university comedy collaboration. The teams rotated between long-form sketches and improv games, all including voluntary contributions from the audience, allowing for dynamic variety within the night's bill.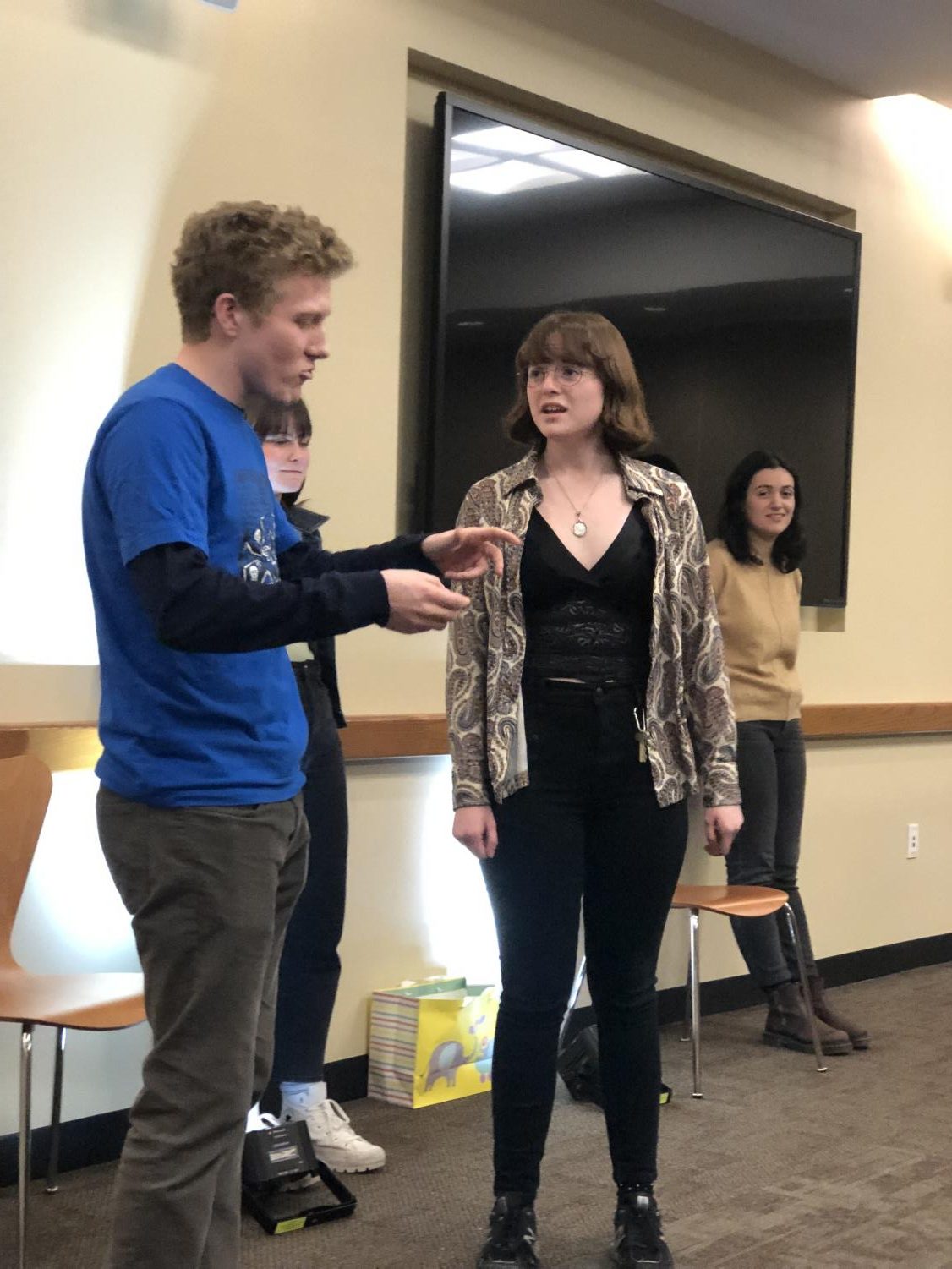 Maddy Casale, Fordham College at Lincoln Center (FCLC) '20 and president of Stove's, explained that the groundbreaking collaboration began as a simple conversation among friends at a regional comedy tournament. They met while interning as production assistants for TruTv and transferred their connection over into the world of comedy. Casale charismatically expressed how a concept that began as "Wouldn't it be cool if" turned into, "Well, now we're the bosses, so we can do this." 
As gender disparity persists within comedy performance as well, female leadership of Stove's should be noted. An investigation done by BitchMedia from 2011-2014 shows female comics only headlining at Caroline's On Broadway 7.8% of the time in 2014. That same year, female comics without the status of "headliner" composed merely 16.2% of performers. 
This inequality of stage time for female comics was absolutely not present at this synergetic mid-semester undergraduate performance, where the improv teams appeared balanced in gender expression and racial diversity. Male-identifying performers did not dominate the space, and improv skits often included male performers impersonating femme identities and female performers taking on the act of hyper-masculine personas. The fluidity and compassion exhibited, even while allowing the performers to act silly, a positive reflection on Fordham's ethos of "men and women for others." 
Quite possibly, the equal and authentic expression through comedy was headed towards success from the start with Casale and experienced Vice President Andy Vega, FCLC '20, guiding the organization. Vega has performed improv with the renowned UCB Theatre and elicits laughs on Twitter as well. The entire room erupted when Vega proclaimed, "You are a princess in the sky and I'm not falling for this mystical arrangement" during an improv skit depicting a drunk patron resisting his accomodation at the Holiday Inn. 
As shown by not only the Stove's shows, but by the content available on their YouTube channel, Vega and Casale are not new to the comedy scene. Casale not only manages a successful troupe, but creates a space of comfort for her members. During a hectic midterms season, she describes the members' sentiments of "thank God we have this to come to and let the stress off."
The three teams may not have any other choice but to ignore the stressors of university life and dive in completely to the improv tasks at hand. With framework such as "New Choice," the emcee (Vega) motivated further hilarity by forcing a team of two comedians to alter dialogue on the spot every time he declared "new choice" into the microphone. A skit that began as cousins awkwardly catching up during the Thanksgiving holiday led to murder confessions, dating complaints and a thickening plot going after Grandma. 
It is not often that New York City universities join together for creative purposes and leisure time. The endeavor was well received, confirmed by a boisterous group of Pace students who needed help finding the performance space. As the saying goes, "If you build it, they will come." Stove's can take pride in running a comedy organization that not only resists the gendered issues in the wider comedy sector by uplifting all voices, but also performs for audiences with few available seats.