Football Suffers Fourth Quarter Collapse Against Holy Cross
A standard game of football is played over the course of four quarters, and it appeared as though this fact caught the Fordham Rams off guard Saturday. In the last 15 minutes of their Nov. 16 homecoming game against Holy Cross, they allowed 35 points in what would eventually become a 49-27 rout. It was their fourth loss as they continued a winless month of November.
After losses to Lehigh, Lafayette and Colgate, Fordham had been victory-starved since Oct. 12. However, if the Rams were going to wait before recording another victory, there was no more opportune time than in their game against the Holy Cross Crusaders.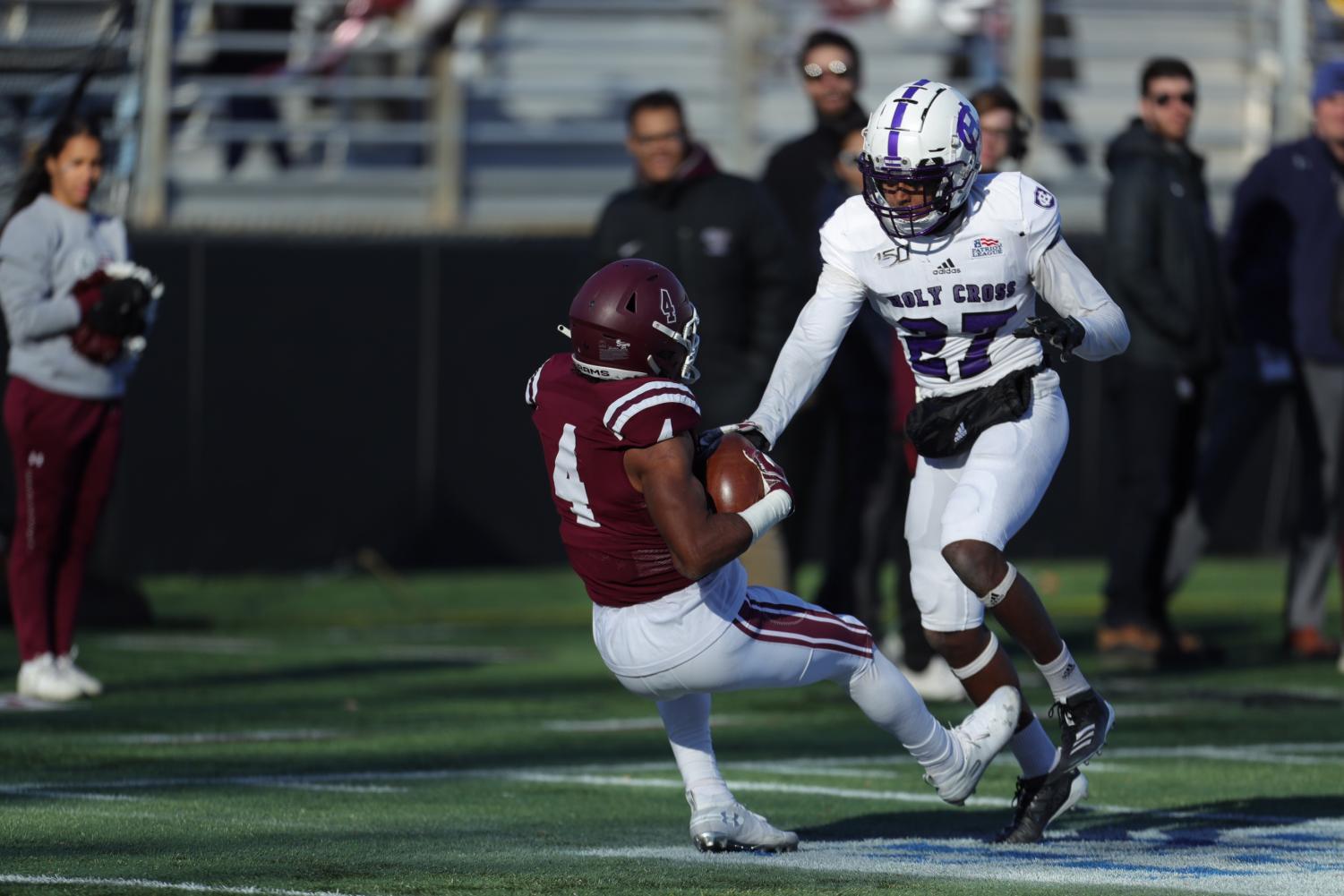 Known as the Iron Legion Game, the rivalry between these two Christian universities goes back a century. In addition, Fordham hosted the Crusaders at their annual Homecoming game, which meant they would play in front of a considerably large crowd at Jack Coffey Field. The stage was set for a Fordham recovery, and through three quarters of football, a victory was well within the realm of possibility.
Following a scoreless first quarter, DeQuece Carter, Fordham College at Rose Hill (FCRH) '22, revitalized the Rams' offense on a circus catch. Evoking NFL star receiver Odell Beckham Jr., Carter reached far over his head for a one-handed 33-yard catch. The completion set up an easy rushing touchdown for Zach Davis, FCRH '21, which gave Fordham its first lead, 7-0.
As the first half came to a close, the Rams found themselves within a yard of another touchdown. On third down, Tim DeMorat, FCRH '22, found Carter again, this time in the end zone, and Fordham entered the locker room for halftime with a 14-point lead.
After a completely hapless first half, the Crusaders entered the third quarter as a new team. They scored two touchdowns in 15 minutes and shut the Rams down on defense to tie the game, 14-14. Fordham could blow their lead at the finish, but they still had time to pull away and secure a victory at Homecoming.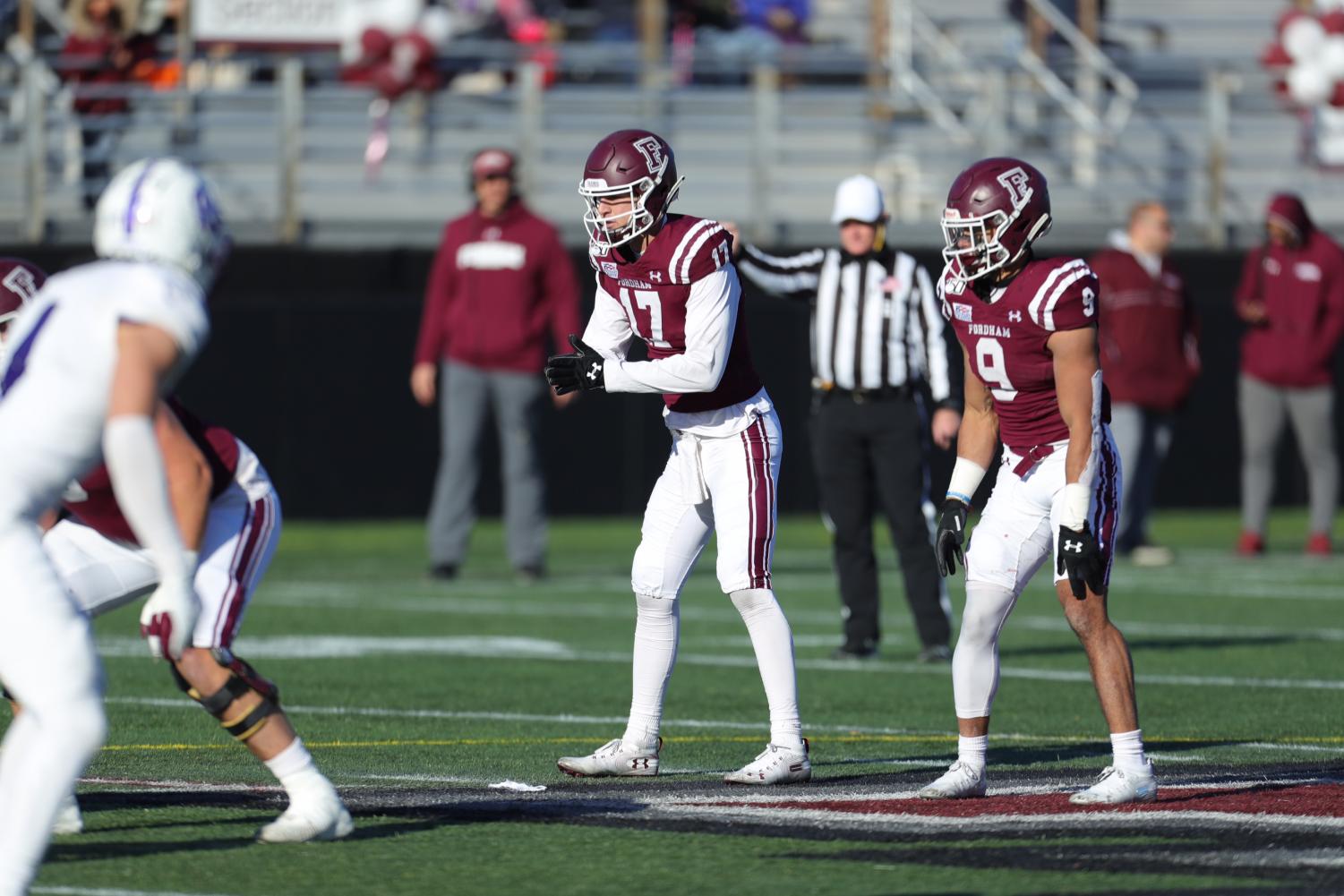 The fourth quarter started hopefully enough. DeMorat completed a 32-yard touchdown to Hamze El-Zayat, FCRH '21, to give Fordham a seven-point lead, 21-14. It was the last time they would lead all day.
Two minutes later, Holy Cross scored on a rushing touchdown to tie the game at 21. Four minutes after that, they scored on another rushing touchdown to take a 28-21 lead. Within a minute and a half, another rushing touchdown, this time for 45 yards, extended Holy Cross' lead to 14 points, 35-21. With four minutes remaining, the game was far from over.
Forty seconds after they allowed a third Holy Cross touchdown in the fourth quarter, DeMorat and the offense stepped back onto the field with aspirations of a comeback in mind. His third pass of the drive was intercepted, and the Holy Cross defender returned the ball all the way back to Fordham's end zone for a defensive touchdown.
The score essentially defeated the Rams. WFUV Sports, Fordham's radio station, tweeted resignedly, "Holy Cross extends their lead to 42-21. 3 minutes until it's over." Spectators at Coffey Field saw the final minutes as a time for mercy, but the Crusaders thought otherwise.
After getting the ball back from an inept Fordham offense, it took two plays for Holy Cross to score another rushing touchdown. Fordham scored on a last-second touchdown pass from DeMorat to Carter to end the game with a score of 49-27, but it did little to conceal a total collapse.
After three quarters of solid play, every aspect of the Rams' game failed them in the final minutes. Their defense allowed 35 fourth-quarter points, a total they typically allow over the course of an entire game. Outside of a resurgence in the second quarter, their offense was largely muted and failed to match the Crusaders' late offensive deluge.
It was a bad day for anyone associated with Fordham football, one of the worst in recent memory. They lost one of their biggest rivalry games in embarrassing fashion, and there is seemingly no path to recovery for the 2019 season, even with consecutive victories going forward. DeMorat is still a young quarterback, and dynamic runner Davis has a year left of college eligibility. The only hope for Fordham fans is that the football program eventually capitalizes on the talent they have and continue to develop a team that can find success in the new decade.