Student Artists Investigate Brokenness in The Comma's The Fragment
Sometimes the most successful art is that which can reconcile opposing beliefs and opposite frameworks. Unity and distance might sound like tough emotions to bring together through art, but when done right the effect is healing, liberating and comforting. On Nov. 7, 15 student artists each showcased their respective reinterpretations of brokenness in The Fragment, the first interdisciplinary art show presented by student-led arts publication The Comma.
Upon arrival at G76 in the 140 West Building, I was immediately drawn to the snack table next to the wall of illustrations and photographs. As I made my way through the arrangement, picking up some meats, cheeses and cranberries, I looked around the room for an idea of the theme of the night. At the end of the table, I was met with a puzzling arrangement of papers taped together, mostly redacted in black ink. I soon realized that this was a collective piece made up of random writings from members of the Comma. As I read through the maze of distinct scripts and torn sheets, many voices came together, and the synergy of the anonymous journal notes, diary confessions and discarded poems set my perspective for the rest of the show.
On the adjacent wall, students displayed diverse works in photography, illustration, painting and collage. My first impression was that some pieces seemed less thematically pertinent than others, and their inclusion threw me off more than they reinforced the theme of fragmentation. Nonetheless, the most engaging pieces managed to make their way through the scattered presentation.
Photos by Joe Kottke, Fordham College at Lincoln Center (FCLC) '23, which caught my eye after a moment of browsing, depicted various hazy snapshots of summer warmth. A close-up, out-of-focus still of a koi pond shows one fish seemingly popping its head out to meet the viewer. Another shot depicts a backlit friend doing crunches on a bed. Photos featuring light leaks, he said, came from the beginning and end of two different rolls. In fact, all of the photos are from different periods, but he bookends seemingly unrelated images into one fun story.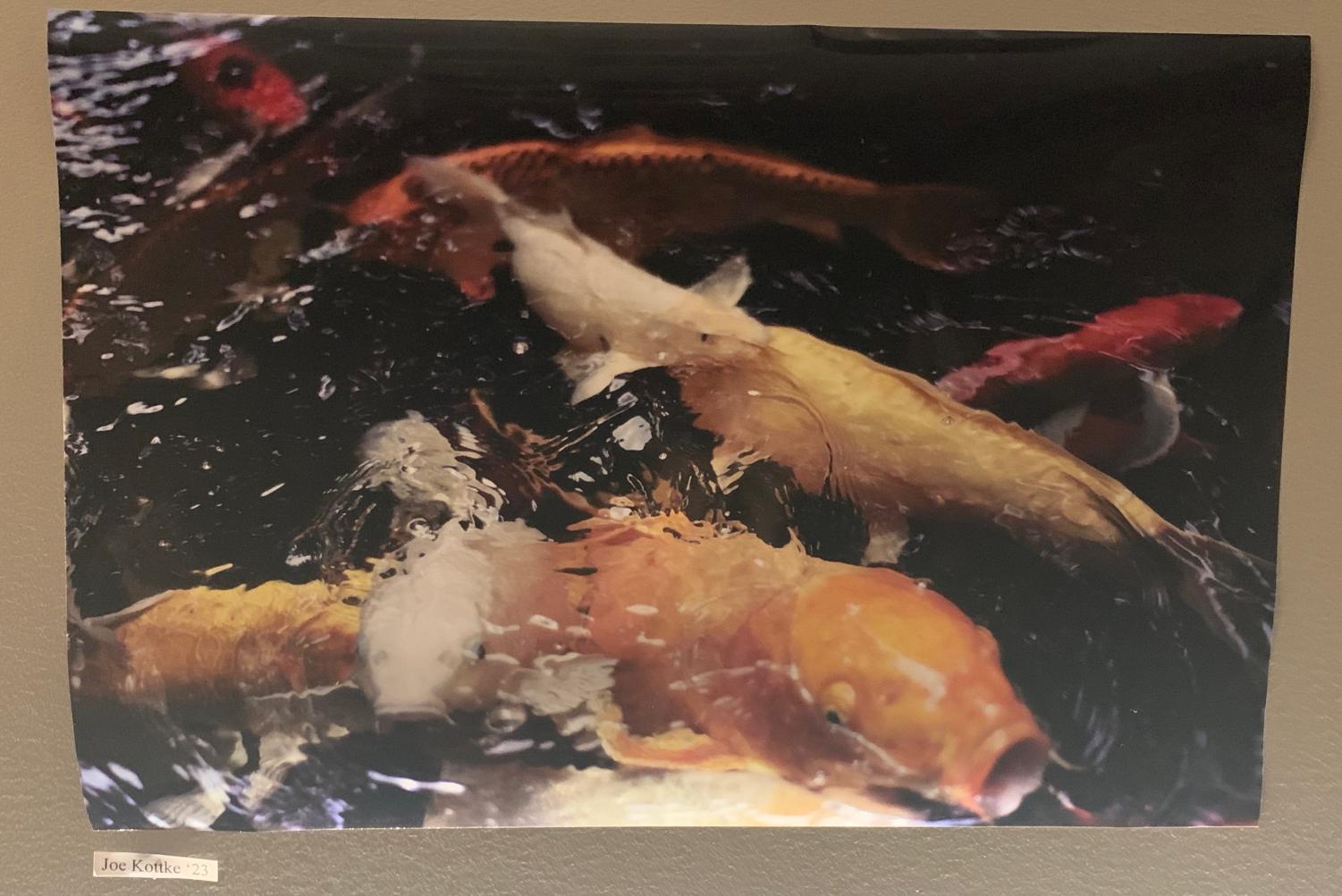 The dysmorphic self-portraits of Annie Fitzsimmons, FCLC '19, bring the artist and her "demons" together, opening up a dialogue on coming to terms with one's own trauma, self-doubt and rebuilding security. In one piece, her nude figure and expression are vulnerable and spots of color mark her body like past events. But instead of taking on a menacing appearance, Fitzsimmons' demon figures that appear in her works seem to display the same vulnerability that the Fitzsimmon of these pieces does. When I asked her about the demon figures, she mentioned her reluctance to use that word for lack of a better one because that evil tone stigmatizes one's past trauma, which is antithetical to her work entirely. She said that her work is a reminder that it's okay to embrace one's distorted self-image, and it helps us learn and grow.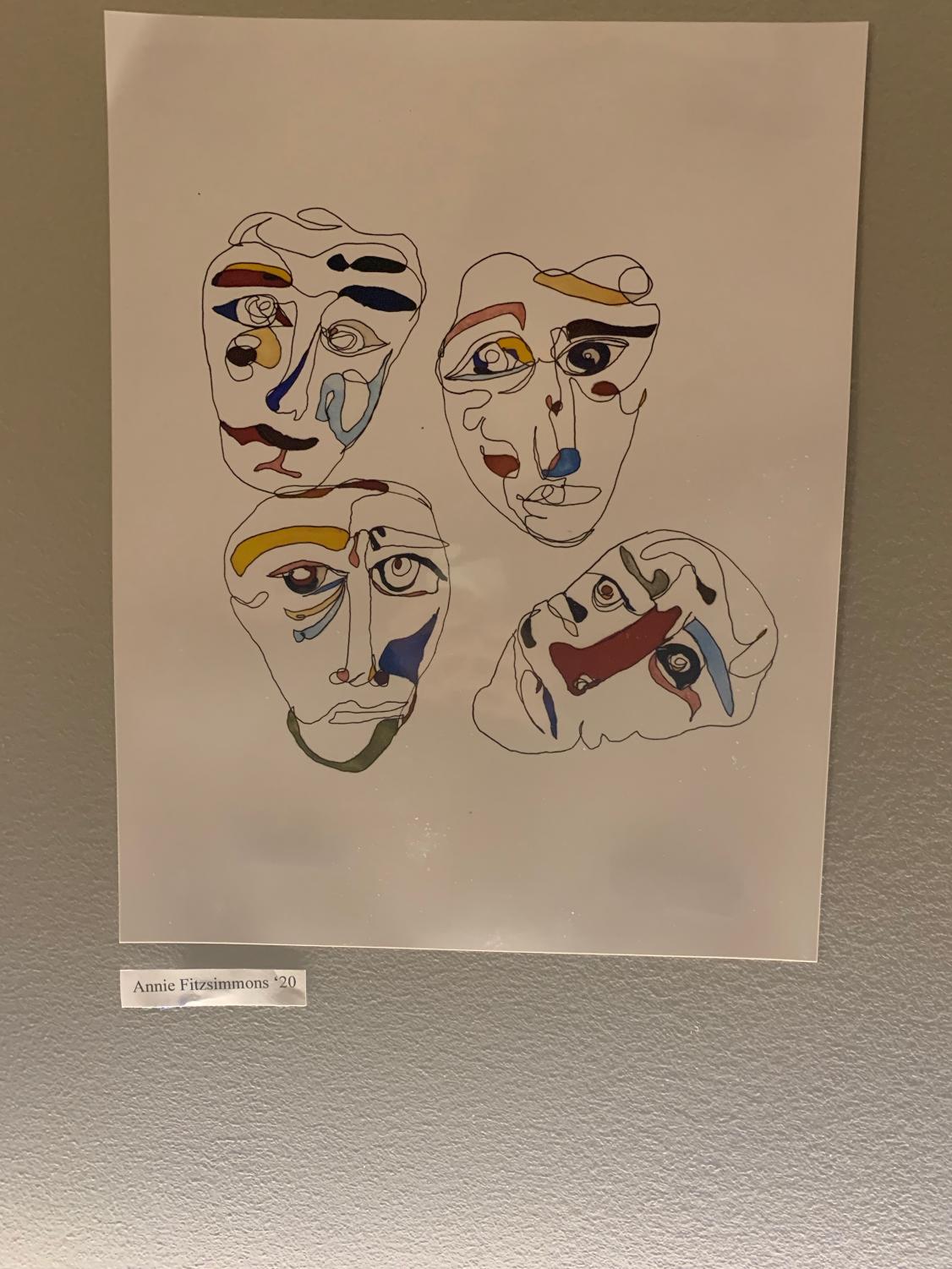 Turning the artificial corner created by a wall of fabric, I entered the portion of the show dedicated to works bringing together literary and visual arts. Everyone shifted around with care and gave the occasional apology, making attempts not to block the projectors while trying to catch the rotation of art. Here, collaboration between visual and literary artists brought pieces to life.
A joint piece by Kaitlin Cunanan, FCLC '22, and Shannie Rao, FCLC '22, depicts the words "today my mother is a ghost" in the form of a ghost made up of the word "mother" looking down upon a mother-like figure made up of the word "my." Rao, who provided the words for this visual poem, said it was inspired by a distant mother-daughter relationship. Together, she said, she and Cunanan make the sense of abandonment explicit through Cunanan's arrangement of the words.
Cunanan also collaborated with Alyssa Morales, FCLC '22, for a series of haikus for which Cunanan provided the illustration and text manipulation. Morales' poems evoke juxtaposition between playful childhood and learning through experiences. Just as striking as the bright, playful colors and words was the contrast in visual style when compared to the piece Cunanan worked on with Rao. "For Alyssa's piece, I was really playing off of the innocence of some of the lines," Cunanan said, "but also the relationship between the author and the other party. In how you can lose yourself in some blurry lines and your own desire. Shannie's poem is liminal, kind of cryptic. That's where I was pushed more towards a minimalistic style of text manipulation."
All the artists showcasing their work at The Fragment redefined brokenness, distance, looking back and thinking forward in their own way. I left the makeshift gallery space deep in reflection, wondering about the relevant themes circulating in my own life. The inventive student artists created unity amidst brokenness that evening.