'Pippin' Makes Dying and Climbing Look Easy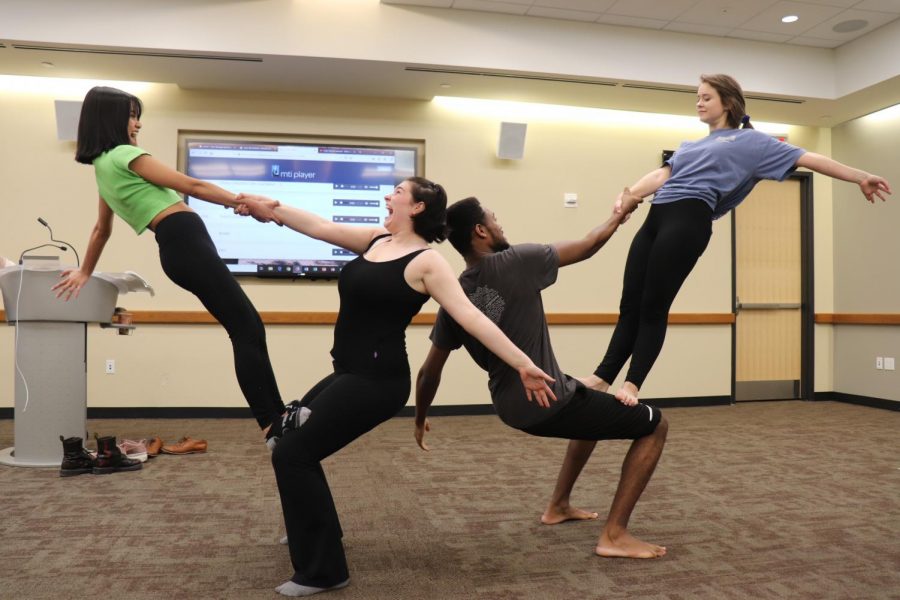 Pass by the auditorium near Argo Tea on a Tuesday night and you might notice several students working as hard as they can to lay on the ground while other students try to "musically maneuver" around them. Don't worry, something wicked has not occurred on Fordham grounds. It's all for show. 
These students are members of Fordham's Splinter Group. Whether practicing basic foot movements or quite literally learning "how to die," they have been hard at work when it comes to perfecting their upcoming performance of Roger O. Hirson and Stephen Schwartz's musical "Pippin." 
Set against the backdrop of several different time periods, "Pippin" follows the titular young prince as he ventures off onto a journey to ultimately find himself. Whether it be on the battlefield or through his relationship with his father, King Charlemagne, Pippin will not rest until he discovers what it takes to have true happiness and fulfillment in his life. A troupe of circus players accompanies him all the while.
In their adaptation of the story, however, the role of the Leading Player is portrayed by three different actors — Cameron Dasher, Fordham College at Lincoln Center (FCLC) '22; Sylvie Tamar, FCLC '22; and Jackson Lewis, FCLC '23. 
But "learning to die" isn't the only rehearsal process the group practiced, as they also learned what it takes to become a "human staircase" for the musical number "Glory."  
"We call it 'becoming stairs,'" said Public Relations Manager and Choreographer Rebecca Slaman, FCLC '20. The formation consists of three different actors bending down while another walks on top of them, trying to maintain a sense of balance. Some easily manage to hold the weight of their peers, but others like Dasher, choose to humorously acknowledge the physical pain of "becoming stairs," as after the "climber" steps over her, she says that she "never felt a release quite like that." 
Needless to say, the entire rehearsal process has been anything but straightforward and simple. Under the direction of Kevin Mikuls, FCLC '20, and Justice Somerville-Adair, FCLC '21, the actors seem to manage that stress and pressure with optimistic enthusiasm. Mikuls gives detailed yet easy-to-follow stage directions while accommodating each of the actors' own limitations. At the same time, even the directors are willing to admit that rehearsing has been stressful, but as long as the cast and crew know what they're doing, Mikuls believes they have it under control. 
"It always feels like a rush even when it's not," he said. "We're trying to add a set this year, we're trying to rent lighting and it's just a lot more than what we always think it's going to be. But I think we're a lot more prepared, we got to raise the bar with the cast and I think it's going to be the best show we've had so far." 
"We've been rehearsing for about two weeks now," said Somerville-Adair. "I tell (the cast) to give it their all and sometimes to go over the top. We've also been really encouraging professionalism in rehearsals, like arriving 15 minutes early to stretch, which (Splinter Group) hasn't really done before." 
When it comes to "learning to die" in particular, even when dealing with an otherwise serious subject matter, Mikhuls and Somerville-Adair manage to control it by making it clear that this is an upbeat musical first and foremost. And when the directions being given include "Raise your hand if you just died onstage," each actor is fully aware of the sheer ridiculousness of rehearsing how to step around each of the "corpses" during a musical sequence. At the end of the day, they are entertainers, and if someone such as Mikuls feels it is necessary to compare a routine to that of a "Scooby Doo-esque door chase sequence," then so be it.
"I feel like we've been working as hard as we can," said Savannah Miscik, FCLC '23, who plays Pippin's grandmother, Berthe. "As a freshman, having an environment where you can come to be social, but also be productive and get work done, I feel is really rewarding." 
Splinter Group's performance of "Pippin" will take place in Pope Auditorium at 7:30 p.m. on Nov. 21 and 22.