Fordham Cross Country Finishes First (and Second) at Metropolitan Championships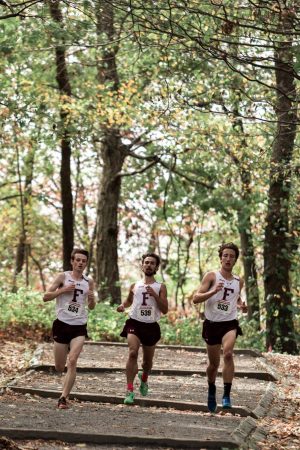 Fordham men's and women's cross country laced up their spikes for their fifth meet of the year on Friday, Oct. 11. The Rams competed at the Metropolitan Championships on an unexpectedly temperate day in Van Cortlandt Park. The men's team defended their title against six other prominent local teams with 17 points for a first-place finish, their fourth in the last six years. The women's team finished second out of nine teams with 72 points coming in after Rutgers' 53. 
In cross country races, team scores are calculated by the finishing positions of the first five runners to cross the line from each team. A first-place finisher receives one point for their team, second place two points and so on. The team with the lowest score wins. 
The Fordham men dominated the field, followed far behind by Manhattan College in second place with 71 points and Rutgers in third with 80.
During the men's 8-kilometer, approximately 5-mile, race, the Rams took five of the six top individual finishes, including Nicholas Raefski, Fordham College at Rose Hill (FCRH) '20, in first place with the title in a time of 26 minutes, followed by teammate Brandon Hall, Gabelli School of Business at Rose Hill (GSBRH) '22, in 26 minutes, 2 seconds and Ryan Kutch, GSBRH '20, in third just one second later. 
Raefski's individual title is Fordham's sixth in the last six years. Kutch took the title in 2018 when he crossed the tape in 25 minutes, 24 seconds. 
The Rams also scored fifth and sixth place on Friday with finishes by John McGovern, GSBRH '23, in 26 minutes, 15 seconds and Colin Flood, FCRH '23, in 26 minutes, 27 seconds. 
The women's team did not find quite as much individual success at the Metropolitan Championships as their male counterparts this year. They were also unable to repeat their first-place team finish from last year's race.
This year's women's 5-kilometer race, approximately 3 miles, came down to milliseconds with Sofia Camacho, Columbia '22, and Olympia Martin, Rutgers '21, both crossing the line in 18 minutes, 19 seconds. Camacho took the individual win just four milliseconds ahead of Martin. 
Two Fordham women placed in the top five of the women's 5-kilometer race. Sydney Snow, FCRH '20, came in third place with a time of 18 minutes, 38 seconds. Freshman Alexandra Thomas, FCRH '23,  finished just behind Snow in fourth place in 18 minutes, 40 seconds. 
Fordham's next finisher was Katarzyna Krzyzanowski, FCRH '20, in 18th place with a time of 19 minutes, 49 seconds.
The Rams will head to Princeton, New Jersey, to compete in the Princeton Invitational on Saturday, Oct. 19.