Rams Softball Star Up for National Award
Published: April 22, 2010
Up on Rose Hill's Murphy Field, a team is putting on a show. Many of the girls on the team have great parts, but even amongst all of the stars in the cast, one shines a bit brighter than the rest.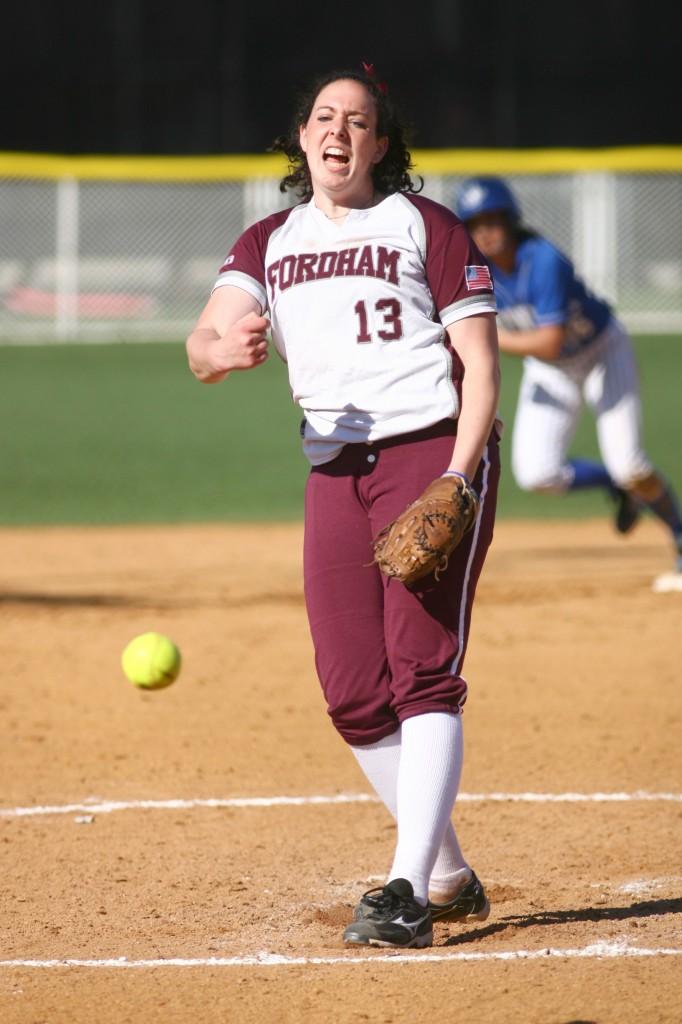 Pitcher Jen Mineau, FCRH '12, steps onto her stage, a mound of sand, and gets into character, turning from a fun and energetic sophomore into a dominating ace whom other teams fear to come up against. Mineau already plays the lead in Fordham's nearly nationally ranked softball show, and best of all, it's a role she'll play for two more years.
Mineau was recently recognized as one of 25 finalists for the USA Softball Player of the Year Award, and she was the only player from the Atlantic 10 conference and the Northeast region to be nominated.  Although Mineau has been having a great individual season, she was quick to spread that honor around.
"Overall it's just really nice to be able to bring so much positive attention to Fordham Athletics," she said.
Mineau is already making a case for being considered one of Fordham softball's all-time greats, having recently broken the 500 career strikeouts mark in her 10th shutout of the season against the Colonials of George Washington University.
Statistically, Mineau has been one of the best pitchers in the country in 2010. Her 0.75 ERA ranks third in the country and her 336 strikeouts and 12.9 strikeouts per seven innings is second in the country; Mineau is second in the A-10 with 20 wins, more than the rest of the Fordham pitching staff combined. Her 10 shutouts rank third in the A-10. On average, she walks fewer than one batter per seven innings (0.75), which ranks third in the country.  Her statistics are truly those of an ace.
Graham Hays of ESPN refers to Mineau as "one of softball's best-kept pitching secrets," but she's not happy with that label.
"By writing about a 'best kept secret,' well it's no longer a secret is it?" Mineau said. "Personally I'd prefer it if everyone thought I was just some schmuck freshman again because there's nothing like catching a cocky team off-guard when they step up to the plate."
The Rams have been playing well all season, garnering four votes in this week's USA TODAY/NFCA Division I softball poll. They have been very successful and are near the top of the A-10 rankings, just outside of first place due to losses to nationally ranked University of Massachusetts. Mineau is proud of her team, noting that, "The team performing well makes my job easier. Wins don't always require the same amount of effort. That's what makes it difficult because the second you let your guard down, you lose your edge."
This nomination places her in a category with some of the best softball players in the country, and other sophomores are rare on the list. "It certainly sets the bar high for the next two years," Mineau said. But as Mineau has been able to show before, earning Second Team All A-10 honors as a freshman, she's more than capable of handling that kind of pressure. The national Player of the Year Award nomination is Mineau's chance to step out from behind the curtain and show us what she can do on a big stage.
The Rams softball team is 32-8 and 6-2 in conference play. They have just finished an 11-game homestand and are in the midst of a 10-game winning streak. They will be returning home on May 2 to finish out the season.