Fordham Takes Liberty Cup
Win Against Columbia Evens Cup Series 3-3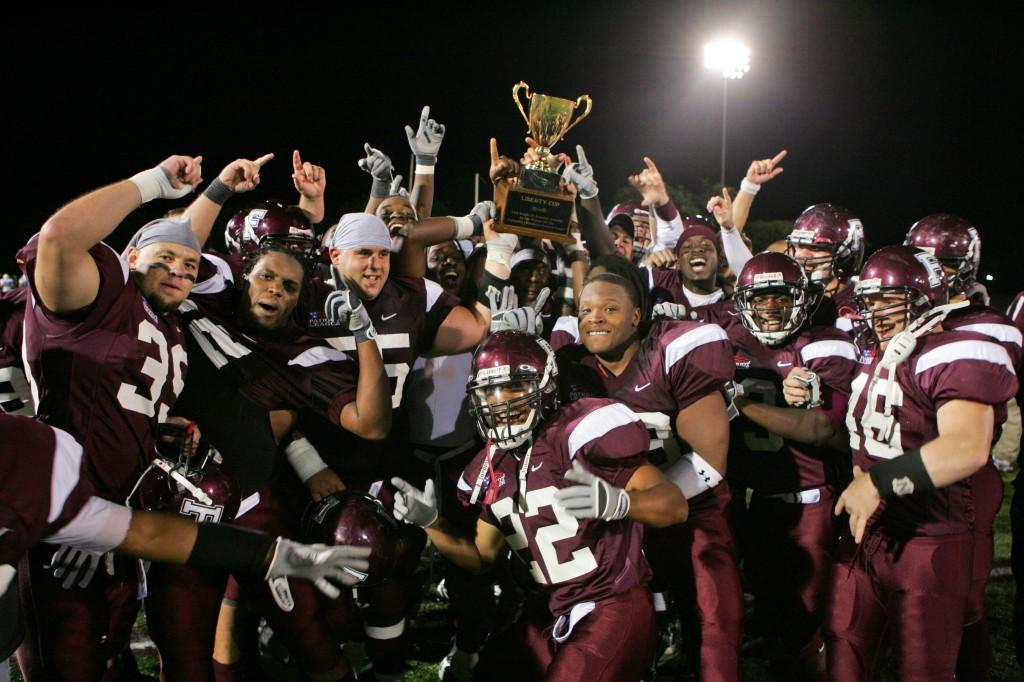 Published: September 27, 2007
There is little doubt that inexperience spoiled Fordham's hopes of attaining a winning record last season. What a difference a year can make.
Three games into the 2007 season, the Rams are discovering what the right blend of senior leadership and young talent can accomplish. The maturation of  quarterback John Skelton, FCRH '10, into a confident leader, the consistency of Jonte Coven's, FCRH '08, ground game and a breakout performance by running back Xavier Martin, FCRH '11, have propelled the Rams to a 2-1 record to start the year.
The Rams' 27-10 Liberty Cup victory against Columbia University on Sept. 15 proved to be a coming-out party for Martin, who carried the ball for 158 yards and three touchdowns in a 27-10 victory over the Lions. Martin, who had missed Fordham's first two games due to incomplete paperwork regarding NCAA eligibility, was the perfect compliment to running back Coven, who added 139 yards of his own in a game in which Fordham's ground game was seemingly unstoppable.
Fordham's two-pronged attack began early, as Coven and Martin relentlessly pounded the ball up the middle. Martin ultimately gained 14 yards with 3:08 remaining in the first quarter to score a touchdown.
He again found the end zone midway through the second quarter, bouncing off of a tackle and sprinting 51 yards to the outside for the score.
The new-found versatility the freshman tailback brings to Fordham's running game was not lost on Coach Masella.
"Jonte [Coven] is a good back and he did some great things in [our first two games], but Xavier [Martin] brings the one thing we haven't had around here in a while, and that's explosiveness," Masella said.
On Columbia's ensuing drive, it was the Rams' defense that stepped up, as linebacker Earl Hudnell, FCRH '08, intercepted a Craig Hormann pass at Coulmbia's 35 yard-line. An Adam Danko, FCRH '09, field goal gave Fordham a 17-0 lead.
Columbia's final drive of the half began with excellent field position following a 42 yard kickoff return, but Fordham's defense held the Lions to just a field goal.
After his two-week hiatus, two scores were not enough for Martin, who added a third touchdown six minutes into the third quarter, stretching Fordham's lead to 24-3.
"I was excited just to put on the pads and jersey," a visibly ecstatic Martin said after the game. "I'm excited to play football again and that I could help this team win."
Four minutes later, Danko would add another field goal.
Columbia managed an impressive 94-yard drive in the final minutes of the contest culminating in a seven-yard Austin Knowlin touchdown reception, but it was too little, too late for the Lions, who allowed Fordham to amass 323 yards on 67 carries.
"When you run the ball for over 300 yards, a lot of people have to be doing a great job up front," Masella said. "Our whole offensive line, our tight ends, even our receivers did a great job opening up running lanes."
Fordham's victory in this year's Liberty Cup, an annual contest established to honor the victims of the Sept. 11 terrorist attacks, evened the Cup series at 3-3.
While the Columbia game displayed the prowess of Fordham's running game, Skelton was the offense's focal point in the Rams' first two games. He collected consecutive 200-yard passing games against the University of Rhode Island on Sept. 1 and the University of Albany on Sept. 8.
Skelton couldn't have asked for a better beginning to his season than the performance he turned in at URI, leading the Rams on a 75-yard, game-winning drive, including a nine-yard score with just 15 seconds left in the fourth quarter. The Rams of Rhode Island had clawed their way back from a 10 point deficit to take a three point lead, but Skelton's persistent passing attack allowed Fordham to walk away with the 27-23 victory.
"John Skelton grew up a lot on that drive down the stretch," Coach Masella said of his quarterback's poised performance. "It was a great win for us."
Despite another 200-yard passing performance by Skelton, Fordham could not come from behind against Albany a week later, falling 23-20. The Rams' final drive had the makings of another come-from-behind stunner, but Albany recovered a Fordham fumble and ran out the clock.