Fordham Mourns Henry Kaufman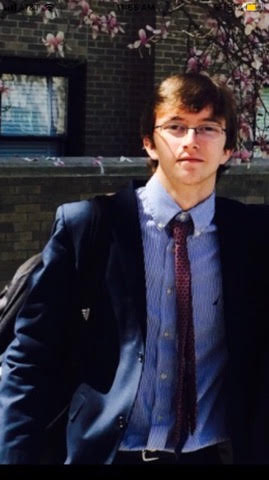 Henry Kaufman, a rising junior at Fordham University Lincoln Center (FCLC), died on Tuesday, July 30, in New York City. Kaufman was born on April 23, 1998, and was 21 years old. He was from New York City. 
"It is impossible to capture in words how much we love him, loved about him, and will miss," said Sophia Kaufman, Kaufman's older sister.
Kaufman grew up in New York City and lived on the Upper West Side with his parents and two siblings. He attended Fordham Prep, a Jesuit high school in the Bronx, where he ran track and field, competed on the speech and debate team and rowed crew. 
After graduation, Kaufman attended Marquette University, a Jesuit college located near Milwaukee, Wisconsin. Kaufman majored in Philosophy and was recommended by one of his professors to work at the Norman H. Ott Memorial Writing Center. 
"I would observe his conferences and was just amazed at how wonderful he was with writers," Anna Scanlon, an assistant director at the writing center, wrote on Kaufman's memorial wall. Scanlon also said that Kaufman was always committed to helping others: "It was at the heart of his tutoring and the guiding principle in his interactions with his colleagues." 
At Marquette, Kaufman also worked as a course-embedded tutor working one-on-one with students for specific courses.
In fall 2018, Kaufman transferred to Fordham University, where he continued pursuing his interest in Philosophy. He also worked on creating his own music, one of his biggest passions. 
In November 2018, he met Janel Fitzgerald, FCLC '20. "I loved getting to know Henry even in the short time that I knew him," said Fitzgerald. "He was very genuine and very easy to talk to."
University President Joseph M. McShane, S.J., announced Kaufman's death in a university-wide email on August 5. Kaufman was not registered for classes for fall 2019, McShane wrote in his email. 
Sophia Kaufman confirmed on Facebook that a Mass of Christian Burial for Henry was celebrated on Friday, Aug 9, at 11 a.m., at St. Ignatius Loyola Church, 980 Park Avenue, New York, N.Y.
Kaufman is survived by his mother, Ellen; his father, Peter; his older sister, Sophia; and his younger brother, Charlie. 
---
Kaufman died by suicide. 
If you or someone you know is at risk of suicide, please contact the number below immediately. 
National Suicide Prevention Lifeline (NSPL)
1-800-273-TALK (8255)
Fordham University, President McShane and The Observer encourage Fordham students to reach out for support or to get help on campus by contacting the numbers listed below. 
Counseling Center:
Rose Hill: (718) 817-3725
Lincoln Center: (212) 636-6225
Campus Ministry:
Rose Hill: (718) 817-4500
Lincoln Center: (212) 636-6267
Students may also contact a commuter assistant, resident assistant or resident director at any time to request assistance or to talk, and can contact Public Safety at (718) 817-2222 for assistance at any time.