A Summer in Bermuda (in New York)
Summer is the best time to work on yourself and your goals, and the Fordham community is focused when it comes to achieving their dreams. Emma Federer, Fordham College at Lincoln Center (FCLC) '21 and a communications and culture major, started her show-stopping summer when she was given the opportunity to premiere her play "Bermuda Triangle" as part of the New York Theatre Festival. She had three performances all at the Hudson Guild Theater in Chelsea. This is the first time her play has ever gone on in New York and even though she is not a theatre major, she is still passionate about writing. 
Neither playwriting nor writing in general is foreign to Federer. "I've been writing since early on in high school," she said. "I used to be a nerd that would write Harry Potter fanfictions. My record was a 400-page story … more of a novel, I guess."
She wrote her first play about her grandmother's immigration from the Philippines to the United States. It won her a live reading at the New Young Playwrights Horizon Theatre Festival in her hometown of Atlanta, Ga. She also has been a theatre kid her whole life and while her plans for studying acting in college didn't manifest, she still kept writing poems, short stories and plays.
It usually takes a long time to write a play, but Federer was immediately inspired with "Bermuda Triangle." She started putting the play together in early June. 
"I got inspiration from this show within a few hours and cranked out 96 pages on a two-hour flight from New York to my hometown of Atlanta." Federer was excited when she heard that her play was selected to be part of the festival. "I screamed in a Starbucks. My friend and I were waiting out a bit of rain for a show and I got the email," she said.
According to Federer, "Bermuda Triangle" is "a play that explores the perfect storm of loneliness, miscommunication and deception that transports three developing young adults into an unfamiliar world of hurt." It follows the story of three students, Chicago (David Wilson, FCLC 21'), Arizona (Emma Dorfman) and Georgia (Carol Jeong, FCLC '19), entering their freshman year of college. Chicago and Arizona soon become friends with benefits; however, that situation becomes messy when Chicago starts dating Georgia. Chicago kept this relationship a secret and he thought he had everything under control, but the truth comes out. The whole play explores the theme of miscommunication and how it can affect friendships. 
Federer didn't do this alone. Her friend Jennifer Ogasian, FCLC '21, directed the play and other people from the Fordham community, such as production stage manager Kendra Hall, FCLC '19, contributed with sound editing and stage managing. 
"[Jennifer] saved my butt," Federer said. "When we couldn't find a director, she stepped in. She contacted all of her friends in the Fordham Theatre program. It really has been a group effort through and through of a bunch of broke college kids with brilliant ideas working together to make my dream come true."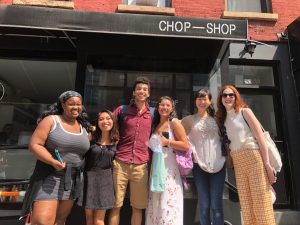 Everyone working on the show met up every day for a month prior to opening night, June 26. The whole team made time to make the show the best it can be. "We have been rehearsing for a month for two hours every day," said Federer. "It's been kind of wild working with everyone's schedules but everyone has worked so hard to make it work. The wonderful actors, David Wilson, Emma Dorfman and Carol Jeong, come in excited and energetic. They ask questions about the motives of the characters. Kendra is great at bridging the gap between actor and director/producer talk that Jennifer and I have."
It was opening night and I came in having no idea of what the story was going to be about. The performance was fantastic. The set was simplistic with minimal props on stage and it drew the focus to the story and acting. The actors were so professional and it was extremely true-to-life, and I left the theater thinking about my relationships with people in my life.
When asked what she wanted the audience to take away and the legacy she wants to leave with this play, Federer said, "In moments of crushing loneliness, remember it's okay to lean on others, but never to use them … and that I'm hilarious and everyone should know that."
Lastly, she gave tips for anyone who wants to go into playwriting.
"Just write," she said. "Write down the random thoughts. Write down the mundane and ordinary to you because it might be extraordinary to someone else. Write down the moments that are hardest for you to understand."
Getting better at anything takes practice, and Federer said the best thing to do is just to keep writing and exploring different styles of writing to find what you enjoy the most.
"Oh! And don't judge your own work," Federer added. "You will be the biggest roadblock in writing. So just write it out. Word vomit. Then, find the nuggets of gold in the vomit."