Summer Sounds: Introducing the Unstoppable Suzi Wu
The unstoppable Suzi Wu hit the Bacardi stage on the second day of GovBall 2019 fully fitted in a pantsuit and combat platforms. The London-born artist made her U.S. festival debut at GovBall on Randall's Island, performing hip-shaking songs from her EP "Teenage Witch" and newest EP release, "Error 404."  As soon as the bass dropped and the edgy visuals of Wu appeared above her, people started to gravitate towards the Bacardi stage.
Suzi gave an electrifying and undoubtedly crowd-pleasing performance. She performed the song "Highway" off "Error 404," which she co-produced with Dave Bayley from Glass Animals. From her set, one could gather that she is an experimental artist heavily influenced by pop culture and a mix of different genres. Her original electronic grunge sound is a fun and dark spin on pop that is unapologetically candid.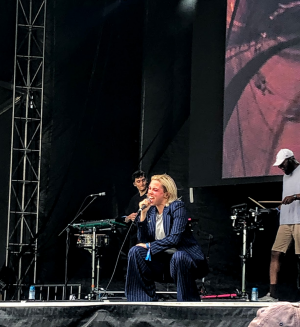 The 21-year old recently signed with Def Jam Records and just started her U.S. tour. COMPLEX called her one of 2019's "Rising Artists Who Defy Genre" and Billboard said that she is one of the "Artists to Watch" for the 2019 festival season. Although Suzi Wu is a fresh face to the U.S. audience, it's only a matter of time before everyone starts paying attention to this heavy-hitting newcomer.
The Observer caught up with Suzi Wu before her gig at Baby's All Right in Williamsburg, Brooklyn, to discuss "Error 404," her musical and style inspirations, NYC and more.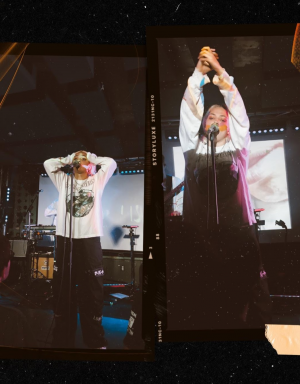 How did you come up with the name "Suzi Wu"?
It's actually a childhood nickname. I wanted to be called Young Egg, and then I read this interview that King Krule did where he said he wanted to be called Zoo Kid, and then he thought about it and he was like, 'I don't want to be called Zoo Kid when I'm 35.' I thought about it and Young Egg is the youngest name you could have. It's literally two words which mean young. So I was like, I want to be Suzi. I want to be my own name because then I never have that Jekyll and Hyde syndrome either. I'm just Suzi Wu.
What was the inspiration behind "Error 404"?
With "Error 404," I was listening to a lot of Brockhampton — their one song, "Stupid." I loved the hook in that. I think it was really good, and I wanted to make something with a similar 2000s piano-style chorus. And it was about the frustration of being in the same room with the same people, heavily partying all the time and wanting to achieve something with my friends, instead of just sitting there and doing nothing.
Who are your musical and style influences?
I love Patti Smith, she's super androgynous and she's got that droll.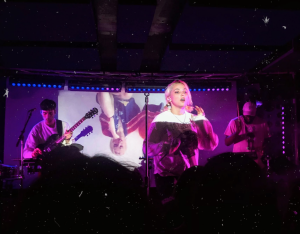 What genres of music do you listen to?
I listen to rap and early 80s and 90s stuff from Manchester, England. Anything and everything, I'd probably have heard of it.
What was you favorite song to record on "Error 404"?
"Highway." I worked with Dave Bayley from Glass Animals on that one. It was the first time I had worked with him and I went in and he had this big machine that they used to make Doctor Who-like space-age noises. And that's what we used to make all the bass noises, and it was this ginormous machine which made sci-fi sound effects. It was like a huge old oscillator from the 1950s-1960s. I knew from that moment that this guy wanted to do things that were really interesting, but still in a pop format.
Who are your style inspirations?
My style inspirations vary. I like to think about fashion as dressing up. I don't actually think it's gone past that for me. I have a song called "Teenage Witch" and I also have this cowboy song. All these things and rave fashion. But it's all just dressing up, so I don't think it's necessarily tied to one thing. But, I love Dapper Dan from New York. I love dandyism from Oscar Wilde, back in the day. Anything that's overly flamboyant, over the top and just a bit character playing.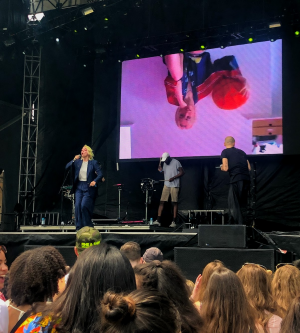 You're going on your U.S. tour and traveling a lot, and you said you want to try all the foods you possibly can. What's one New York City food you've had and/or are dying to try?
Everyone says I should have the pizza, but the other day I just had this burger from Shake Shack, which was amazing. The bread is so nice. They also have loads of hot sauce in America, which they don't have back home in the U.K. Dying to have some different types of hot sauce.
In one interview, you were talking about your fascination with witches and you described witches as females with knowledge — women who would probably get burned for possessing knowledge. You've come a long way from just writing music in your room when you were 19, so what's one thing you've learned thus far now that you're 21?  
I've learned that you're going to go into rooms and you're going to have trial and error. That men are going to be offended by what you say just because you are there and taking up that space. And it's about trying to go through that over and over until you find the one guy that's like, "That's wicked! I love all these ideas and I'm actually listening to you." It's usually one out of 10 and you just have to be able to deal with that. I don't care about those other nine, because that one out of 10 is worth it."