A Film Major's First Film Festival
It was a gloomy Thursday afternoon when I began my trek to Tribeca to pick up my first-ever press pass. I got off the subway and spent the next 20 minutes looking thoroughly confused as I wandered around this unfamiliar area. Finally, I saw some people walk down an alley that was near where I was supposed to go and there, I found exactly what I was looking for: the Tribeca Film Festival Hub. Once I got inside, I picked up my press pass, walked up some stairs and sat on the rooftop lounge for a little bit, thinking, "What is my life?"
DAY ONE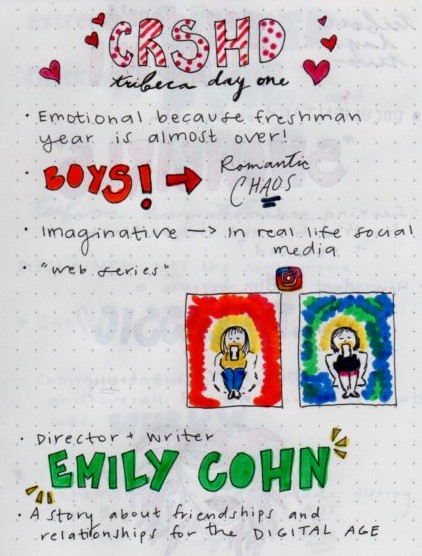 My colleague and I attended our first screening together. The film we saw, "CRSHD," follows three female best friends as they finish up the last few days of their freshman year of college. The protagonist, Izzy, is trying to lose her virginity before she leaves for the summer with the help of her best friends as "wing women."  
I really enjoyed "CRSHD." It was not anything revelatory, heartbreaking or extremely revolutionary, but it was relatable — the bittersweet feeling surrounding the last few weeks of these girls' freshman year of college reflected my own feelings about leaving my friends for the summer. "CRSHD" is a story about friendships and relationships for the digital age, but it still manages to keep to themes that are relatable for all people. There's also an imaginative take on social media, texting and Tinder with the actors acting out their interactions on these platforms. This idea created a much more interactive and immersive setting for something that takes up half the film.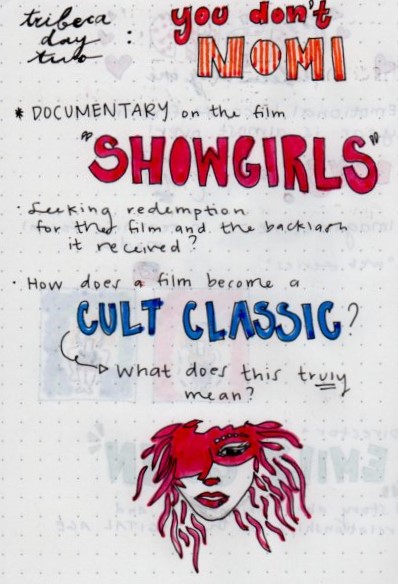 DAY TWO
I decided to watch a documentary on the phenomenon of the cult classic "Showgirls" titled, "You Don't Nomi" — a pun on the lead character's name. My interest in watching this documentary stemmed from being introduced to "Showgirls" by some friends of mine a few weeks before.
"Showgirls," directed by Paul Verhoeven, has the most nudity I have ever seen in a film. It was ridiculed when it first came out and for years to come, but there was a shift in the 2000s in the way people viewed it, which "You Don't Nomi" discusses. After this shift, which came from critics comparing the film to the 1950 film "All About Eve," people began to appreciate "Showgirls" and applaud it for its commentary on the objectification of women and the obsession over money and fame in America.
"You Don't Nomi" covers this change in perception cleverly and even furthers it by discussing its empowering role in the lives of many women. I found this discovery to be one of the more interesting themes of the film, and I think it was a great way for this film that was once ridiculed for objectifying women to be one in which some women found strength.
DAY THREE
I saw "Extremely Wicked, Shockingly Evil and Vile." Now, any time I hear a movie that begins with "extremely," my mind immediately wants to title it "Extremely Loud and Incredibly Close" — after Stephen Daldry's film — but this film was nothing like that one.
This movie definitely was not what the controversial trailer portrayed. The trailer glorified Ted Bundy and treated him like a rock star. However, despite the completely different tone, it still was not a great piece of work. It focused on too many variables of Ted Bundy as a person — the person he was with his girlfriend Liz, and the person who murdered at least 30 women — so it confused me as a viewer.
Now, there were highlights. Zac Efron was actually pretty good — and so was the rest of the cast — but this film felt less like the story of a serial killer and more like a story about a charming man who had this downfall, did some bad things and then sort of got told off by a judge in the end. Granted, it is hard to tell a serial killer story from the perspective of someone who loved him. As viewers, we want to be able to sympathize, empathize or at least connect to or feel for the lead, but in this case we couldn't — and we shouldn't. The writers and directors struggled to deal with this difficulty.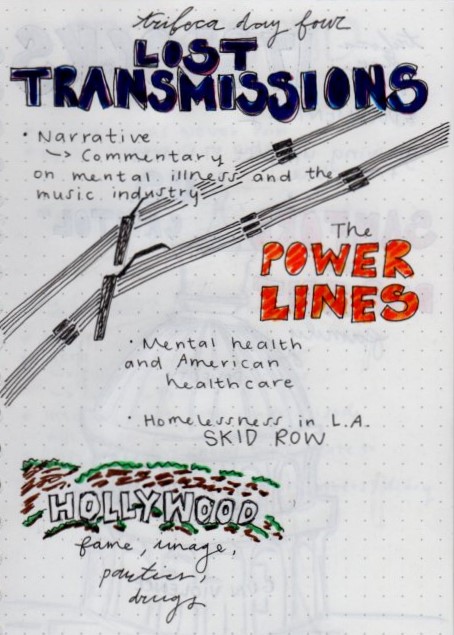 DAY FOUR
I saw a film titled "Lost Transmissions." It follows a retired musician-turned-music-producer's struggle with mental health and the American mental healthcare system that fails him. We follow the journey through the eyes of his friend, a young woman, and witness the way she becomes enamored with the ideas he theorizes while off his medication.
"Lost Transmissions" is a great beginning of a film, but it's just that — a beginning. It tries to take on too many issues, so it ends up not fully fleshing out any of them. The film comments on the toxic Los Angeles party scene; the entertainment industry, especially music and its lack of authenticity, the issues of poverty and homelessness in LA, and mental health. The film makes great strides in attempting to comment properly on these topics and the sadness and troubles behind them, but again, none of them are fully developed.
Simon Pegg and Juno Temple's performances were highlights of the film. I also thought the cinematography and colors were beautiful. I really would like to see this film live on and become something more, so I wish it the best of luck.
DAY FIVE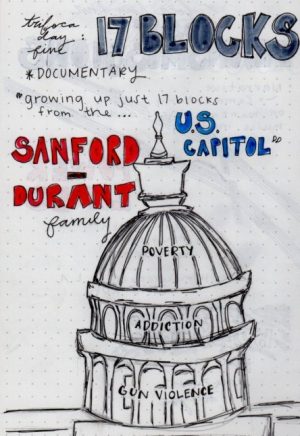 On my final day, I decided to watch a documentary. I've been really impressed with the documentaries that have come out in the past two years, so I hoped that streak would continue with this year's candidates. The documentary was called "17 Blocks." The subjects, the Sanford-Durant family, live 17 blocks away from the U.S. Capitol in D.C., yet their lives are filled with gun violence, poverty and drug abuse.
This documentary was fantastic. It succeeds in encouraging us to root for a family that cannot seem to catch a break. It taught me that sometimes, despite all of our best efforts, life does not go as planned. The documentary was honest, raw and did not try to hide the brutal truth of these people's mistakes, triumphs and misfortunes. This intimacy was fueled by the family filming parts of the documentary themselves, which worked to create an even more emotional appeal to the piece. There were also accidental and purposeful parallels placed between the main son, Emmanuel, and his sister Denice's son that added to the emotional vulnerability of the overall work.
As a first-year film student, my experience attending Tribeca Film Festival as press was pretty exciting. Sadly, I did not get to go to any talkbacks or meet any celebrities — I'll track you down you one day, Guillermo del Toro.
I learned a lot, especially about the way in which non-filmmakers watch films. When I was in the half-filled theaters at 11 a.m. with the press twice my age, you could hear a pin drop the minute the film started. That silence usually continued throughout the film, which, for me, is rare. Whenever I go to a movie theater or watch a movie with my friends, we react. We have thoughts and feelings and we share them while watching them.
The most exciting part of the festival was seeing how many young and independent filmmakers were exhibited. My colleague saw a film that was written, directed and shot by a 19-year-old NYU student. A guy my age had his film shown at a well-known film festival. That's amazing and inspiring to me as an aspiring young filmmaker myself.
Attending Tribeca Film Festival reaffirmed in me the idea that the short films my friends and I make could be shown and appreciated outside of my friends and family. If you make something that means something to you, people will respond to it and share it.