Luck of the Irish
Reporting among Irishmen, religious protesters and festive leprechauns
Keith Eldredge, Fordham's assistant vice president and dean of students at Lincoln Center, was a bit apprehensive last year when, for the first time in his 23-year tenure, classes were in session during Saint Patrick's Day. Spring break did not begin until March 22, 2018.
The university has typically tried to schedule spring break over Saint Patrick's Day, Eldredge explained, in hopes of avoiding extraordinary amounts of alcohol or other substance abuse violations from students celebrating the holiday.
Eldredge and representatives from Student Affairs, however, noticed that sometimes the spring and Easter breaks fell too close together. He recalled one year when students returned from spring break, attended classes for three days and then went back home for Easter. Eldredge said that faculty found this awkward gap between breaks "disruptive" and unproductive.
To avoid another similar gap, Eldredge pushed the 2018 spring break back a week and combined it with Easter. This delay meant that students would be on campus for Saint Patrick's Day, which fell on a Saturday.
"Early semester and late spring are generally the times where we see more alcohol and policy violations," Eldredge said. As the weather warms up, students tend to become more active on and around campus with regard to substance use.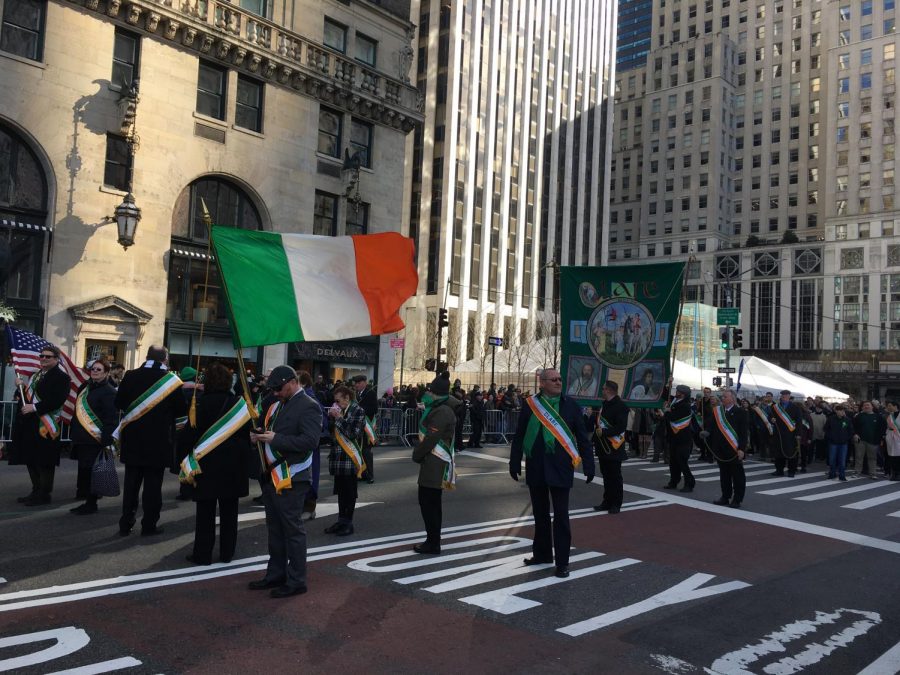 Last year, though, Saint Patrick's Day was largely uneventful. "It wasn't anything unusual for an active spring weekend," Eldredge said. He made sure to differentiate a typical spring weekend from Fordham's Spring Weekend concert held in late April, which is always "one of the busier weekends" for alcohol violations. "Saint Patrick's Day was not anywhere near Spring Weekend," Eldredge said. "It was on par with a normal, lowercase spring weekend."
After the relative tameness of last year, scheduling spring break during Saint Patrick's Day is no longer an "overriding concern" for Eldredge. "If we happen to be in session when Saint Patrick's Day hits," he said, "no problem."
☘
Even at an Irish-Catholic university like Fordham, Saint Patrick's Day celebrations often pale in comparison to those at other colleges. At the University of Massachusetts (UMass) Amherst, a rather notorious party school, students celebrate what is known as the "Blarney Blowout" shortly before March 17.
The all-day festivities are held in and around off-campus apartments and townhouses and are marked by copious alcohol consumption.
In 2014, Blarney festivities rapidly descended into chaos. According to the Daily Hampshire Gazette, thousands of students had already congregated just off campus by 10 a.m. The crowd quickly turned violent, and Amherst police were called to break up the celebrations.
By the end of the afternoon, approximately 73 students were arrested by police and four officers sustained minor injuries after they were assaulted with beer bottles, cans and snowballs. Charges against students included inciting to riot, liquor law violations and assault and battery on officers.
Since then, UMass Amherst has implemented a variety of security measures in conjunction with the city to prevent holiday festivities from turning sour. During Blarney Weekend, the university introduced a parking ban, guest restrictions in the residence halls and even began holding concerts in its basketball arena as a safe, alternative activity. Performers at these concerts have included Kesha, Ludacris and Future.
UMass Amherst's efforts have largely appeared successful. This year's celebration, held on March 2, was deemed "another quiet 'Blarney Blowout'" by the UMass Daily Collegian. It was also reported, though, that two arrests were made that day — it was "quiet" relative to years prior.
Eldredge said that, to the best of his knowledge, nothing of a similar scale or severity has ever happened at Fordham. Fordham is not unique, though, in its efforts to prevent excessive on-campus drinking on Saint Patrick's Day.  
☘
This year, due to the lateness of Easter, Saint Patrick's Day once again fell within Fordham's spring break. Despite the fact that classes were not in session, I was curious to see if, as Eldredge said, student celebrations would again be minimal.
Because the holiday fell on a Sunday, many city festivities, including the annual Saint Patrick's Day Parade, were held on Saturday, March 16. I attended the parade, which travels north on Fifth Avenue from 44th Street to 79th Street, to commence my research.
As I walked east on 59th Street, the sidewalks became increasingly populated with revelers donned in green and gold attire. Sports jerseys were quite popular; surprisingly, there was a roughly equal number of attendees supporting both the Jets and the Boston Celtics. One man wore a green morph suit with white shamrocks and an oversized top hat.
Aside from some religious protesters who were loudly denouncing sex and alcohol, threatening damnation on inebriated spectators, the parade was a lively affair. I high-fived many a marcher as they passed by.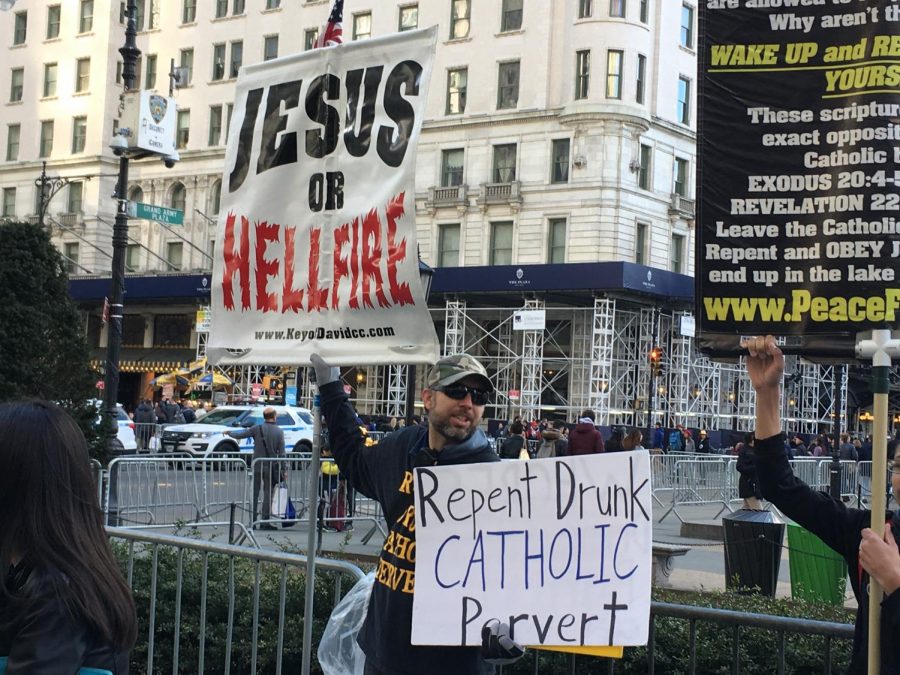 Later that night, I explored the Upper West Side nightlife scene. I headed north to Jake's Dilemma on Amsterdam and 81st Street. The densely packed bar served green-dyed beer, although whiskey served in small plastic cups seemed just as popular. Any music playing was barely audible over patrons' raucous voices.
I was prepared for a similar experience as I got ready to travel up to Rose Hill on Sunday afternoon. Saint Patrick's Day had finally arrived, and I imagined that, despite spring break, students who were staying on campus would surely be celebrating the holiday.
The first bad omen of the day came when I tried to make a Ram Van reservation and discovered that vans were not in fact running. Undeterred, I simply took the subway instead.
When I arrived in the Bronx and walked to Rose Hill, the campus was nearly deserted. Many buildings, including Duane Hall, which houses the Office of Undergraduate Admissions; Collins Hall and Hughes Hall, home of the Gabelli School of Business, were closed altogether. The University Church was open (it was a Sunday), as was the McGinley Center — there were some students there using the fitness center.
Still, I was certain that things would be busier off-campus. Again, I was mistaken. Mugz's and The Blue Goose Tavern, two of the most popular off-campus bars, were also closed for the day. Howl at the Moon was open, but only a few older patrons sat inside. The bartender there said that the entire weekend had been relatively quiet.
Disappointed, I headed from the Bronx to the East Village to end my evening at McSorley's, which opened in 1854 — a small Fordham University pennant hung in the corner behind the bar. Even if Eldredge was right to predict another uneventful holiday, in some ways, Fordham's presence is still felt during Saint Patrick's Day.