Empowering Erotica
Alumna discusses Fordham Theatre, the Museum of Sex and sex workers' advocacy
Leigh Honigman, Fordham College at Lincoln Center (FCLC) '17, received her bachelor's degree in psychology from Fordham after transferring from Pace University in her sophomore year. Upon attending FCLC, she became heavily involved in the university's theater program, and quickly noticed a startling lack of racial diversity both in the department and on campus.
"There's very little diversity in Fordham itself," Honigman said. "But there's next to none in the arts programs."
Her time with the theater department fostered in Honigman a desire to "amplify marginalized or quieted stories." She has produced, designed and assistant-directed numerous film and theater projects both at Fordham and after graduation. Each work, Honigman believes, should serve as a space where disenfranchised voices can be heard.
Honigman's first post-graduation job, however, was related to neither psychology nor theater: she worked for roughly 18 months as a shift supervisor at the Museum of Sex near Madison Square Park.
At the museum, Honigman came to know countless working professionals in the sex industry, including escorts, pornography actors and cammers (online camera girls).
She observed how sex workers, too, were a marginalized group, and the ways in which political and legal systems work to disenfranchise them. In particular, the passing of the Stop Enabling Sex Traffickers Act and the Allow States and Victims to Fight Online Sex Trafficking Act (SESTA-FOSTA) in 2018 served as a call to action for her. The bills, intended to curb online sex trafficking, have been heavily critiqued for their failure to protect legal, consensual sex workers, who worry that the bills will put them out of work.
Many of Honigman's colleagues at the Museum of Sex were "really scared," she said, "because their main sources of income were being taken away, and also their main sources of safety vetting were being taken away." Under SESTA-FOSTA, online sex work has become less visible and relegated to darker, less secure parts of the internet.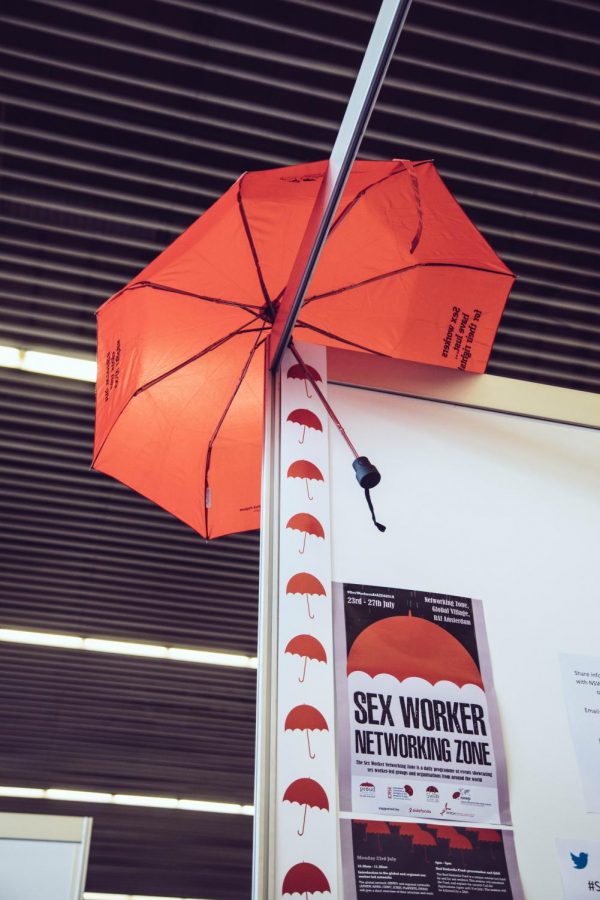 In response to the passing of SESTA-FOSTA, Honigman formed an activist group with coworkers Kit Richardson and Mikaela Berry, FCLC '18, called Cunt Collective. They quickly planned an event to both protest SESTA-FOSTA and benefit the Sex Worker Project, an organization that provides legal support to sex workers and sex trafficking victims.
Honigman, Richardson and Berry invited performers from the industry to perform at the benefit, which was held at the Museum of Sex. The group is not formally associated with the museum but is permitted to host events there.
The objective of the benefit was simple. "We wanted to use the privileges that we had to raise some money to go towards legal funds and emergency housing," Honigman said.
"I'm getting too excited," she continued as she recalled the event. It was a massive success — tickets quickly sold out, Honigman received large numbers of sex toy donations and the collective raised approximately $2,500.
Honigman credited Stigma Unbound, an advocacy group that brings similar attention to the stigmatization of sex workers, for its continued support of Cunt Collective. While Honigman has personally arranged two events, she often partners with Stigma Unbound and promotes other organizations' events to support the cause.
"I think one of the most compelling things about not only organizing a couple of these events but also participating and going" to them, she said, "is seeing how relieved and clearly free these people in the industry can finally be when you actually create a safe space."
Her time with the group has made Honigman "all the more aware of the language that we use and the way that we shame," she said. Sex workers are shamed for "having what is really just autonomy."
The "subliminal language" that people use on a daily basis, especially on social media, often works to marginalize sex workers, Honigman said. She pointed out that the stigma that is placed on the industry connects to other issues regarding the ways in which we think of "some bodies as more worthy than others."
Honigman has been fortunate enough to have encountered little resistance from people who shame or stigmatize sex workers for the work she does with the collective.
"I'm in a very accepting environment but that is my own privilege talking," she said. "I am lucky and I'm also safe and protected in that I am not a sex worker. I'm an ally who is just concerned. So I am not having to deal with nearly as many of the factors as someone actually active that in that industry would."
Honigman also mentioned an on-the-ground organization called Glits, run by Ceyene Egoroshow, that provides emergency housing and child support for sex workers.
The Fordham alumna recommended those who want to learn more about helping the cause to "pay for your porn" and to continue to "ask questions."
Leave a Comment