Second Floor Renovations Create Lack Of Open Space On Campus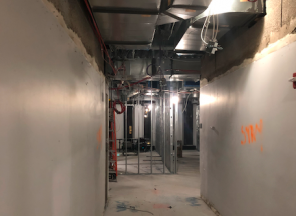 Renovations on the second floor of the Leon Lowenstein Building, which houses the admissions office as well as a popular lounge for the Fordham community, began during Thanksgiving break, resulting in the complete closure of the second floor. Workers are on schedule with plans to re-open in mid-April, but concerns over the lost free space have created problems for some commuting students.
According to John Buckley, vice president for admissions and student financial services, the primary purpose of the renovations is to create a larger admissions office. The reception space in front of the Office of Admissions "has been in dire need of an upgrade for some time," he said.
"Interest in both the campus and the programs at Lincoln Center has grown tremendously in recent years," Buckley said. "Just six years ago, we had 3,222 students visit the campus … Last year, we had 6,033 students attend tours, information sessions, Open House programs and other events at Lincoln Center." The rapid swell in traffic prompted the renovations.
Buckley described the overflow issues caused by the new visitors. "The current reception space is inadequate to graciously receive and welcome this volume of guests," he said. "The new reception and presentation spaces will be game-changers in terms of staging tours and offering information sessions, along with other forms of programming."
However, for students like Daniel Sanchez, Fordham College at Lincoln Center '22, the construction has made it difficult to find available space. "Prior to the start of renovations on the second floor of the Lowenstein building, I would frequent the lounge when I needed a place to relax in between classes or wait for a friend," Sanchez said. "I would also use the lounge to work on assignments that didn't require complete silence."
Since renovations have closed off the second floor, Sanchez, like many other students, finds that there is limited space to spare. "Now I try to find a seat on the sixth floor or the student lounge, but both are often overcrowded," he said.
Frank Simio, vice president of Fordham Lincoln Center, remarked that the second floor isn't the only space on campus that is set for renovations. "The major development is that we are working toward reopening Quinn X and investigating whether or not we can meet updated NYC building codes." Quinn X, the old Quinn library, closed in 2016.
In regard to open space on campus, Simio noted that, in lieu of the second floor closure, "we completed the conversion of Room 100 on the Plaza Level of Lowenstein into a lounge for students."
Until renovations are complete, students like Sanchez will have to make due with that.
Renovations on the second floor aim to deliver improved space for the student lounge and Office of Admissions.