"Sarita" Stars Shed Some Light on Seductive Stage Roles
Published February 18, 2010
rench author Francois Rabelais once said that "we long for the forbidden things, and desire what is denied us." That's certainly evident in Fordham's mainstage production of Maria Irene Fornes's play "Sarita," which tells the story of one woman's difficult journey confronting the ups and downs of a demanding life that forces her to decide between desire and finding the path to true love. On Feb. 25, 26 and 27, as well as March 4, 5 and 6, Pope Auditorium will open its doors under the direction of Daniella Topol to showcase one of Fordham's most dramatic and emotional stories yet. I sat down with two of the stars of the production, actresses Becca Ballenger and Jessica Farr, both FCLC '11, to discuss their roles in the play along with insight into what the play is all about.
Becca Ballenger/ Sarita in Sarita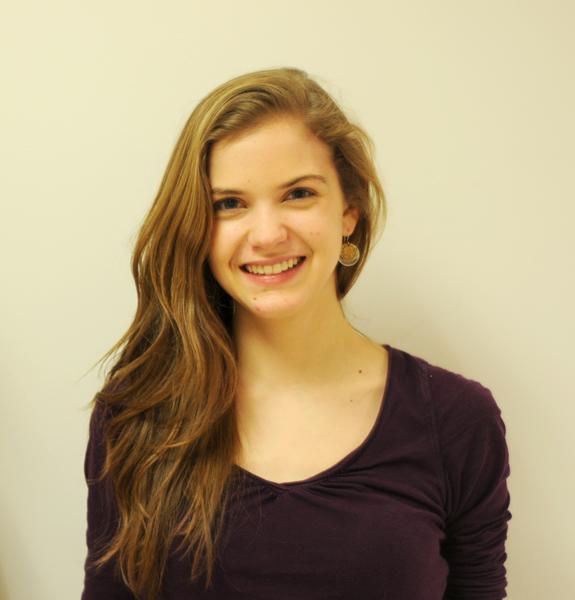 While reading the part for Sarita, did you ever find yourself uncomfortable or in a struggle in convening Sarita's sexual desires?
No. If we're talking about the rehearsal process and my emotional comfort, I've always felt very safe in the rehearsal room and audition room, so that was never a concern. In terms of understanding Sarita's sexuality, I think in the way it's written, it seems very strong, excessive or extreme, but I think that everyone has experienced some sort of excessive obsession or love, whether it's for something or some person. I didn't find that strange or have a difficult time connecting to that at all.
How is the character of Sarita different from any other dramatic character you've played on stage?
It's been a really fantastic experience because Sarita ages in the play from 13 to 21. She's in almost every scene and each scene takes place at a different point in her life. This scene happened in 1940, Sarita is 13. The next scene happens in 1941, she's 14. Creating that sort of through line and being able to live in each moment but remembering what came before is one of the things that has been really exciting and different on this project.
What initially attracted you to the part of Sarita, knowing that your character deals with negative themes such as sexual addiction, suicide and teen pregnancy in her life?
I think she's very powerful. I do think it's an exploration of her strength, not an exploration of how she fails or the ways in which the world puts women in a corner. Certainly it shows that, yes, these women are put in very difficult positions, but Sarita is able to maintain a sort of inner self and strength and hope that things will change and that they will get better.
Do you find it easier to convey emotion using song and dance while on stage? Or do you feel that you can evoke more emotion with straight dialogue?
The way that Fornes writes, it's not like, "musical theater, West Side Story" necessarily. She wrote the words to the music, she wrote the book and the music follows the words. Fornes powers all of the music with the words. For me, I haven't been approaching it like, "This is a musical, this is where we stop and sing and dance." We've been approaching it through the text and if you can understand what you're saying and what's going on with you, then the music happens because of the text; it happens because of what's going on with us. It has felt integral to the process to work on the music.
Do you think the Fordham administration will have any qualms about the nature of the play?
Maybe (laughs). Frankly, they let us do what we want. I think it's a fantastic play; no one should go into thinking "This play's about sex, this play's about murder, this play's about these themes that are edgy." It's about people trying to react in extraordinary circumstances which everyone has to deal with. I never have looked at it as "oh people might not like this or they might disagree." So, I hope people just go in with an open mind.
Are there any rituals you perform before going on stage?
(Laughs) Well, we always do a vocal warm up as a cast and concentration exercises to bring us closer together. For myself, I like to warm up physically. It's a very physical show so I do a vocal warm up and a physical warm up. I do yoga. I like to read my script everyday if I can, usually before rehearsals so I can be in their "world."
Jessica Farr/ Yeye in Sarita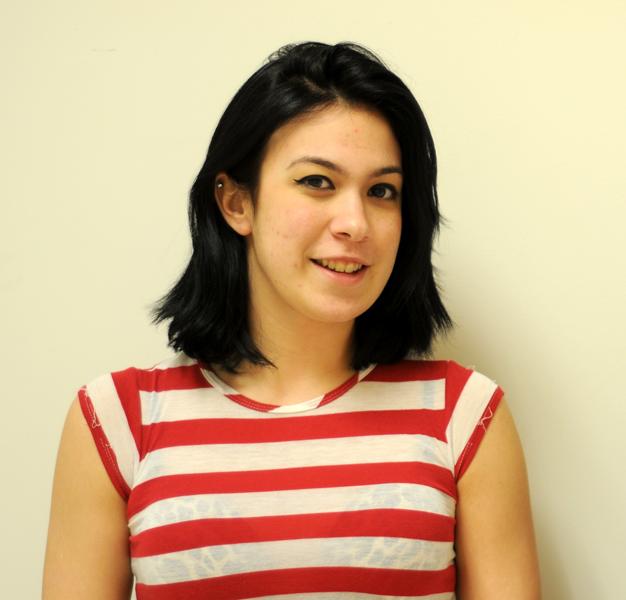 Do you think that the character of Yeye, Sarita's best friend, is somewhat responsible for some of Sarita's problems later on in the play, such as her early pregnancy, her sexual desires and her attempted suicide?
Not at all. She trusts in a kind of pre-ordained destiny that I personally don't relate to as much but it's great to have that kind of hope that things can be alright in the end. I think she just trusts that whatever happens, happens for a reason. If Sarita wants to be with Julio, that's how it is—you choose what you want to become, who your family is, and who you love—or it chooses you sometimes, which is what happens.
Do you revert back to any memories of childhood friendships in order to help you when trying to create this imaginary sister-like relationship with Becca on stage?
Yeah, I've had a lot of friendships like this (with Becca). I would say it's garnered out of our own organic chemistry. I feel, as Yeye, I've learned to be open to everything and to accept what comes and to not expect that I know the answer before it's given to me.
Did you find the character of Yeye to be challenging when attempting to interpret her feelings and emotions?
I would say she's just different. Maybe she doesn't experience as much because she doesn't get out (laughs). She kind of just believes in the gods and her cards. When she does venture out into the world, she finds circumstances she has allowed to happen. She doesn't really give into drama; she just lives to experience what's in the present. She doesn't really have much trouble in her life; she just lives simply and goes with the flow.
In the book, "Fornes: Theater in the Present Tense," the author Diane Lynn Moroff says, "When Fela and Yeye discuss their own lives as women in the world, they tell similar stories. Fela divulges her husband's abandonment of her when she is pregnant with Sarita, and Yeye responds that she will know her husband will leave her now that she is pregnant. She imitates that Sarita's story is the inverse of her own." Do you agree with this assumption?
It's been such a hard scene to work on because, given the culture and context of the time period, it's a very limiting place for a woman to be in. She is choosing between her child and her husband. In the world of this play, [they] can't coexist. She's accepting her fate and deciding to move on in her own form of strength. It's been very difficult to deal with.
What is it like working with Becca on Sarita? Have you worked together before? Is it different from any other performances you have done in the past?
It was great. I feel like we're very different actors and we have very different presences so it was great to see us and learn from each other and learn to become these women and be best friends. I think it was beneficial to both of us.
Do you perform any rituals before going on stage?
I happen to listen to a lot of Cuban folk songs (laughs). I'll end up playing this playlist with Buena Vista Social Club or Marc Anthony, I don't know—it's a personal thing. We do vocal warm ups and a group physical, mental awareness circle thing. I don't really know how to describe it. We describe what each other's wearing to get into the world of the play.