Freshman Gaston Provides Foundation for Rebuilding
Published February 18, 2010
It's not surprising that the Fordham men's basketball team has been overlooked by opponents in the Atlantic 10 conference this year. Owners of a 2-19 overall record and 0-9 in conference play, the Rams currently sit at the bottom of the league standings.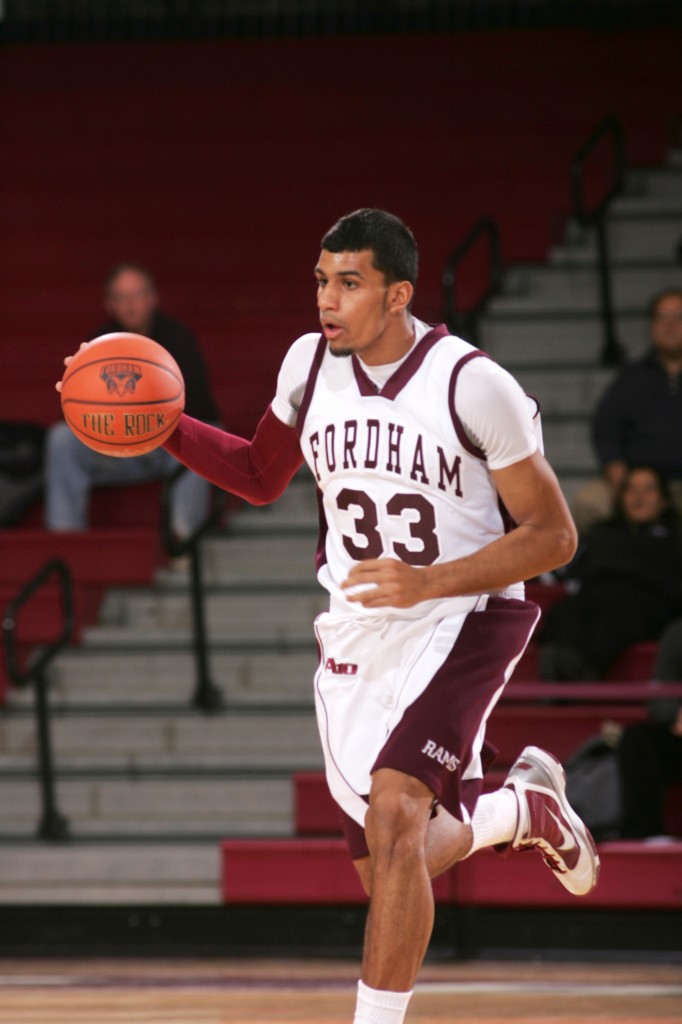 But in spite of the bad season, the Rams continue to look to the future with hopes of coming success. With six freshmen cycling through the starting rotation, the Rams are a young and inexperienced team with the potential to grow.
"We are going to be good at some point in time," interim head coach Jarred Grasso said.
Out of the eight freshmen on the team, the most promising has been Rams freshman forward Chris Gaston, FCRH '13. Having been on a college roster for just four months, Gaston has been sending shockwaves through the A-10 conference.
Averaging 18.4 points per game and grabbing 10.7 rebounds per game, he is third overall in the A-10 for scoring and is second in rebounding. Achieving his 13th double-double of the season with 32 points and 12 rebounds against Charlotte on Feb. 6, Gaston is currently tied at eighth in the entire NCAA for double-doubles.
As a result of his outstanding performance this season, Gaston is quickly becoming a force to be reckoned with in the A-10.
"He has been terrific this season," Grasso said. "I think he is the best freshman of the year. He has got a chance to be one of the all time greats at Fordham as long as he keeps working."
On Feb. 7, Gaston was given Atlantic 10 Rookie of the Week honors for the fourth time this season. In addition to leading the Rams in scoring and rebounding, he also leads the Rams in blocked shots with 35 on the season and is currently ranked eighth in the conference. Gaston's 387 points for the 2009-2010 season is the fourth highest total for a Fordham freshman in school history.
Originating from the basketball powerhouse St. Anthony in Jersey City, Gaston was persuaded to play for Fordham by his former high school teammate and former Ram Jio Fontan. "My friend Jio Fontan talked to the coach here and they believed in me and got me here," Gaston said.
Although the season has not been a great one for the Rams, Gaston is not the type of player that easily succumbs to disillusionment; he insists he has not thought about transferring from the struggling program as Fontan did earlier this year.
"He is one of those kids who comes to work every day," Grasso said. In addition to Grasso's hard for the team, Gaston praised Grasso's effort in trying to keep the team motivated. "Coach [Grasso] keeps us together, he keeps us strong," Gaston said.
Gaston's arrival provides a backbone for rebuilding the Rams. "If we can build around Chris [Gaston] then we have a chance to be pretty good," Grasso said.
This role does place a big burden on the freshman, however. "I do feel pressure," Gaston said. "I basically try to put the team on my back throughout the whole game. I am a competitive guy; I want to win every game."
For Gaston and the Rams, the future is what matters. With a young freshman team gaining invaluable experience with every game, the future for the Rams is looking bright. "In a year or two, this team is going to be good," Gaston promised.
With Gaston playing this well in his first year of college basketball, it will be exciting to see how much more he can accomplish in his time here at Fordham.  "He [Gaston] is very gifted and has a knack for scoring the ball; his future is really bright" Grasso said.