Fordham Hockey's Quiet Success
Dedication Pays Off as Club Team Heads into Playoffs With High Expectations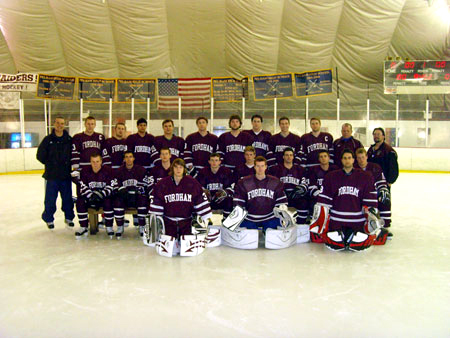 Published February 18, 2010
Andrew McClain, Fordham College at Rose Hill '10, was waiting in line for pizza the other day when a fellow student asked him about his Fordham Hockey jacket.
"I had to tell her that Fordham has a club hockey team and that I play for them," McClain said. "I don't think a lot of people [at Fordham] know about us."
It would come as a surprise to many students at both the Rose Hill and Lincoln Center campuses to learn that Fordham does, in fact, have a hockey team. And, more than that, Fordham has a good hockey team, with the squad wrapping up its Metropolitan Collegiate Hockey Conference regular season with a 14-1-1 record.
The team has compiled a quiet record of success, heading into the MCHC postseason on the back of its seventh straight winning season. Fordham will take on the Suffolk Stars on Feb. 19 in the first round of the playoffs, and after their strong regular season the Rams are favored to win it all.
"We're looking really good," said McClain, a forward and co-captain. "We like our chances at a championship."
Andrew Mola, CBA '86, who has served as the team's general manager since 1984, is more forthright with his prediction.
"Anything less than winning would be a disappointment," he said. "We're favored based on everything we've done so far this year."
Fordham hockey is posed to win a conference championship, albeit with much less fanfare and attention usually given to the university's successful athletic teams.
Hockey is a club sport at Rose Hill, meaning it is a level below varsity sports such as basketball and baseball in terms of funding. Club sports are not allowed scholarships.
As with any club sport at Fordham, the hockey team is allotted a portion of the student activity budget. But with ice time running as much as $500 per hour, players must participate in fundraising and cover some costs themselves.
According to Mola, players on the 2009-2010 team had to pay $1200 per person.
But for McClain, the cost to players is just another sign of the commitment it takes to be part of the team. "Some kids who don't have a lot of money still play," he said. "It takes dedication."
That same dedication is required by the team's schedule, with late night practices for an hour and 45 minutes each week and games on Friday and Saturday nights. The team plays its home games at Rye Playland Ice Casino, a short drive from the Rose Hill campus.
Since club teams cannot give out scholarships, virtually none of the players on the team came to Fordham for the hockey, a fact that coach Tim Collins sees as a benefit.
"These are kids who are good students that grew up playing hockey," Collins said of his team. "They know that they came to Fordham for the high academic standards… I've never lost a player for academic reasons."
The emphasis on academics is evident in last year's 3.3 average grade point average for the roster.
"We play on the team because we enjoy the sport, but we're at Fordham because we know we need to focus on real life after graduation," McClain said.
"I joke with the team that if they could skate as well as they study they'd be unbeatable," Collins said.
This season, Fordham has been skating at a 4.0 level, claiming first place in the MCHC with a 7-4 win against second place St. Thomas Aquinas on Feb. 4. The game was back and forth until the third period, when a flurry of Fordham goals broke a 3-3 tie. Forward Kevin Baum, FCRH '10, recorded two goals and four assists in the game, and his 52 points on the season lead the conference.
Fordham finished off its regular season the following night, claiming a 6-1 win over SUNY Maritime.
"This is a tight-knit group," Collins said of his team. "We start practicing right when the school year begins, so by now, everyone has come together. Confidence like that breeds teamwork."
That closeness is in part a product of the team captains who are in charge of practice, making sure everyone gets to the Ram Van on time, and enforcing the team dress code of shirts and ties on game day.
When Fordham plays its first postseason game on Feb. 19, the Rams will be searching for its first title since 2005, even if they are flying under the radar.
"We're all feeling confident," McClain said. "We're excited to play, and I don't think anyone can match up against us."