NYC 2018 Marathon
Every year on the first Sunday in November, the streets of New York City fill with thousands of eager runners. This year was no different. Fan-favorite professional runners like Shalane Flanagan and Bernard Lagat sped through the city in the 48th TCS New York City Marathon on Sunday, Nov. 4, including first time and veteran marathoners from all around the world. Over 50,000 runners crossed the finish line in Central Park West, two of them students at Fordham University at Rose Hill (FCRH). Caroline Donahue, FCRH '19 and Zach Watterson, Gabelli School of Business at Rose Hill, (GSB) '19, took to the streets of New York City and conquered 26.2 miles on the sunny Sunday morning.
Neither Donahue nor Watterson were new to the New York City Marathon. Both students ran for the first time in 2016. Donahue went back for her second round this month, and Watterson, who also ran in 2017, for his third. The two runners went into this year's race with not only knowledge about the course and the sport, but also with new goals they had set for themselves.
"I didn't really set a goal for the first one," Watterson said. He finished 2016's race in four hours, six minutes, and 37 seconds but knew he eventually wanted to go under the four hour-mark. In 2017, due to less than ideal weather, he ran just 17 seconds over his original time. This past October, Watterson completed the Chicago Marathon in three hours, 59 minutes and 11 seconds, coming in just under four hours and he hoped to do so again a month later in New York City.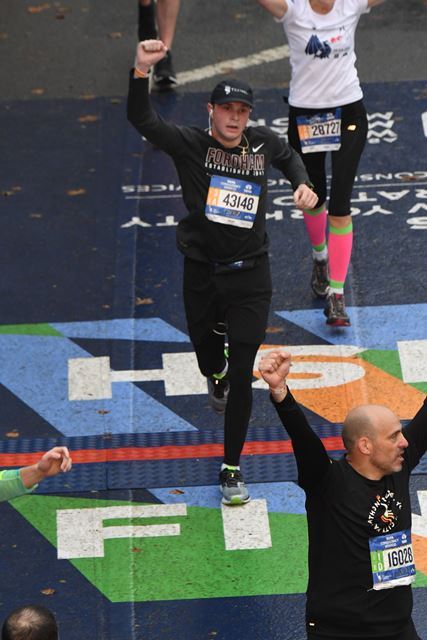 He did. Watterson finished the 2018 New York City Marathon in three hours, 54 minutes and 45 seconds. "It was my best marathon yet and it felt really good," he said after the race, "It's always great to run the streets of NYC."
Donahue's 2016 time was four hours, one minute and 29 seconds, which she obliterated this year, as she crossed the line in three hours, 47 minutes and 20 seconds, shaving 14 minutes and nine seconds off of her original time. "I really wanted to break my previous time of 4:01 so I was thinking of that the whole time I ran," she said. Donahue said she felt "more prepared but also more excited" for this race than she did in 2016. "My friends and family came out to support me which was really helpful when I was struggling the most."
Both Donahue and Watterson ran in 2016 almost on impulse. "If I remember correctly, I decided to run the marathon on a somewhat whim," Donahue said. "I love conquering challenges and trying new things, and I figured I should take advantage of as many New York opportunities as possible." Watterson was in a similar situation in 2016.
"The way the New York City Marathon used to be set up was, if you didn't get in for the first three years you tried for in the lottery, you automatically got in the fourth," Watterson said. "So, I applied through the lottery the first year [2016] and ended up getting in the first year I applied." He also applied for the lottery in 2017 and got in. This year, instead of entering the race through the lottery, Watterson ran with a charity.
Fitting marathon training into an already busy schedule is not something college students typically have to figure out. Having run three marathons prior to this year's race through the five boroughs, Watterson said marathon training is "an all year thing." When it comes down to it, though, he said "it's all about discipline." The senior Gabelli student fit his long runs in on the weekends and also mixed in a lot of cycling.
What was different about Watterson's training situation this year was that he trained for and ran the Chicago Marathon before running in New York. "I thought of the Chicago Marathon as my training," he said. "My long training run for New York, if that makes sense." Instead of continuous intense training leading up to New York, Watterson used that time to rest his body.
Donahue had a similar mindset for this year's race. "I run when I'm home for the summer a lot," she said. "New Mexico is at a really high altitude which is always hard to adjust to when I go home for the summer, but it really helps with getting you into shape." When she got back to school this fall, she, like Watterson, didn't run much, but instead focused on preserving her body and energy. "I do the elliptical for an hour and then I walk on an incline for another hour," she said. "As long as I get cardio I feel like that does a lot."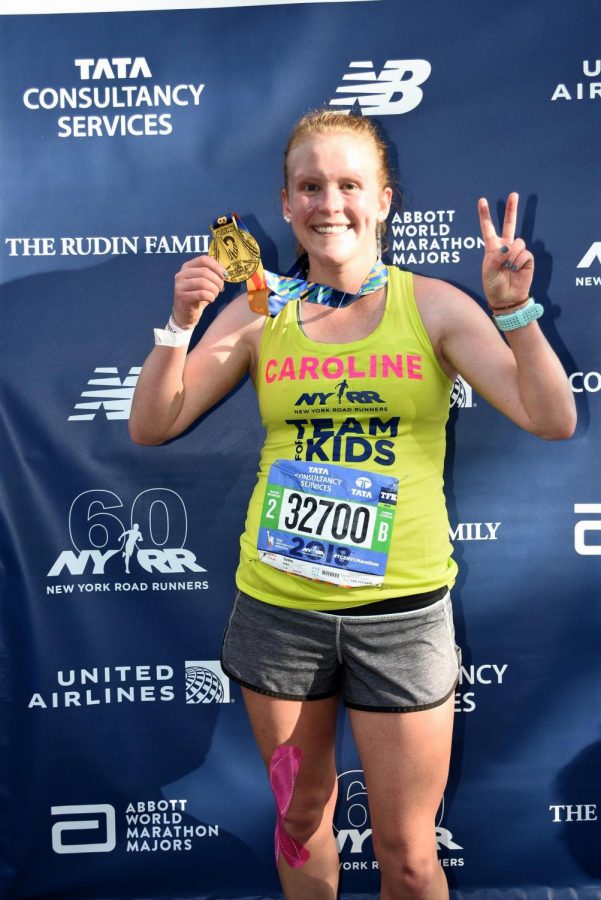 The New York City Marathon has become quite an energizing experience for both runners. "It's a really exciting race. The energy throughout the city is great," Watterson said. Both runners ran with the charity Team for Kids (TFK), a group that works to get children across the nation running. This year, they ran in TFK gear, but Watterson said the first few years he ran, "I wore a lot of Fordham gear and there's just alumni all throughout the city. So when you're running you hear 'Go Rams!' and it's pretty cool."
Not only has the marathon been enjoyable for the runners, but it has even been helpful to Watterson in both social and professional settings. "It's a great talking point," he said, "especially in job interviews and just with other people who run. I've met plenty of people who've ran them that I've just been able to connect with much better than I would have been able to if we didn't have that in common." Running a marathon does not come without its stress, though. Donahue said in the days leading up to Nov. 4, she had "a few weird nightmares about the race."
Watterson offered a few words of advice to college students who might be interested in the New York City Marathon. "If people are looking to get out and go run, start small with 5ks or Thanksgiving turkey trots, maybe even move to a 10k or a half marathon." Races like those are how Watterson started to enjoy running. "If you start small" he said, "your goals just keep progressively getting bigger and bigger and bigger. That's how I got into it."
The New York City Marathon is not only for serious runners. It is the largest marathon in the world, attracting almost 2 million spectators every year. Advertisements for the iconic race pop up on buildings and in subway stations throughout the city in the weeks preceding it, many of them with the slogan, "It will move you." Whether the marathon literally moves you for 26.2 miles of pure endurance from Staten Island to Manhattan, or it prompts you to walk from Fordham Lincoln Center to Columbus Circle to watch the greats battle it out through the final miles of the race, if you decide to be a part of the New York City Marathon, it will move you.
This year's women's race was won by four-time-winner Mary Keitany of Kenya, who finished the race three minutes ahead of the pack in two hours, 22 minutes and 48 seconds. Vivian Cheruiyot, also of Kenya, finished second. The american 2017 winner, Shalane Flanagan finished third in two hours, 26 minutes and 22 seconds, followed by Americans Molly Huddle in fourth and Desiree Linden in sixth. The men's race was won by the dominant Ethiopian Lelisa Desisa in two hours, five minutes and 59 seconds. Jared Ward of the United States finished sixth in two hours, 12 minutes and 24 seconds.