From the Pool to the Gridiron, "Fordham's Family of Saints" Adds Six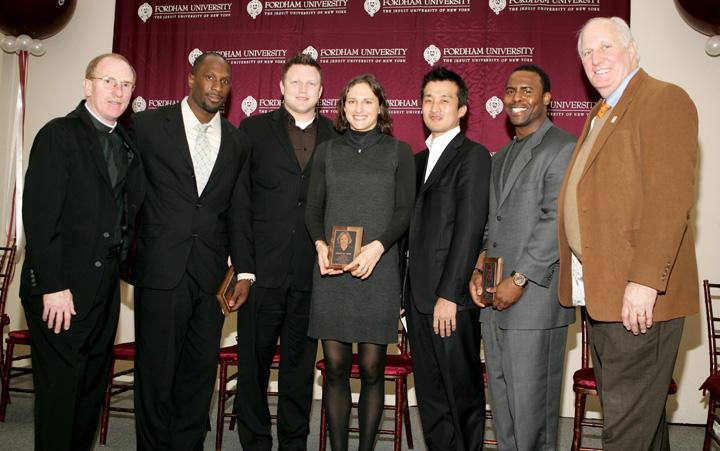 Published February 4, 2010
On Jan. 23, six new members were welcomed into "Fordham's family of saints" as University President Rev. Joseph M. McShane, S.J. put it. McShane, along with Fordham alumnus and Yankees broadcaster Michael Kay, inducted the newest members of Fordham University's Athletic Hall of Fame during a brunch ceremony. The six athletes inducted were Ioana Dragan (Tennis, '02), Javarus Dudley (Football, '04), Kevin Eakin (Football, '04), Akira Kosugi (Swimming, '96), Sophie Namy (Rowing, '00) and Kirwin Watson (Football, '04).
"Each of these inductees is a source of pride and gratitude but also a source of grace," McShane said. "They dignified themselves not just on the field or in the pool, but in terms of character as well. We will always point to you as examples of class, character and distinction."
The day was centered on the 2002 Fordham football team, which brought a Patriot League Championship and NCAA I-AA playoff berth to Jack Coffey Field for the first time in school history. The three "Sunshine Boys," were inducted based on each of their record-breaking college careers. Eakin, quarterback of the 2002 squad, said that the three players' inductions felt more like a team award.
"They truly deserve this as much as we do," he said, pointing to the group of former teammates posing for pictures onstage with Dudley and Watson.
Watson, speaking on behalf of all of the inductees, mentioned the great connection he still feels to those teammates and the university as a whole.
"It feels like family when I come back," he said. "We all share the blessing of being educated at this university."
There was a sense of the history being made among the inductees even if they weren't yet sure where they fit in Fordham's athletic tradition.
"It's exciting, but it's also humbling to be mentioned in the same group as [Fordham great] Vince Lombardi," Eakin said. "It's an honor, but I'm not sure if it even makes sense."
Eakin, who only spent two seasons playing quarterback at the varsity level, had one of the most prolific careers in school history. At the time of his graduation, Eakin held nearly every Fordham passing record. After attending training camp with the Buffalo Bills, Eakin signed with the New York Jets to play for the Frankfurt Galaxy of NFL Europa. Eakin helped Frankfurt to the World Bowl in 2006.
Dudley was the first player in school history to gain 1,000 receiving yards in a single season, a mark he reached twice during a career that put his name atop six Patriot League offensive records. Dudley was also named First Team All-Patriot League in his last three seasons with the Rams. After graduating, Dudley signed with the Orlando Predators of the Arena Football League and was named to the 2006 AFL All-Rookie team. Dudley led Orlando to the Arena Bowl in 2006, leading all players in that game in both receiving touchdowns and receiving yards.
Kirwin Watson was a finalist for the 2002 and 2003 Walter Payton awards as the top NCAA Football Championship Subdivision offensive player in the nation. Watson was selected Patriot League Offensive Player of the Year in 2002 and set six schools records in his senior season. He also finished his career as the third all-time leading rusher in Patriot League history. Watson is currently a Regional Scout for the Northeastern United States for the New York Jets.
Sophie Namy began her athletic career as a soccer player but was inducted for her ability as a rower. Namy won the Dad Vail and Atlantic 10 championships in her junior and senior year as a member of the varsity four. Due to the injury which ended her soccer career she gained a fifth year of eligibility in which she stroked the best varsity eight crew in Fordham history finishing second in the Dad Vail in a photo finish. Namy also earned Academic All-American honors all three years as a rower.
Akira Kosugi only competed with Fordham for one year after transferring from the University of Florida, but managed to set records in the 200 IM (1:51.21), 100 back and 100 fly (49.52) along with being a member of the record setting 200 and 400 meter relay teams in his short time on campus. After graduation Kosugi competed in the Japanese Olympic Trials in 1996.
Ioana Dragan was named 2001 Atlantic 10 Student Athlete of the Year, as well as winning the Claire Hobbs Award as the school's top female student athlete. She was selected to the All-Atlantic 10 team three times during her career while also being selected team MVP for four consecutive years.
"We have you to thank for the example of your lives," McShane told the inductees. "It is now your burden to live the rest of your lives up to the way you lived your lives at Fordham."
McShane later added "You're not canonized yet," though the athletes have surely earned one of Fordham's greatest accolades.