A Conversation With Cosmonaut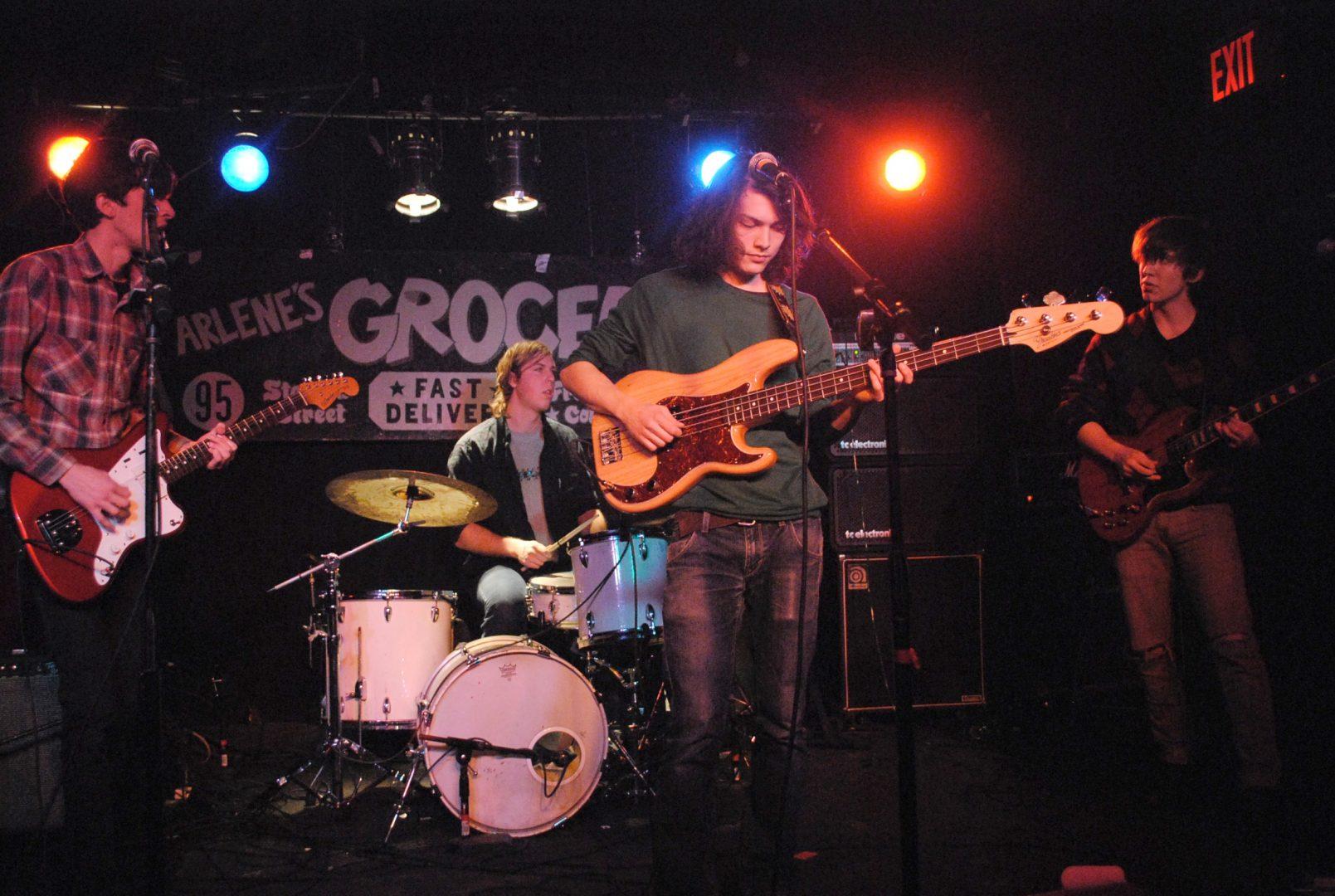 Published February 4, 2010
From behind a wall of cymbals, hazy vocals, rumbling bass and reverberating guitars emerge the four members of Fordham College at Lincoln Center (FCLC)-based band Cosmonaut. Daniel Quinn, FCLC '12, and Jack Manley, FCLC '10, sing and play guitar. Sam Hubler, FCLC '10, plays bass, and Jackson Galan, FCLC '12, plays drums. They have released two EPs, "Hello Helium" and "She's In Heaven," and are currently working on a full-length album. Their music might be described as shoegaze rock with a punch—their resonant compositions are offset with clear melodies and a natural intensity. Cosmonaut shows a willingness to listen to each other and provide their own input both in their music, and in conversation. As Quinn played some riffs on his guitar and messed with the effects pedals, the group answered a few questions about their band.
Observer: How did Cosmonaut begin?
Jack Manley: Daniel and I met last year in an Urbanism class and started talking about music, and became friends. Then we started playing a bit, just like two friends playing, not really with any ambitions. But we noticed some sort of chemistry, if you will. We decided to expand it further and that's when Sam came in.
Sam Hubler: I remember hanging out with Jack at the beginning of school, and then later he asked me if I wanted to play with them.
Daniel Quinn: Two days after Sam joined us we recorded an EP. We were a band for like one day before recording; we already had the skeletons for some songs before Sam joined. Our original drummer, Ray, left this September.
SH: Then Jackson joined us and in less than a month he had integrated himself into the band.
Observer: How did you pick up Jackson?
DQ: Jackson and I had suffered through Intermediate Spanish together, and then I texted him over the summer about needing a drummer.
Jackson Galan: It had been a long time since I played with a band so I had to make that adjustment. The hardest thing was going back and learning Ray's parts.
Observer: Have you had any recent gigs?
JM: We played at The Basement in Kingston, New York. It was like a dive bar. There were about 130 people there, and the guy from "Entourage," Adrian Grenier, was there. He bought a T-shirt and a demo; he liked our stuff.
DQ: Then we had another show. Ground Zero at RPI (Rensselaer Polytechnic Institute in Troy, NY) was a cool little venue; it's cool to see a school in the middle of nowhere with a real culture going on. That was a great show. Everyone made eye contact. It was weird to us, because we're from the city.
Observer: What do you want listeners to take away from your songs?
DQ: I like it if we can get something stuck in someone's head for a bit; that's cool.
JM: I like people to take what they want from it. We're not about making huge statements; we just want to write good songs.
DQ: All the things we write are pretty open-ended.
JM: The idea with writing a song, I think, is to maintain as much ambiguity as possible to make it universal.
SH: Right. We just want to put on a show and entertain, to give people a good time.
DQ: We're kind of sick of the whole electronic thing that's been going on, in pretty much everything. Everything has become electronic dance stuff. People ask what style I play, and then I never know. I name bands I like, and then I realize I didn't answer the question at all. So I say, "Hey, come see a show!"
Observer: What are some things that listeners have said about your music?
SH: People have said that the songs are too long. It's like saying Beethoven's songs are too long. It doesn't really make sense to say. It's the song we wrote, and that's how it goes. There are much better ways to attack us, like saying we're off-beat or something. But if this is the only complaint we're getting, I'm okay with that.
Observer: Would you say there's an emerging music scene here at Fordham?
DQ: Yeah, absolutely. From Cymbals Eat Guitars to other bands, obviously the school has produced people who have made it. And just being here as a band is great. It's a small enough school where people will hear your shit, but it's not like a really competitive art school where people are trying to be the next big thing, so you get really good feedback.
JM: It's really nurturing. Your friends are excited to hear your new stuff or a demo.
DQ: I'm genuinely excited when my friends here release something new, and I go on kicks where I just listen to music from people I know because it's really good. Average Girl is like our sister band.
Observer: If Cosmonaut was a car, which part of the car would you each be?
JM: I would not be an exhaust system, because my car doesn't have an exhaust system. I would be the absence of an exhaust system.
SH: He's not asking about your car. We are a car. Like, are you the plush leather interior or something?
JM: Oh okay, so I'm the, uh… alligator-skin stick shift.
DQ: Yeah that's good, it's phallic.
SH: As you can see, Daniel is the pedals (as Daniel steps on the guitar effects pedal).
JM: Jackson's the horn. Sam is the emergency brake.
SH: Now I feel like a stick in the mud.
DQ: Jackson is the inner voice, like (does a dopey voice) "I'm gonna be late for class. Wow, it's been a while since I last ate."
JG: Yeah, that's totally what my voice sounds like in my head.