Star-Studded New York Comic Con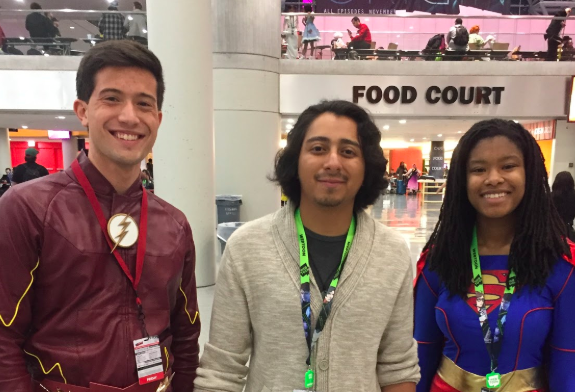 This year's New York Comic Con (NYCC) was as nerdy and amazing as always, with new guests, premieres and panels for any and every fandom.
NYCC featured appearances from actors like David Tennant, Jason Momoa and Danai Gurira; comic guests such as Brian Michael Bendis, Kelly Sue Deconnick and Scott Snyder; authors including Charlie Zane Anders, Annalee Newitz and V.E. Schwab all drawing crowds, signing photos and speaking at panels.
The upcoming Universal Studios film, "Mortal Engines," about a post-apocalyptic world where London is both a city and a villain, even made its debut at the convention and was met with mixed reviews. An inside look for Marvel's "Spider-Man: Into the Spider-Verse" has garnered amazing reviews and increased anticipation for the Dec. 14 release.
I attended on Friday and was pleasantly surprised by the level of organization. Of all ReedPop (the company that organizes NYCC) conventions I've seen, this one ran the smoothest. From the moment I stepped off the subway, greeters pointed me in the right direction, and when I arrived at the beautiful Javits Center, the security was fast and efficient. Even as I navigated the show floor, I was impressed by how well I could get around. So if you've been shoved around at cons in the past, NYCC 2019 may yield better results.
The Niobe comics published by Stranger Comics drew many to their booth with an energetic bunch from their creative team hanging out calling anyone to them. The story is written by Sebastian A. Jones and actress Amandla Stenberg ("The Hunger Games"). It follows the main character Niobe Ayutami, modeled after Stenberg, through a heroic coming-of-age story while she runs from the Devil himself. With stunning artwork and a compelling story, I wouldn't be surprised to see Niobe adapted to the big screen, especially since its captured the attention of Hollywood stars like Viola Davis who wrote the forward for the hardcover edition.
As always, NYCC was keen on safety and included "Cosplay is Not Consent" signs everywhere they could. You still can't say controversy without con, but NYCC managed to avoid that for the most part.
This past June, popular moderator and host of "The Talking Dead," Chris Hardwick, was accused by actress and cosplayer, Chloe Dykstra, of physical and mental abuse during their long-term relationship. Though investigations have not led to any conclusions, this year was still Hardwick's eighth year of moderating panels at NYCC. Ultimately, the decision to include Hardwick came from AMC, The Walking Dead's network, not NYCC or ReedPop. Still, the allegations sparked discussion about the diversity of moderators at cons and rape culture in the convention scene.
Overall, New York Comic Con has only improved as the years go by. Obadiah W.M., Fordham College at Lincoln Center (FCLC) '20, has frequented NYCC for four years so you can take his word for it when he said: "This year was my personal favorite. I think with the new mainstream popularity of different anime and comic-based media like "Black Panther," "My Hero Academia" and "Justice League," people were really inspired with their costumes and there were more first-timers."
If that doesn't convince you to make it to NYCC 2019, maybe it's the hope of running into a star on your way out. Gabe Samandi, FCLC '22, and I ran into Tony Revolori, who played Flash Thompson in "Spider-Man: Homecoming." The star toured the show floor and gladly stopped for a quick photo with me. According to Revolori, not one person had spotted him before we did, a reminder to keep one's eyes peeled at the con.
All in all, New York Comic Con 2018 defended and solidified its rank as one of the best American comic conventions for newcomers and longtime fans alike.