At Inauguration, USG President and Vice President Deliver New Message and Program
On Thursday, Oct. 11, before a crowd of students in divided into formal and casual dress, Dean of Students at Lincoln Center Keith Eldredge swore in the 2018-19 United Student Government (USG). "Your first test as senators," he said as the senators filed up to the front of the 140 West Building's multi-purpose room class by class, "is to see if you can recite this oath collectively."
Each group shuffled up, reciting the lines USG members has said for the 10 years their inauguration has been a public event. The seniors began: "I solemnly swear that I shall faithfully represent the interests of the student body of Fordham Lincoln Center and the senior class, that I will dutifully uphold the United Student Government constitution and that I will faithfully execute the office of senior senator."
Waves of applause ushered representatives to and from their seats, delivering their lines from scraps of paper, the final ovation leading Demetrios Stratis, Fordham College at Lincoln Center (FCLC) '19 and president of USG to the podium.
Stratis started off with a timeless message echoed by many presidents before him: every Fordham student is a part of USG. "My board, my senators – both the old and the new – we have been properly inaugurated and formally introduced," he said. "But in truth we're only the the velvet coated frosting on a great maroon cake."
He pressed his newly consecrated cabinet to focus their efforts "outside of the committee meeting," to respond to the concerns of the student body rather than those that are dreamt up between senators. "You are our eyes and our ears. You are the lifeblood of the United Student Government," he said, maintaining that the students they represent "will feel happy knowing that there's someone out there for them, someone they can confide to and some they can come to with their problems."
Glancing around the room, less than half the size of its full capacity, Stratis made a clear observation: "This is a very small chamber," he said. "It seems like we're very few, and it seems like apathy at times is dominant on this campus."
But, there was another time, he noted, in 2001 when a message appeared on a calendar in the USG office: "Never let the apathy of others discourage you," it reads to this day. "That's something I look to every day when I go in that office," Stratis said.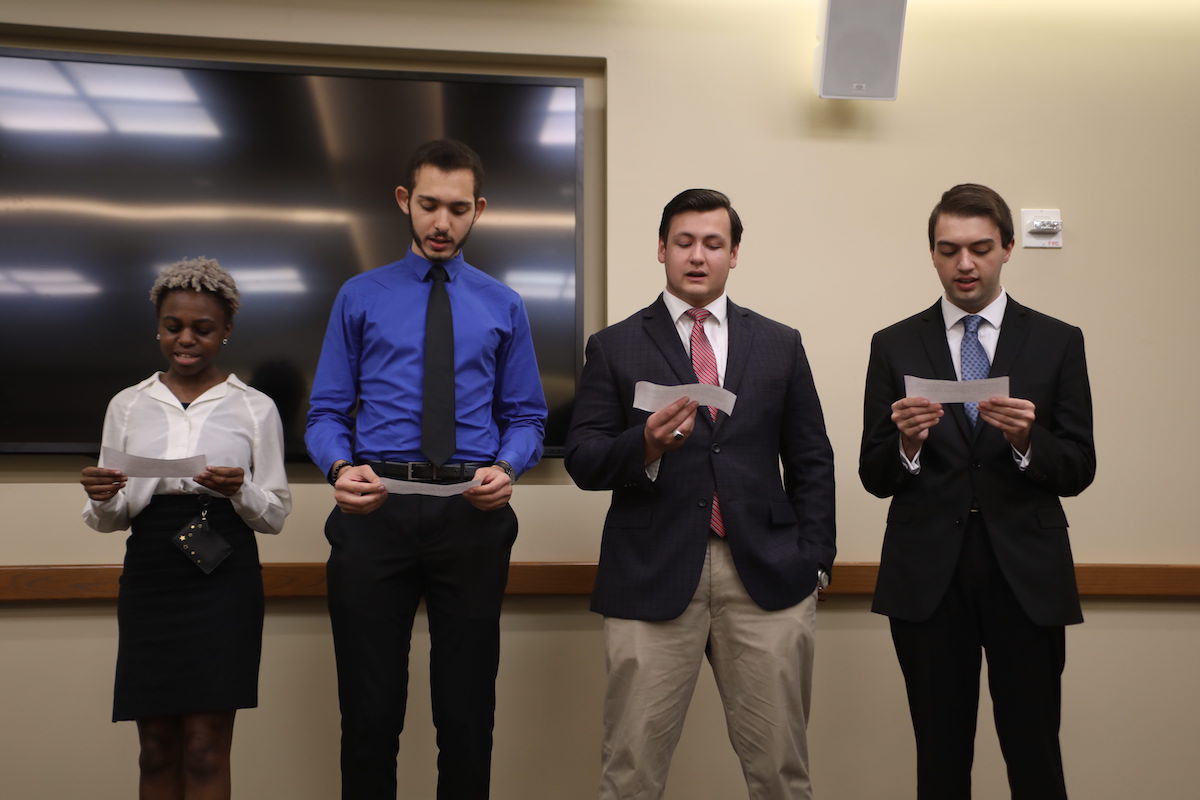 A member of USG since he was a freshman, Stratis remarked that in his second year, he had joked that if he ever became president of the organization, he would rule it "with two iron fists." Now with that power firmly in his hands, he said instead intends on enshrining a new message in the mission of USG: "We care for our own."
Taking the microphone from Stratis following his concluding remarks, USG Vice President Katina Smith, FCLC '19, promised "to keep this brief." Chief among her concerns, she said, is the presence and accessibility of USG to its community. What can possibly assure that? "School spirit."
She pointed to the overwhelming popularity of her campaign brainchild-turned-weekly campus event, Fordham Fridays, as proof of her conviction. "Wearing maroon in exchange for a free slice of pizza is a pretty good deal," she said. "School spirit starts here, it starts with us and it starts with the attitudes we put forward in all that we do."
With new members, a new message to herald and a new program to rouse the community, USG has marked its ambitions for the coming year on student involvement, campus unity and becoming a truly representative government.