Art for the "SOL"
By THE MEMBERS OF SOL
October 10, 2018
In celebration of National Hispanic Heritage Month, members of the Student Organization of Latinos (SOL) submitted culturally-inspired art pieces that connect them to their Hispanic heritage.
Fuego Bajo Las Estrellas – Diego Oliverio, GSB '22
These days images are created more than they are taken due to advances in imaging technology. My image emphasizes the roots of storytelling in a modern way. As a student of the Media Arts and Practice program, my job will be to mold stories into modern mediums, ensuring its survival in this digital age. The stars of the sky and the flames of fire served as epicenters of inspiration for the first stories of man. My picture depicts a boy draped in a sarape surrounded by flames and darkness, under a starry sky. The fire represents the inspiration and motivation that stories give to a blank canvas. The flames were created by waving a torch in the background during a six-second exposure. The boy in the sarape symbolizes my heritage as a Mexican and the boundless lore of Mexican culture. The starry sky resembles the common ancestor that stories share across various cultures. Separated by geographic barriers, many cultures turned to the same starry sky for answers and stories. The stars were taken using a 25-second exposure then overlaid using Photoshop. Captured at the sand dunes outside of Los Algodones, Mexico, this photo stresses the illuminating atmosphere that storytelling can bring into remote locations.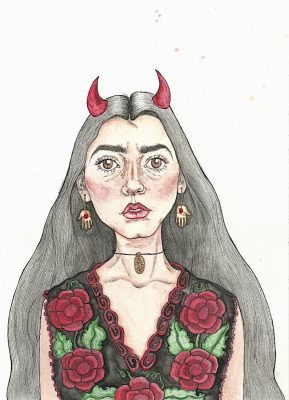 "Diabla Santisima" – Alejandra Garcia, FCLC '21
Growing up, I didn't see a lot of people who looked like me represented in the media or in popular art which had a really negative impact on my ideals of beauty. Over the years, I have used art to explore different aspects of my Mexican culture. This particular piece features religious imagery and traditional Mexican clothing, both of which have been very present throughout my life.
"Romeo Santos"- Laura Vasquez, FCLC '22
Romeo Santos is the bachata artist depicted in my drawing. He is known by the Latino community as "el Rey de la Bachata." Bachata is a genre of music that originates from the Dominican Republic, where I am from, and is a fusion of musical elements from African slaves, European colonizers and Indigenous people. Romeo was the lead singer in the band Aventura which brought Bachata to an international level and really put the Dominican Republic on the map. He really makes the country proud! I'm going to go see Romeo in concert for the second time this year and there's something about his music that makes it unique and special to me. I connect to it on a whole other level.