Feminist Fall Theatre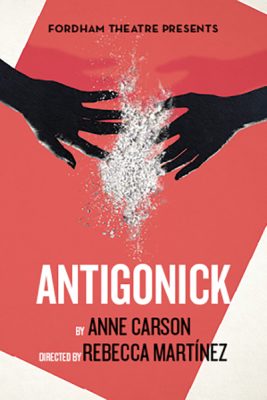 Autocratic authority, activism, abuse, apartheid — these are just a few of the many issues addressed in the Theatre Program's upcoming mainstage and studio shows. From a feminist retelling of an iconic Greek tragedy to a Fordham student playwright's breakdown of generational changes in public activism, this season has a little bit to say about everything.
Reflective and astute as ever, each play in this year's program seeks to answer various forms of the question, "what happens when … ?" and ultimately leave audiences asking the question: "What happens when we elect a racist, sexist authoritarian steeped in corruption?"
The first of these productions is Amiri Baraka's "Dutchman," directed by theater student Emma Hasselbach, Fordham College at Lincoln Center (FCLC) '19, which runs Sept. 27–29 at the White Box Studio Theatre. "Dutchman" answers the question of what happens when a well-educated, well-mannered black man is approached and harassed by a manipulative and ostentatious white woman. A shrewd political allegory, Baraka's play is not to be missed by those interested in dialogues about American race relations and gender politics.
This year's first mainstage production, "Antigonick," takes on a very different tale. Poet Anne Carson "translates" Sophocles's classic "Antigone" into something all the more strange and powerful. After Antigone's brother Polyneikes is killed fighting on the losing side of Thebes' civil war, she plots to have him buried and honored despite King Kreon's decree that he be forgotten and shamed.
Examining what happens when women defy men in power, with allusions to contemporary commentary and productions as well as historical female icons such as Virginia Woolf and Judy Garland, "Antigonick" is a must-see. These performances, led by director Rebecca Martinez, will run Oct. 4–6 and 10–12 at the Pope Auditorium.
Closing out next month's shows are two student-written plays: "March On!" and "Conversations with Stars." Both follow this year's mainstage trend of highlighting female playwrights; "March On!", written by Alexis Chapin, FCLC '21, and directed by Mia Rovegno, explores the journey of three teenage girls as they battle both typical high school struggles and growing up in Trump's America. The girls navigate activism and the difficulties that can come with standing up for a cause as they plan to attend the Women's March and learn about one of their mothers' similar experiences with the peace movements of the 1960s.
"Conversations with Stars," with script and lyrics by Jennifer Ogasian, FCLC '21 and music by Jordan Goldberg, FCLC '20, tells the story of a headstrong woman named Veronica and how she grows and adapts despite a life of abuse and hardship, and what she can learn from and teach her granddaughter, Sammi.
Both "March On!" and "Conversations with Stars" play Oct. 1–3 at the Veronica Lally Kehoe Theatre.