Fordham LC Takes on NYFW
Ever wonder whether you could study full time at Fordham, have a career in fashion, and get the opportunity to go to NYFW? Meet the Fordham Lincoln Center (FLC) students living double lives, hitting the books while pursuing their love of fashion. On top of their academic schedules they are working as models, bloggers and fashion enthusiasts. These hard-working individuals each demonstrate what it takes to break into the fashion industry in one of the most competitive markets in the world – as a college student no less. This is an inside look at New York Fashion Week (NYFW) Spring/Summer 2019 from your Lincoln Center peers.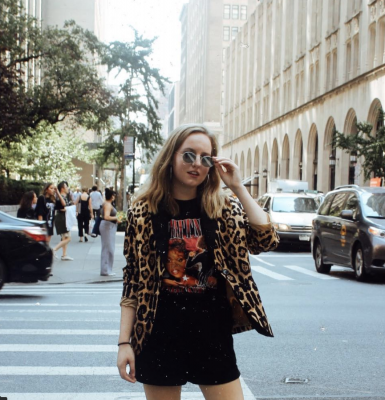 Meet Emily O'Brien, Gabelli School of Business (GSB) '21
Majoring in global business with a concentration in global marketing
Jobs:
Editor and founder of theemilylook.com.
Editor and influencer for TargetTag
Marketing intern for College Fashionista
Since the age of 14, O'Brien has known she was passionate about the fashion world. Her ambition led her to create a blog called theemilylook.com. For the past five years, she juggled fashion blogging with her studies. Emily is currently an editor for Target's first digital magazine called @targettag, which manages brands such as #WildFable & #OriginalUse.
How did you get into NYFW?
Through my College Fashionista internship, I met the venue manager of the Fashion Gallery. I reached out and asked about getting involved with NYFW. I was fortunate enough to get hired to take photos of the models, collections, and behind the scenes production. I helped create content for the social media accounts of  numerous brands.
What was your favorite show?
Out of all the shows, the one that stood out to me was Christian Colorado, a designer who comes from Puerto Rico. The Spring/Summer 2019 collection had bold colors such as red, white, black. Since I was in charge of content creation for the brands' social media accounts, I had the opportunity to sit front row and photograph the show and many others.
What advice would you give to people who want to be in the fashion industry?
Networking. I'm not a fashion major and the industry is about who you know. It's important to work hard, put yourself out there but also have a positive attitude. Nothing goes unnoticed in this industry.  Because I had a good work ethic I was asked to come back and work the next Fashion Week.
What have you learned from your first Fashion Week experience?
It's a cut-throat industry, but if you have the dedication and love for fashion, it's worth it. There is a certain level of truth to "The Devil's Wear Prada," which is why it's important to not take things to heart if something doesn't work out.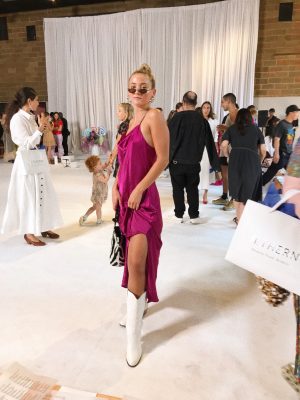 Meet Chloe Felopulos, Fordham College at Lincoln Center (FCLC) '21
Majoring in communications and culture with a minor in fashion studies
Jobs:
Writer and Stylist for SOUL
Featured style guru on Upscale Downscale blog
College Fashionista contributor
On a day-to-day basis, Felopulos pushes the limits of fashion and isn't afraid to express her style. Chloe is currently a stylist and writer for a fashion blog called SOUL (founded by Isiah Magsino, Fordham College at Rose Hill, '19). She is also a contributor with College Fashionista.
How did you get into NYFW?
This is my third season attending NYFW. This year I had the opportunity to attend because of Isiah Magsino, the creative director of setmysoulonline, who hired me as his assistant. I was able to attend five shows that week.
What was your favorite show?
My favorite show was LRS by Rail Solis because the fashion was unconventional and bold. Some other memorable highlights include seeing Kaia Gerber walk for Priscavera and going backstage at R13 where I was able to see the clothes, makeup and hair up close.
What advice would you give to people who want to be in the fashion industry?
Look online and research events that are open to the public. There are so many shows in the city. You should also look into assistant opportunities at fashion publications. There's no need to be intimidated, reach out and just be yourself.
What's the coolest thing about NYFW?
Street style photographers took pictures of my outfits. It goes to show that it doesn't matter who you are, fashion week is a time where everyone gets inspiration from each other. Also, you never know who you will meet at these events. I ended up meeting fashion influencer Tezza and I also ran into Troye Sivan.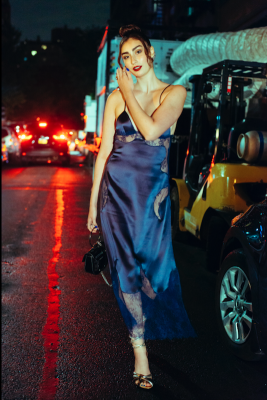 Meet Vienna Skye, FCLC '20
Majoring in new media and digital design with a minor in fashion studies
Jobs:
Community leader at Depop  and Yikes Vintage
Intern for the Accidental Icon
Skye does it all: she interns for Fordham's very own "Accidental Icon."  Professor Lyn Slater, she's one of Depop's top New York sellers, co-owns online thrift shop @yikesvintage with Andrew Budisak (FCLC '20) and she's modeled for Teen Vogue. She's also a Youtuber, dancer, photographer and aspiring stylist and makeup artist.
How did you get into NYFW?
Over the years, I have gone to fashion events all around the city and have connected with a lot of people in the fashion industry. At the same time, I continue to produce content on YouTube and Instagram about my fashion experiences. When my following grew on social media, designers and PR companies took notice and started reaching out to me and inviting to the shows.
What was your favorite show?
My favorite show I attended was Jonathan Simkhai. What made the show special was the live musical performance. It was unique and enhanced the presentation of the collection.
What advice would you give to people who want to be in the fashion industry?
It's about who you know. Whenever I go to an event I always try to meet 15 new faces. Don't be shy and don't be afraid to introduce yourself. Fashion is all about being who you are. Get an internship; it's a great way to get experience working in the industry. Fashion is a big part of my life, but education is also really important to me. It's my foundation, it goes before anything else.
What's the coolest thing about NYFW?
I have made so many friends in the industry, so it's cool to reunite with them at events and catch up on life. During Fashion Week, I also shot a social media campaign with [Slater] for Club Monaco. The concept was writing a postcard to someone who inspires you and she dedicated it to me and Emma Childs (FCLC '20). Her postcard said: "My interns inspire me every time we collaborate and create — they make my mind EXPLODE."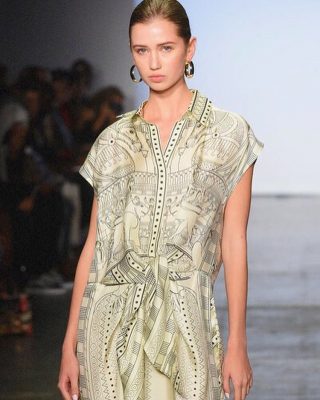 Meet Izzi Zalewski, GSB '22
Majoring in global business with a concentration in global marketing and a minor in French.
Jobs:
Model for Q Agency
Zalewski is a name you're going to want to remember. This freshman goes to class during the day, then straight to castings couches at night. Izzi has been modeling for three years and has just finished her third season walking in NYFW.
How did you get into NYFW?
I have been signed with Q Agency since I was in high school. I would commute to and from New Jersey and New York for my castings, fittings, shoots and shows. This year I told my agent that I would only do shows that didn't interfere with my school schedule. The process for a NYFW model involves initial casting and a fitting, and the night before a show, I would be alerted whether I was walking or not.
What was your favorite show?
My favorite show to walk for was Vivienne Hu, whom I walked for last season. Also, Tessa Hilton (Paris Hilton's sister) walked in the show, and the team gave me a last minute surprise. I was only given one look, but during the show another model couldn't fit into a gown so the Vivienne Hu team came to me, asked me if I was interested in wearing it. I said yes and they put me in this big, heavy beaded gown. I closed the show wearing it and I will never forget that experience.
What advice do you have for people interested in the modeling industry and balancing school?
Since it's my first year in college, school comes first. It's possible to go to school and work in modeling full-time. But you can do anything you set your mind to.
What do you want to do in the future?
I want to combine my business education with fashion marketing and one day maybe work at Vogue. If I continue modeling, I'd love to walk the Victoria's Secret Show.
Meet Ellie Grace Kim, FCLC '21
Majoring in Communications and minoring in Fashion Studies and French
Job:
Studio management and social media intern and assistant for Christian Cowan Council of Fashion Designers of America (CFDA). Aspiring haute couture director Kim found her love of fashion by watching the film "Dior and I." Ellie fell in love with the artistic process of designing, seeing it as a unique method of self-expression. She currently works as a writer for SOUL. She also works for CFDA designer Christian Cowan as a studio management and social media intern.
What was your favorite show?
My favorite was Christian Cowan because I was lucky to watch the whole process unfold, from designing, to casting, backstage prep, to when the clothes hit the runway. It was fascinating seeing the pieces come to life. I have a newfound appreciation for the hard work that went into each piece.
What advice would you give to people who want to be in the fashion industry?
If you want to be in fashion it's all about connections. Go online and email different fashion companies, showrooms and RSVPing to events where you can meet people in the industry.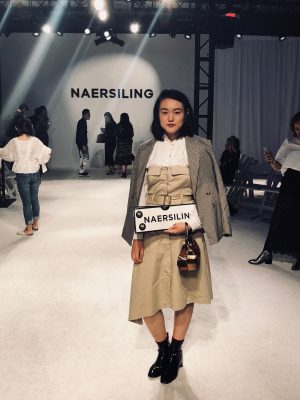 Meet Lareina Sun, FCLC '21
Majoring in global business with a concentration in global marketing and minor in fashion studies
Job:
PR intern for Fashion Week Online. Sun is an international student from Qingdao, China who isn't afraid to try new things. She has many different interests: business, philanthropy and fashion. Sun is a PR intern for the website Fashion Week Online, a resource for finding the latest fashion trends, influencers, and live streams.
How did you get into NYFW?
I was on the job-finding site Indeed and saw that Fashion Week Online was looking for interns to write and photograph fashion as well as reach out to brand for shoots. I sent my resume in, they responded back and they sent me to 25 NYFW shows. It was a mind-blowing experience going to these shows and it happened all so fast.
What was your favorite show?
This is my first season experiencing NYFW. My favorite show was Nanushka. What made it different from other shows was the influence of Egyptian mythology.
What advice would you give to people who want to be in fashion or want to go to NYFW?
When you go to the shows take a lot of pictures. I went with my co-workers and I learned a lot talking to them about fashion. Writing for Fashion Week can be daunting, but once you go to more shows, there is a familiar pattern and writing gets easier. It's a fast-paced environment so you have to be passionate. You have to be ready to take more work. Be open-minded and pay attention to details.