Trader Joe's v. Whole Foods: The Great Debate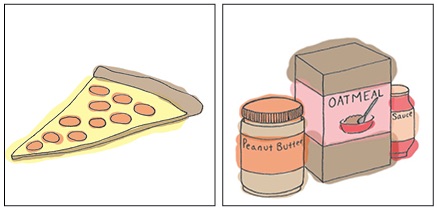 Chances are, if you are a residential student at Fordham Lincoln Center, you buy your groceries from one of two places: Trader Joe's on Broadway between 71st and 72nd Street, or Whole Foods at Columbus Circle. Of course we all make the (let's face it, more than) occasional Alan's Marketplace run, but for students who buy groceries on a weekly basis, Trader Joe's and Whole Foods tend to be the best options.
These two stores have the greatest variety of products out of all of the nearby grocery stores, making them more affordable than small money pits like Morton Williams. Some students prefer one store over the other, whether it be what Claire Mondry, Fordham College at Lincoln Center (FCLC) '20, calls the "convenience factor" of Whole Foods or the affordability of Trader Joe's. But what I have found recently is there might be a happy medium.

I used to solely shop at Whole Foods. First of all, it's closer than Trader Joe's and it is familiar to me. Whole Foods is definitely one of my happy places, but it's just not economical to only shop there. I have been going to Trader Joe's for the past few weeks, and it has definitely helped slim down my weekly grocery bill. Here is what I have learned from shopping at both.
Let Trader Joe's be your go-to for basics. One of the great things about Trader Joe's is almost everything there is Trader Joe's brand. There is still variety in the products, but it is much easier to just spot what you want, grab it and go. This makes it a lot easier than Whole Foods, where with every product sold, there are multiple brands to pick from. Trader Joe's strengths definitely lie in the dry and frozen foods sections.
The reason I like Trader Joe's for dry foods or pantry items is mostly because they are cheaper than their Whole Foods counterparts. Some of the essentials I typically pick up include pasta, pasta sauce, oatmeal, nut butter, nut milk, spices, K-Cups and nuts. Then I head over to the freezer section.

Whenever I go to Trader Joe's, I always stock up on frozen fruits and vegetables. Besides that, you can pretty much find any type of cuisine imaginable in the frozen section. One of my personal favorites as of late has been the frozen cauliflower gnocchi. It tastes amazing with their organic tomato basil marinara sauce or with the vegan kale, cashew and basil pesto.
Whole Foods should be your spot for produce and specialty items. Trader Joe's can have a good variety of in-season produce, but it is always a hit-or-miss. I know I can always count on Whole Foods to have fresh produce all year long. I've started to do the bulk of my shopping at Trader Joe's and then head to Whole Foods for anything I missed. Usually this would include bananas, a few various fruits to snack on throughout the week, greens and then anything specific I need like vegetables for a recipe, coconut water or the occasional Annie's macaroni and cheese. The last thing I can't help but grab when I go to Whole Foods is a smoothie from the juice bar or some sushi or a sandwich for dinner.

The hot bar at Whole Foods is definitely one of FCLC students' favorite features. Kevin Mikuls, FCLC '20, proclaimed the store is, "half a restaurant!" Emalyn Smith, FCLC '20, said "Trader Joe's just doesn't have a hot bar." Matthew Jordan, FCLC '20, added, "I think the world would come to an end if Trader Joe's had a hot bar." The hot bar can be one of the reasons why Whole Foods gets so pricey. It is hard to pass up the smell of fresh pizza or walk by the cookie cart and tell yourself you don't need a black and white cookie.
From talking to my peers and based off of my own experience, it is pretty clear Trader Joe's is the favorite when it comes to affordable groceries, but it is hard to get past the location and accessibility of Whole Foods. Don't count either store out, just choose your options wisely. If you're willing to pay the price and need a quick fix or are looking for something specific, Whole Foods is the spot for you, but for your average weekly shopping, Trader Joe's is where it's at.