In Appreciation of Christina Greer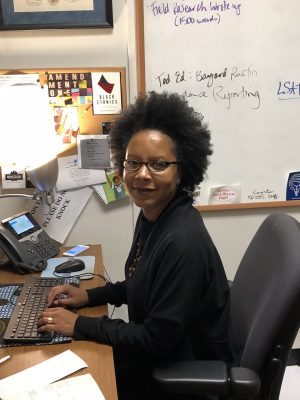 A collective op-ed by 15 Fordham students and alumni
Fordham Associate Professor of Political Science Christina M. Greer, Ph.D., is a brilliant scholar and generous, inspiring educator. She is highly respected in her field at large and is a frequent political commentator on broadcast national news, appearing regularly on MSNBC and NY1. She writes a weekly column in Amsterdam News, currently co-hosts "FAQ NYC" and previously hosted the OZY series "The Aftermath." Greer fights for a just city for all New Yorkers, in the past two years advocating for public transit for all and Fair Fares and a swift, permanent closure of Rikers Island jail. She predicts progressive candidates' victories and works to achieve them. And she brings this breadth of political experience into the classroom.
In her spring 2016 Urban Politics course, Greer dispatched students to the five boroughs to engage with theories studied in class. They analyzed New York City's museums, and returned with questions about the accessibility and purpose of public spaces. The class contributed to the Tenement Museum's Your Story Our Story project, exploring personal experiences of forced and voluntary migration and immigration while learning the role of immigration, migration and displacement trends in the formation of U.S. cities.
In their capstone project, the class studied the conditions of MTA stations, observing that while 76 percent do not have elevators, those that do are frequently filthy and fetid, and out of service at erratic intervals. After site visits and research, students presented their recommendations to the transit experts Greer invited to class, and submitted full reports including policy memos for city officials.
The project showcased Greer's magical ability to foster connections between her students, helping those with shared passions find one another. She invites students to engage in creating their vision of a better political future, and prepares them for the collaborative, ground-up work our visions will require.
Greer does not hide behind impartiality; she makes her views known, but is careful to never stifle conversation or debate. Her classroom is at once comfortable and challenging, demanding but fun. Her courses are so popular that she's inspired the phrase "minoring in Greer": political science majors taking so many of her classes that they could constitute a minor.
Greer's passion for educating and making politics current and tangible is not limited to her classroom. She regularly brings academics, intellectuals, reporters and politicos to campus, inviting the Fordham community to take advantage of these opportunities to both educate themselves and promote dialogue on campus.
Here's a sample of the past five years of Greer's contributions outside the classroom at Fordham: in 2013, she published her first book, becoming one of the first political scientists to use quantitative data to study the multiplicity of ethnic groups that get lumped in under the category of "black voters," omitting the nuances of Afro-Caribbean, African and black American communities and how they vote. In 2014, Professor Greer organized a panel on Mayor de Blasio's first 100 days in office. In 2015, Greer moderated a panel hosted at Fordham Law on economic security for women of color with participants including Women's March organizer Linda Sarsour. That year, she also spoke at and supported an incredible all-day conference on the anniversary of Malcolm X's murder, reflecting on his legacy on contemporary U.S. politics. In 2016, Greer moderated a panel on gun violence and police brutality.  In 2017, Greer co-organized Fordham's first-ever panel on trans politics with Assistant Professor of Political Science Zein Murib, Ph.D., and hosted a debrief on the 2016 elections with several political scientists.
Greer encourages Fordham students and the community at large to take national and regional political moments seriously and to play a role in how they develop. Countless Fordham success stories, whether in New York City government, think tanks in Washington D.C. or law schools and graduate programs across the country, owe their success to her guidance. She's taught students to never be late, to always know what's going on in the world today, to take constructive criticism in stride and to always be smarter and better for it.
Fordham is fortunate that Greer has chosen our university as her home base for research and teaching. Her students are proud to see her represent Fordham and our Political Science department every time she speaks on TV. In her podcasts, columns and frequent public appearances, Greer shares valuable and clear-sighted commentary on current political events, allowing the greater public to learn from her insights as her students do every week. We couldn't be more impressed with or appreciative of Dr. Greer's work this year, as a McSilver fellow in residence at NYU, as a frequent commentator in the New York Times and other media outlets, and always as an advisor to students.
Melissa Aziz, FCLC '17
Kendall Bennett, FCLC '20
Hunter Blas, FCLC '17
Francesca Ciannavei, FCLC '20
Chandler Dean, FCLC '18
Michaéla Finneran, FCLC '18
Yint Hmu, FCLC '17
Leah Johnson, FCLC '20
Meg Johnson, FCLC '20
Kyle J. Kilkenny, FCLC '19
Maya Kitayama, FCLC '18
Lexi McMenamin, FCLC '17
Evangeline Miele, FCLC '20
Eliza Putnam, FCLC '18
Maria Rodriguez, FCLC '18