Fordham Rescinds Cardinal's Awards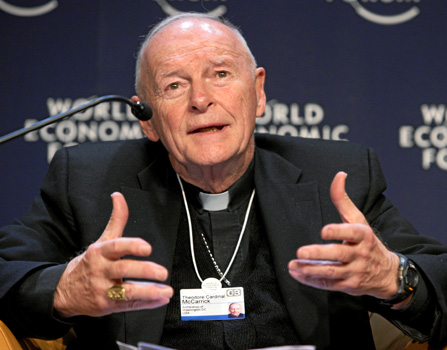 UPDATE (2/16/19): Pope Francis has defrocked Theodore McCarrick, meaning the former cardinal is now expelled from the priesthood. It appears to be the first time a cardinal has been defrocked as a result of sexual abuse.
UPDATE (7/30/18): Cardinal McCarrick has resigned from the College of Cardinals, becoming the first Cardinal to do so following sexual abuse allegations. Pope Francis has accepted McCarrick's resignation, suspending him from public ministry and ordering him to a life of  "prayer and penance." The move comes as Pope Francis aims to enforce a wider crackdown on sexual abuse in the Catholic Church.
UPDATE (7/18/18): Since the publication of this article, more accusations against Cardinal McCarrick have surfaced as reported by The New York Times. The new accounts range from inappropriate touching to unwanted sexual intercourse, with ages of victims ranging from young children to adults in their 20s. Additionally, Fordham University has specified in a statement to The Observer that it is renaming the McCarrick travel fellowship the John Fidelis Hurley, S.J. Fellowships. Hurley, a Fordham graduate from the class of 1914, was a Jesuit priest in the Philippines during the Japanese occupation of the Philippines in the 1940s. He received the U.S. Medal of Freedom in 2016.
ORIGINAL STORY:
Fordham University's Board of Trustees has voted to rescind alumnus Cardinal Theodore McCarrick's honorary degree and "other honors" given to him by the university, according to a statement from University President Rev. Joseph M. McShane, S.J. The former archbishop had recently been removed from the public ministry following allegations that he sexually abused a teenager during his time as a priest, the Archdiocese of Washington said in a statement last June.
McCarrick, a graduate of Fordham College at Rose Hill's class of 1954, served as the Archbishop of Washington from 2000 to 2006.
This is the third time Fordham has revoked an honor it had already bestowed on someone. Last December, Fordham rescinded Charlie Rose's eponymous award for excellence in broadcast journalism following accusations from eight women that he sexually assaulted them. Similarly, in 2015, Fordham revoked Bill Cosby's honorary degree from the university. In adding Cardinal McCarrick's case to this blacklist, all three decisions cite sexual assault or abuse as the reason for action.
The sexual misconduct incidents, which the Associated Press describes as the fondling of an altar boy, allegedly occurred at two Christmas masses in 1971 and in 1972. The Archdiocese of New York, led by Cardinal Timothy Dolan and a review board, found that the allegations were "credible and substantiated." On this basis, Vatican Secretary of State Pietro Parolin has ordered McCarrick not to conduct any further ministry or other public activity. However, Pope Francis and the Holy See have yet to make a "definite decision" about a permanent action, according to the Archdiocese of Washington. McCarrick has accepted the decision, but he maintains his innocence.
In 2010, Fordham University honored McCarrick by creating a fellowship in his name for the graduate program in International Political Economy and Development (IPED). The university awarded at least eight people with the fellowship between 2010 and 2017 according to a webpage on the official Fordham website, but this information has since been deleted from the page. A biography of McCarrick was also removed.
While the Catholic Church's history of sexual abuse scandals is well-documented, more priests have been accused of sexual assault and held responsible for their actions in the last year thanks to #MeToo. In a statement to The Observer, Fr. Hans Zollner, a Jesuit priest from Germany who is one of the Church's leading experts on investigating sexual abuse, concurred. "Since the #MeToo movement gained momentum almost a year ago, many more victims have come forward with accounts of sexual abuse that they experienced as adults in the church," he stated, citing a "power imbalance" as a reason why perpetrators take advantage of younger victims.
Zollner went on to describe loss of trust as a challenge the church faces after incidents of sexual abuse like McCarrick's. "All forms of sexual abuse are also an abuse of power and bring a loss of trust in authority," he said. "Church leadership is challenged to regain trust through a consistent attitude and reliable actions," which he says include legal and canonical penal procedures as well as "genuinely caring for victims and secondary victims."
Dr. Henry Schwalbenberg, the director of the IPED program, could not be reached for comment about the status of the fellowship. Likewise, Rev. Osvaldo Hernandez, the most recent recipient of the award, did not respond to request for comment.
---
The full text of McShane's original statement is below:
On June 20, His Eminence Timothy Cardinal Dolan revealed an investigation into an allegation of sexual abuse of a minor against Theodore Cardinal McCarrick by the Archdiocesan Review Board, a seasoned group of professionals including jurists, law enforcement experts, parents, psychologists, a priest, and a religious sister. The review board found the allegations "credible and substantiated."
From the statement: "The Vatican Secretary of State, Cardinal Pietro Parolin, at the direction of Pope Francis, has instructed Cardinal McCarrick that he is no longer to exercise publicly his priestly ministry. Cardinal McCarrick, while maintaining his innocence, has accepted the decision."
The Archdiocese of Newark, N.J., also issued a statement, revealing that Cardinal McCarrick had been accused of engaging in sexual behavior with adults: "This Archdiocese and the Diocese of Metuchen received three allegations of sexual misconduct with adults decades ago; two of these allegations resulted in settlements."
Joseph Cardinal Tobin, archbishop of Newark, wrote in the statement:
"I recognize that the people of our Archdiocese meet the announcement by the Archdiocese of New York of a credible and substantiated claim of abuse of a minor by Cardinal McCarrick with a range of emotions. I am thinking particularly of those who have experienced the trauma of sexual abuse by clergy – whose lives have been impacted tragically by abuse. To those survivors, their families and loved ones, I offer my sincere apologies and my commitment of prayer and action to support you in your healing."
Accordingly, the University Board of Trustees has voted to rescind Cardinal McCarrick's honorary degree, and other honors the University has conferred upon him. In taking these steps, we acknowledge the extraordinary and long-lasting harm done to children who were sexually abused by clergy members. While we can never fully repair the sins of the past, we must respect the experience of abuse survivors, and accord them all the love and compassion of which we are capable.
Joseph M. McShane, S.J., President
Fordham University
---
Full statement from Cardinal McCarrick:
Some months ago, I was advised by the Archbishop of New York, Cardinal Timothy Dolan, that an allegation of sexual abuse of a teenager from almost fifty-years ago had been made against me. At that time I was a priest of the Archdiocese of New York.
While shocked by the report, and while maintaining my innocence, I considered it essential that the charges be reported to the police, thoroughly investigated by an independent agency, and given to the Review Board of the Archdiocese of New York. I fully cooperated in the process.
My sadness was deepened when I was informed that the allegations had been determined credible and substantiated.
In obedience I accept the decision of The Holy See, that I no longer exercise any public ministry.
I realize this painful development will shock my many friends, family members, and people I have been honored to serve in my sixty-years as a priest.
While I have absolutely no recollection of this reported abuse, and believe in my innocence, I am sorry for the pain the person who brought the charges has gone through, as well as for the scandal such charges cause our people.
---
Full statement from the Archdiocese of Washington:
Sometime ago, an allegation that falls under the United States Conference of Catholic Bishops' Charter for the Protection of Children and Young People was made against Cardinal McCarrick when he served as a priest in the Archdiocese of New York.
The Holy See, which has exclusive authority in the oversight of a cardinal, delegated Cardinal Timothy Dolan of New York to investigate the allegation, engaging the review board of the Archdiocese of New York.
In the end the review board found the allegations credible and substantiated.
The Vatican Secretary of State, Cardinal Pietro Parolin, at the direction of our Holy Father, Pope Francis, has instructed Cardinal McCarrick that he is to refrain from any public ministry or activity until a definite decision is made.
Cardinal McCarrick, while maintaining his innocence, has accepted the decision.
While saddened and shocked, this archdiocese awaits the final outcome of the canonical process and in the meantime asks for prayers for all involved.
At the same time, we renew our commitment to care for the victims who have suffered abuse, to prevent abuse before it occurs, and to identify and report child abuse once it has happened.