Stephen M. Freedman, University Provost, Dies at 68
Dr. Stephen M. Freedman, Ph.D., provost of Fordham University and a fixture in its academic community for over a decade, died Monday night at his home in Hastings-on-Hudson, N.Y. He was 68.
In a statement addressed to the university community, University President Rev. Joseph M. McShane said that Freedman had "served Fordham tirelessly" for the 11 years of his time there. Commending his dedication to students, faculty and staff and the value he assigned to research and its global importance, McShane also remembered Freedman as "a warm and insightful friend and colleague, and a man of deep conviction and rectitude."
McShane reported later that Freedman's wife Eileen relayed a medical examiner's evaluation that the provost had most likely died from a subdural hematoma, an accumulation of blood between the brain and the dura, resulting from a fall he sustained while in London, England. She said that her husband had not thought much of the injury at the time.
In the days since his death, friends, Fordham alumni and other members of the community have delivered an outpouring of support for his family and the university, according to McShane. "Not surprisingly," he said, "all of those who wrote to express their sorrow at his death spoke of the same qualities of heart and mind that made him such a beloved figure on our campuses."
In 2010, Freedman was appointed as provost, a new position then, in the middle of the university's ambitious capital campaign known as "Excelsior | Ever Upward | The Campaign for Fordham" in order to "streamline" the structure of the administration. Previously, he had served as Fordham's senior vice president for academic affairs and chief academic officer.
Speaking at the time of his promotion, McShane said expressed "recognition of both the strong record of achievement that Dr. Freedman has compiled in the course of his tenure at Fordham, and the centrality of academics in the life of the University."
McShane frequently praised him for his accomplishments and vision for the university, but Freedman was equally appreciative of the president. In a 2007 interview with Fordham Magazine, he said that McShane's impact on the institution was what attracted him there in the first place.
"Fordham is at a stage where there are wonderful opportunities, given the internationalization of higher education," he said at the time. "I was attracted by the history of Fordham and the future, the potential it has."
As provost, Freedman oversaw the operations and curricular programming of the university's nine schools and colleges, as well as the efforts of its research centers and institutes. He was also a professor of ecology and evolutionary biology. Prior to Fordham, he spent 24 years at Loyola University Chicago as a professor and dean followed by five years at Gonzaga University as academic vice president.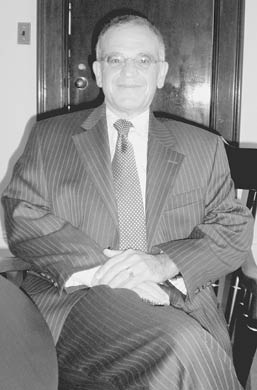 Fordham's statement said that a committee will be formed in the following weeks to search for Freedman's successor. Associate Chief Academic Officer Jonathan Crystal has been asked to fill the position in the interim.
"Stephen truly loved Fordham," Crystal said. "He worked tirelessly to make Fordham a better, stronger university." He added that, as a friend and mentor, "he was never anything but supportive, selfless, and dedicated not just to Fordham, but to the people who make up the place."
Freedman's family has decided to hold a private funeral for him, McShane said; however, the university will arrange a public memorial service on campus at the beginning of the fall semester in September. He noted that it will coincide with dedication of the Cunniffe House Provost Conference Room as the Stephen Freedman Conference Room.
"Stephen's death is a grievous loss not just for his family and Fordham friends, but for everyone who knew him." McShane said. "We have lost a wise counselor and mentor, a cherished colleague and a dear friend."
Freedman leaves behind his wife and his two sons, Zac and Noah.
---
The full text of McShane's original statement is below:
Dear Members of the Fordham Family,
It is with profound sorrow that I write to tell you that Dr. Stephen Freedman, beloved Provost of the University, died suddenly at his home in Hastings on Hudson, last evening.
It is hard to overstate what a shocking and terrible loss this is to Stephen's wife, Eileen, sons, Zac and Noah, grandson Aaron, and to his friends and colleagues here at Fordham and in the academic community.
For more than a decade, Stephen has served Fordham tirelessly. He was known for his devotion to the faculty, students, and the academic community, and for his commitment to research and a global university. He was a warm and insightful friend and colleague, and a man of deep conviction and rectitude. Stephen's death is a grievous loss not just for his family and Fordham friends, but for everyone who knew him. We will miss him terribly.
I have asked Dr. Jonathan Crystal to serve as interim vice president and chief academic officer. We will form a search committee in the following weeks.
We will share information on services for Stephen as soon as they are available. In the interim, I know you join me in keeping his family and loved ones in your thoughts and prayers.
Sincerely,
Joseph M. McShane, S.J.