Despite Loss in Coaching Debut, Grasso Vows to Give Rams a New, More Intense Look
Published: December 10, 2009
The Jared Grasso era of the Fordham men's basketball program got off to an inauspicious start on Dec. 5, as the Rams fell to Bowling Green State University 67-46 at the Rose Hill Gym. The successor to ousted head coach Dereck Whittenburg sought to play a more intense, up-tempo brand of basketball against the Falcons, but the Rams hit just 17 of 74 field goals, including only two of 20 shots from three point range.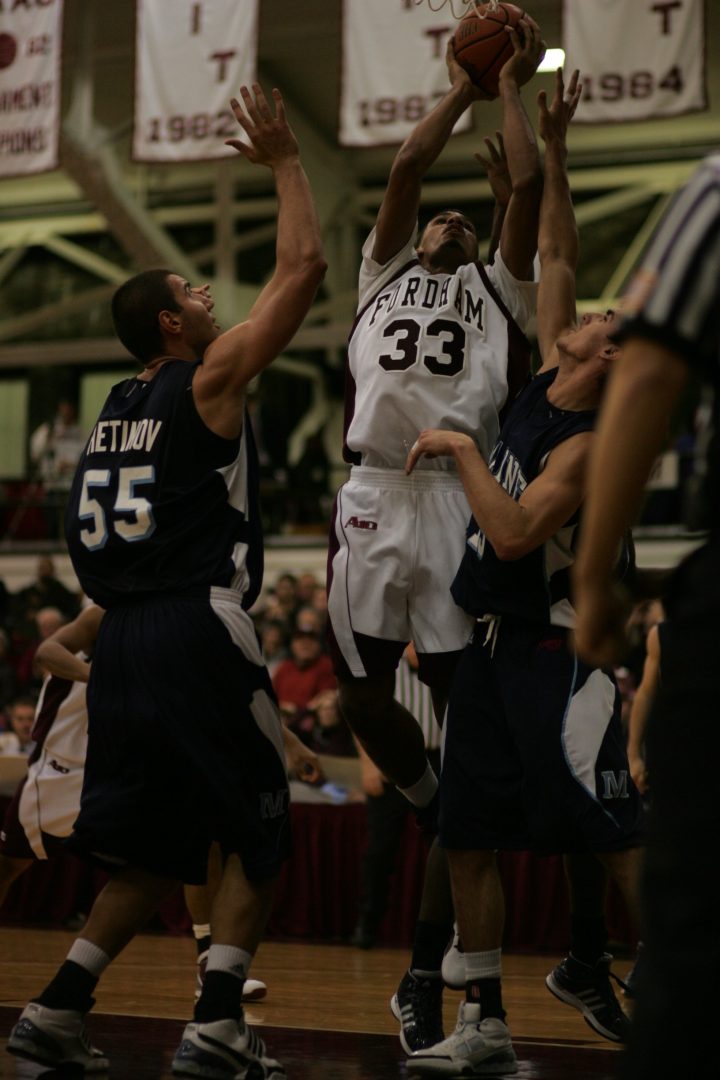 "We played hard, I thought we competed, but it's tough to win when you shoot the ball the way we did," Grasso said. "We've got a ways to go."
Grasso was more subdued on the sideline than his predecessor, but he made it clear that he was looking for intensity from his team.
"The thing I talked about all week was 'play hard, have a great attitude and compete,'" Grasso said. "Did we play hard? Not hard enough for me, but we played harder. I thought their attitude was good. But we need to get tougher, and those are the things I'm going to push everyday."
The Rams looked like a rejuvenated squad on their first possession of the night with Brenton Butler, Fordham College at Rose Hill (FCRH) '10, lobbing an alley-oop to Herb Tanner, FCRH '10, for the finish, but that would be the highlight of the game for both players. Tanner did not score another point, and Butler failed to hit a shot all night, extending his cold streak to 25 straight misses over two games. Still, the new coach has confidence that Butler can find his stroke.
"Brenton Butler's our best shooter," Grasso said. "He's missed 25 in a row, but I'm going to let him take the next 25. I want him to shoot the ball."
The Rams kept the game close early, leading 11-9 with 10 minutes to play in the first half. Six-foot-nine-inch Bowling Green center Otis Polk and forward Scott Thomas dominated the game down low, combining for 19 points. Fordham was outscored 34-20 in the paint.
The Falcons pulled away over the last five minutes of the first half, tearing off a 14-0 run heading into the break. The Rams started the second half trailing 20-34, and never got within 15 points the rest of the game.
Chris Gaston, FCRH '13, was a bright spot for the Rams in the loss, scoring a game-high 21 points and 13 rebounds. Lance Brown, FCRH '13, chipped in with 13 points of his own after missing much of the season with a knee injury.
The loss was also the beginning of the post-Jio Fontan era at Rose Hill. The point guard had announced he would be seeking a transfer from Fordham three days before the game, and though no decision on his transfer was final by tip-off, Grasso let the Ram's leading scorer sit out.
"It was a little strange for us," Grasso said. "This is the first game in two years these guys have played without Jio. They're used to somebody setting the pace and getting them the ball. Tonight guys like Herb Tanner and Brenton Butler had more responsibility than they've probably ever had. Its something we're going to have to adjust to."
Grasso, who at 29 years old is the youngest head coach in Division 1 basketball, hopes to coach the Rams to play his style of basketball.
"I want to play at a faster pace, I want to run and I want to push the ball, but that's not going to happen in two days," Grasso said. "My goal by the time we get to [Atlantic 10 conference] play is to be able to pressure people defensively and push the ball offensively and win a few games. We talked about today being a new season. That's my mentality: get back in the gym and get better."
Grasso played up-tempo basketball at Quinnipiac University, where he recorded 1,134 points and 404 assists in four years of starting. He returned to Quinnipiac as an assistant coach in 2005 before joining Dereck Whittenburg's staff at Rose Hill in 2006.
"These next two weeks we're going to work harder than we ever have," Grasso said. "I'm very intense; that's my mentality. If I'm the head coach, I want the program to look like me. That's tough and competitive, and that's how it's going to be everyday."
*On Dec. 8, shortly before the Observer went to print, the Rams used Grosso's run-and-gun style to defeat Stonybrook 93-77. Butler broke out of his slump, scoring a game-high 25 points.