Basketball Coach, Top Scorer Gone at Rose Hill
Published: December 10, 2009
Call it hoops nightmares: In the span of 48 hours, Fordham University fired its men's head basketball coach and lost a top player to transfer.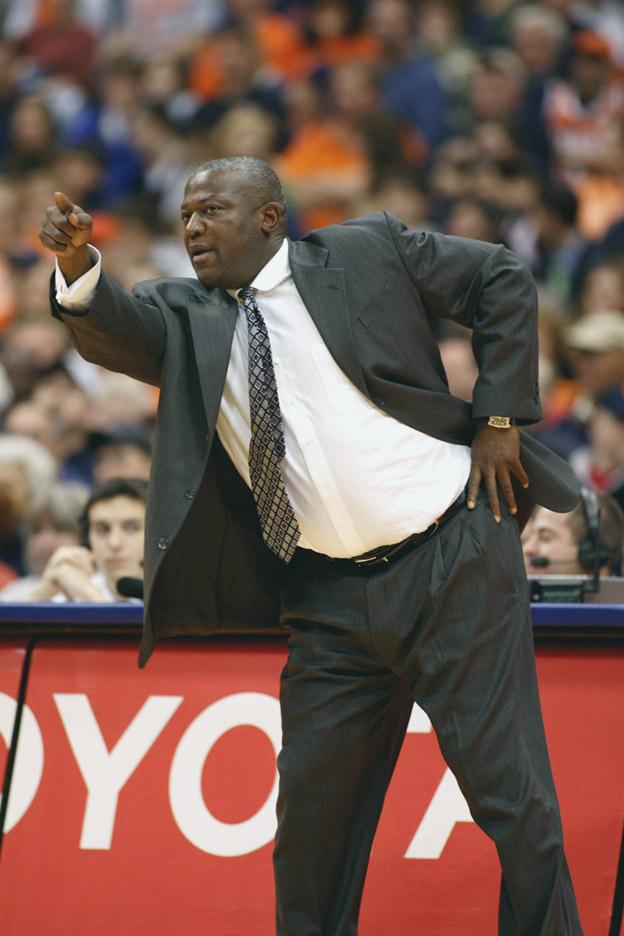 Dereck Whittenburg's career at Rose Hill came to an end on Dec. 3, when university vice president of student affairs Jeffrey Grey announced in an e-mail to students and alumni that the seventh-year head coach would be released from his contract, effective immediately. In 2007, Whittenburg, who managed a 69-112 record with the Rams, signed a contract extension that would have kept him at Fordham through 2013.
Whittenburg's firing came in the midst of a 1-4 start in which his team failed to show improvement over last year's disappointing 3-25 performance.
"I want the team to play well on a consistent basis, and we had not been doing that," said Frank McLaughlin, Fordham's executive director of intercollegiate athletics and recreation. "The program was struggling, and I believe it's very important to the school."
Frustration with the lack of progress under Whittenburg also led point guard Jio Fontan, FCRH '12, to announce on Dec. 2 that he would be seeking a transfer from Fordham at the end of this semester.
"It's breaking me down as a person," Fontan told the New York Daily News's Sean Brennan. "I wanted to help push the program to a new level, but unfortunately we couldn't."
Despite the timing of Fontan's announcement, McLaughlin said the star's decision to leave Fordham did not influence the firing, and that McLaughlin, Grey and Rev. Joseph M. McShane, S.J., president of Fordham University, had made the decision to release Whittenburg prior to the Daily News story.
"Our decision was made earlier in the week, but it was confidential," McLaughlin said. "Jio is a great player and a great kid, but we're not concerned about the individual. We're concerned with the team."
Fontan had entertained the idea of leaving Fordham in the spring after the team posted a 3-25 record in his freshman season, but decided to remain with the Rams for another year. Many felt that decision probably saved Whittenburg's job at the time, as many students and alumni were already calling for the coach's firing. Fontan's return and the arrival of big men Chris Gaston and Fahro Alihodzic, both FCRH '13, signaled the beginning of a rebuilding process.
"A lot of people thought we should have made a change [at head coach] this spring, but we decided to wait," McLaughlin said. "We knew we had a good freshman class and a favorable early season schedule."
The preseason optimism quickly faded. The 68-44 drubbing in the Battle of the Bronx at Manhattan College on Nov. 28 was Whittenburg's final game as head coach. It was widely reported after the game that Whittenburg berated his team for 90 minutes after the loss.
McLaughlin said that there were no benchmarks in place for Whittenburg to meet, but that his players simply had not been performing at a level expected by the university.
A Fordham faculty senator who wished to remain unnamed said that the university and the former coach are currently negotiating a buyout for the remaining three years of Whittenburg's contract. Fordham would not disclose any information regarding the contract, but in 2007 the Web site charitynavigator.org published a list of private university men's basketball coaches' salaries with Whittenburg's yearly earnings listed at $264,043.
Jared Grasso, a fourth-year assistant under Whittenburg was promoted to interim head coach.
Fontan sat out the first game under Grasso on Dec. 5. After the game, Grasso said he was planning on meeting with Fontan and his family the next day to see if the point guard had had a change of heart about transferring. On Dec. 7, Fontan told the Daily News that his decision to transfer was final.
Fordham University sports information director Joe DiBari confirmed that Fontan was leaving the school on Dec. 8, and said that Fontan was "in the process of working with Fordham's compliance office in identifying and coordinating the schools he is interested in transferring to."
The point guard, who was averaging 15 points, four assists and two rebounds per game will sit out the remainder of the semester and leave the university after final exams.
Fontan's departure is only the most recent example of players departing from Whittenburg's program. At the end of the 2008-09 season, emerging scoring threats Mike Moore, formerly FCRH '11, and Trey Blue, formerly FCRH '12, left the Rams for Hofstra and Illinois State, respectively. In 2007, Whittenburg recruit Dan Landisch, FCRH '10, left the basketball team to play tight end for Fordham football under head coach Tom Masella, while guard David Boykin, formerly FCRH '11, transferred from the university.
In addition to the transfers, Whittenburg's stint at Fordham got off to a rocky start shortly after his arrival from Wagner College, where he led the Seahawks to a Northeastern Conference title and an NCAA Tournament bid in 2003. During a Fordham game at Xavier in February 2004, an unidentified Fordham student manager was caught behind the Xavier bench with a walkie-talkie, allegedly relaying opponent's plays to the Rams bench. A formal investigation was launched by the Atlantic 10 and the university, with director of men's basketball operations Alex Groothius ultimately receiving a two-game suspension.
"That was one incident that shouldn't affect the way you look at his time at Fordham," said Groothius, who is currently the interim head coach at Palm Beach Community College. "Anyone who knew anything about that knows that coach [Whittenburg] had zero to do with that."
Groothius said he believes Whittenburg could have salvaged this season, given the opportunity.
"I think the team was facing a temporary struggle, a temporary lack of talent maybe," Groothius said. "But I know [Whittenburg] would have turned it around. This doesn't diminish his career in my eyes. I think they made a mistake in letting coach go. I believe it's a loss for Fordham. They lost a great man and a great coach."
Peter Martin, FCLC '08, disagrees. Martin was a student manager with the basketball team during his freshman year and told the Observer that the Whittenburg era was troubled from the coach's arrival in the 2003-04 season.
"He was highly regarded as a recruiter, but he wasn't a good x's and o's guy for this league," Martin said. "He was coming from Wagner, in the Northeast Conference, and that's about as low as it gets for Division 1 basketball."
Martin also said that Whittenburg's behavior should not have been tolerated by the university.
"The guy he was in the locker room was different than the nice guy he was at a postgame reception," Martin said. "I saw what type of program he was running and I didn't want to be a part of it.
"No other school would have let a coach get away with what Whittenburg got away with here. The game would be a blowout and he would sit with his arms crossed on the sideline like a petulant child. The team's struggles were just a product of his ineptitude."