Sodexo Nutritional Information Inaccurate and Incomplete
A Lack of Listed Ingredients Causes Concern for Those With Dietary Restrictions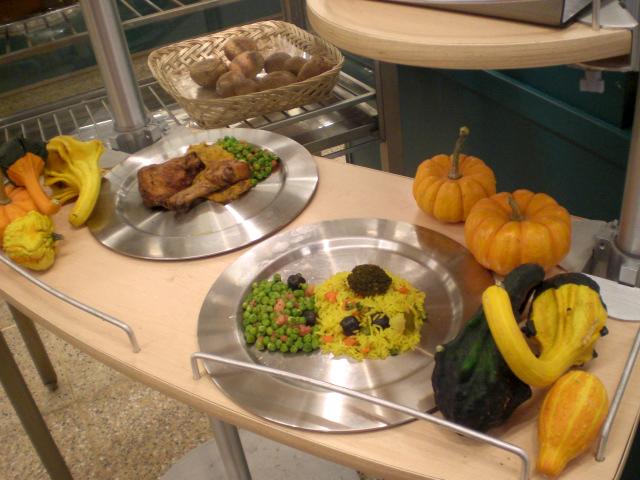 Published: December 10, 2009
Deborah Luckett, a lecturer in biology at Fordham College at Lincoln Center (FCLC), has a severe shellfish allergy. She carries an EpiPen, which contains an adrenaline shot to counter the anaphylactic shock eating shellfish could cause. After eating meatloaf from the FCLC faculty-dining hall in September, Luckett started to itch, one of the symptoms indicating the start of an allergic reaction. Luckett tried to look up the ingredients on Fordham's Sodexo hospitality services Web site, www.fordhamcatering.com, and found that the meatloaf's listed ingredients read as "homemade meatloaf," and the list of allergen alerts contained fish.
"Unless you go to the Web site, you don't know," Luckett said. "What about students, other faculty and visitors who might not know? Or someone who is a vegetarian will take something that appears vegetarian and not know [otherwise]."
Luckett's worries about limited information seem justified in a number of ways. On the Web site, menus for each week are supposed to be available. However, as of Dec. 8, the only menu available online was for the week of Nov. 30.  Second, while allergens are listed for each food, the lists are not comprehensive, and some ingredients are not recognized as allergens at all. For instance, the recipe for cheese tortellini with vegetables, as found on the Sodexo nutrition calculator, balancemindbodysoul.com, lists mushrooms as an ingredient, but not in the allergy alert section.
Third, both online and in posted notices in the cafeteria, information necessary to those with dietary or religious is difficult to find or absent.  The confetti rice listed as a lunch option on Nov. 30 is made with chicken broth. The fusilli with Italian sausage served on Dec. 3 neglects to identify distinguish what type of meat the sausage is made of—beef, chicken, turkey or pork.  The vegetarian dinner option for Nov. 30 is quiche containing fish and shellfish.
The food is provided by Sodexo, Inc., a company that supplies 6,000 national sites, including hospitals, prisons, senior homes, military bases, corporate offices, the federal government and schools from the elementary levels through university. According to their Web site, the company serves 9.3 million meals a day and pulls in $7.7 billion  in annual revenue. Despite multiple attempts to reach Sodexo's office of universities and colleges, human resources and public relations, Sodexo did not respond. Numerous calls to other Sodexo offices were all unreturned.
When questioned about the presence of fish in the meatloaf and the other unexpected ingredients, Brian Poteat, the general manager for Fordham's food services, said, "I can assure you that we that we do not put 'unexpected ingredients' in any of our food and certainly we do not put fish protein in meatloaf." After sending Poteat a link to the ingredient lists on Fordham's Web site, he said, "It is not clear, but the information should say 'may contain' because it does not contain fish… it is suggesting that it is produced in a facility that also prepares food with the mentioned products." He further explained that the meatloaf recipe Fordham uses is "the plain meatloaf," which is listed as containing only eggs and wheat. However, ingredients for the plain meatloaf recipe are not available on the Web site. Poteat also said that Fordham uses "the garden vegetable quiche" recipe, which does not list fish but mushrooms. Mushrooms, however, are another allergen and, in any case, ingredients for this recipe are not accessible on Fordham's cafeteria menu.
"Three of the recipes for meatloaf call for Worcestershire sauce, and there are anchovies in the sauce [which] is why it is listed as containing fish," said Poteat.   This information, however, is not available to the consumer either on the Web site or in the cafeteria posting.
Vegetarians, vegans and people with dietary restrictions due to religious beliefs must be particularly vigilant in researching their meal options.
"I fast for Christmas; it's about 40 days," said Catherine Michail, FCLC '10. "The Orthodox Christians can't have any meat or dairy. I can't eat anything [they cook] in the cafeteria. I don't know what's in it. Even if they use butter, I can't have it."
"The fact that rice is cooked in a meat broth should be made known to the students," said Gabriela Lawrowska, FCLC '10 and a vegetarian. "If [Sodexo] decides to continue this practice, students should have a choice between rice cooked in water and rice cooked in a meaty broth… a choice that might help vegetarian students avoid having an upset stomach later."
Poteat suggested that students are encouraged to meet with a registered dietician and the executive chef if they have specific dietary restrictions.
"It is easy to make healthy, tasty vegetarian dishes without adding any animal products," Jason Morris, assistant professor of biology at FCLC and a vegetarian for religious reasons, said. "It is a shame to ruin a perfectly good soup or rice or pasta dish for vegetarians by putting chicken broth or other meat products on it."
Poteat said that all hot items served have menu signs indicating nutritional information. And if a student is concerned about an allergy, he or she may consult with any of the managers or employees in the cafeteria.
There are signs placed above the glass panels protecting the food; however, they list caloric information and an incomplete list of possible allergens. They do not list ingredients. There are no signs available in the faculty dining room.
Luckett remains hesitant when it comes to the food offered. She said, "It's not happening just here at Fordham. It's wherever Sodexo is."