Marymount For Sale, Alumnae Mourn
Alumnae Shocked by Fordham's Plan to Sell Campus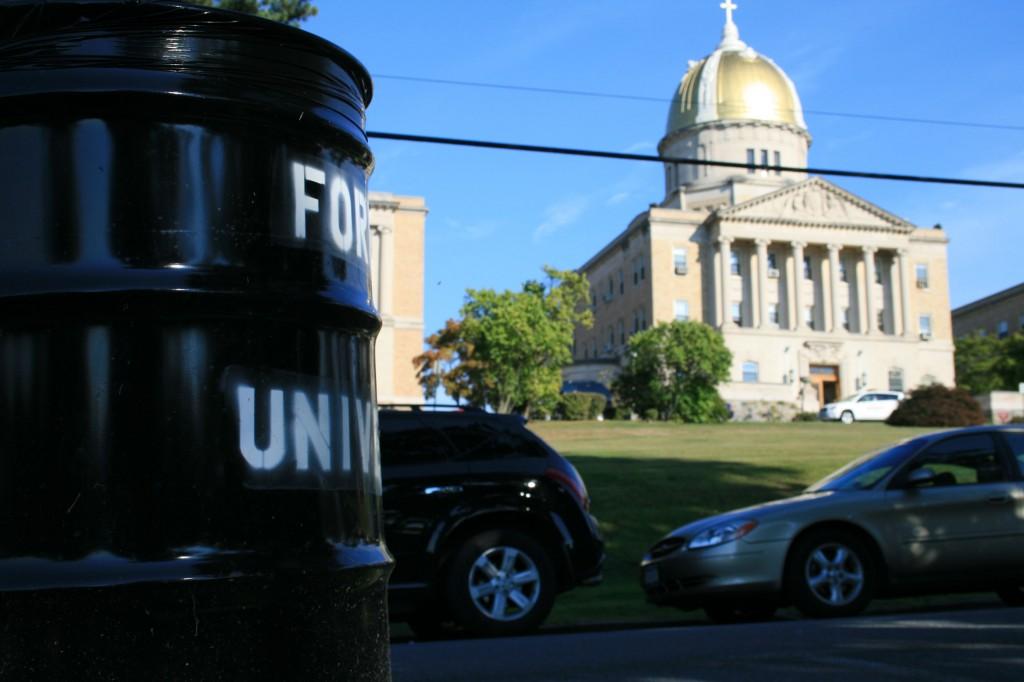 Published: September 27, 2007
MARYMOUNT—Twenty-four acres of hilltop overlooking the Hudson River are up for sale. The view of the Tappan Zee Bridge that was a daily sight for Marymount College students will soon be someone else's view.
Marymount alumnae say they were shocked to hear that Fordham would be selling their old Tarrytown campus, and many received the news in the form of a letter or e-mail signed by the Rev. Joseph M. McShane, S.J., president of Fordham, just days before the news had hit the media.
"I was shocked and extremely saddened," Nancy Castaldo, MMC '84, said. Castaldo did not receive McShane's letter but was forwarded the information from another alumna on Aug. 28.
"I had hoped Fordham would've carried on Marymount's traditions, built partnerships with corporations, and given the faculty the university's support," Castaldo said. "I am disappointed none of these things were carried out."
Marymount College was founded in 1907 by Mother Marie Joseph Butler of the Religious of the Sacred Heart of Mary, an international teaching order. The college purchased the Tarrytown campus in 1918. Marymount was consolidated with Fordham in 2002 in an effort to keep the college open. In 2005, Fordham announced the college would be closing.
Tanell Pendleton, MMC '05, said when she first found out the college would be closing, she found comfort in knowing that the campus would still be there. "Now they are planning to sell the campus and I feel like ten years from now, a part of my life will be gone."
"It is sad that the Marymount College campus must pass from Fordham's ownership, and the alumnae's great love for and devotion to Marymount made the decision all the more painful to us," McShane said in a statement. "Nonetheless, Marymount alumnae will always have a home wherever Fordham University exists."
Marymount graduated its final class this past May, but Fordham had announced that the campus would remain open for graduate studies in several disciplines. This past spring, renovations were made and signs for the graduate programs were put up.
According to McShane's letter, the decision to sell the campus was made "in the course of the summer" and "only after an exhaustive exploration of other options and extensive consultation with interested parties."
Bob Howe, director of communications at Fordham, said the Graduate Schools of Social Service, Education and Business Administration, and Fordham College of Liberal Studies will move their Marymount operations to 400 Westchester Ave. in Harrison, N.Y., by fall 2008.
Pendleton said she believes no one is to blame for the events that have unfolded. "Fordham attempted to help a failing college by investing millions of dollars," she said. "The merger was not successful."
But other alumnae have other beliefs. "I think this happened because Fordham did not feel they could financially gain from maintaining the Marymount campus—there was no financial incentive for them to continue supporting the college," Jana King, MMC '84, said.
Kathleen Ward, MMC '05, said, "I think Fordham only thought about themselves throughout the last two and a half years and didn't care about Marymount."
"The closing of Marymount as an undergraduate women's college is part of a larger picture in higher education," Howe said. "Declines in enrollment, driven by social, cultural and demographic changes in the last three decades, coupled with increased operating expenses, conspired against single-sex institutions."
McShane wrote in his letter that the campus had become too expensive to maintain. He explained that the university had incurred millions in expenses since Marymount College had become a part of Fordham, and said that the revenue from the proposed sale will "likely not exceed those expenses."
Susan Venditti, MMC '06, said she would love to know the real reasoning behind all of Fordham's decisions regarding Marymount. Venditti, who received McShane's letter, said, "You can only receive so many watered down 'It is with a heavy heart…' versions so many times before you want to know the entire truth." Venditti was referring to the first sentence of McShane's letter.
More than anything, the alumnae say they are sad to see the campus go. "All that I have left are memories and pictures," Ward said. "I can't even take my future children to visit my old college because it doesn't exist."
"It almost feels like being displaced," Venditti said. "There's no place to go back and visit, no place to find the professors that made an impact on your life."
Castaldo, who not only attended the campus as a student but also had her wedding held there, said she is in mourning. "I hope heads that can look beyond the dollar can help preserve Marymount's campus in a way that we can all be proud," she said.
The future of the campus is a concern for many alumnae. "I hope whoever buys the campus will respect the 100 years of history behind it," Pendleton said. "I am worried someone will buy the property, knock everything down and build condos," she added.
"I hope that the older buildings, especially Butler Hall, will be saved," Venditti said. "These buildings are so old and so beautiful that it would be a monumental loss if anything were to happen to them."
As for the memory of Marymount, "it is up to each individual person to keep their memories," Ward said. "Marymount will always have a special place in my heart and it will never be forgotten by anyone that attended the school."