As Food Trucks Crowd the City Streets, Hungry Students Follow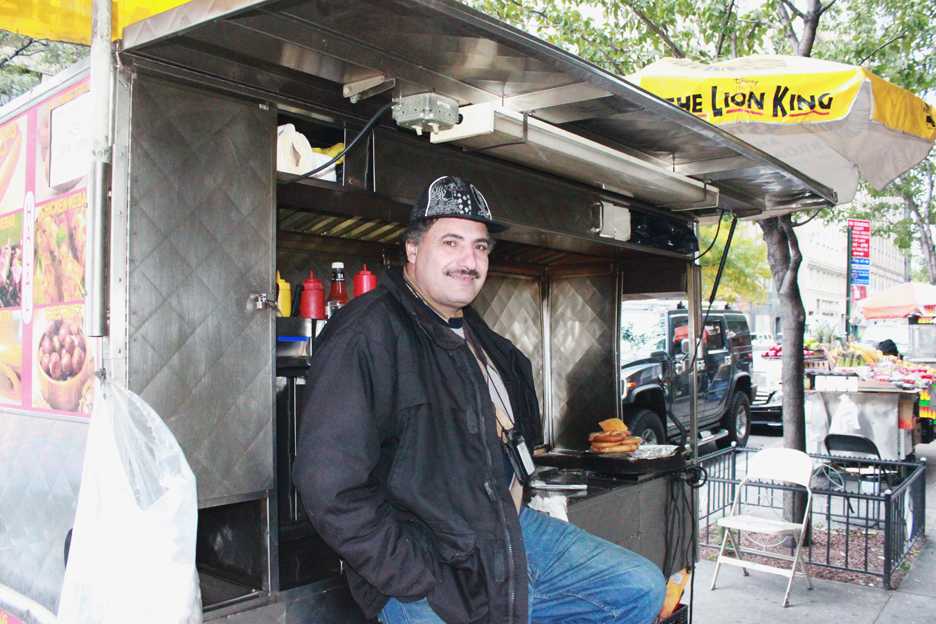 Published: October 22, 2009
It was a typical Friday afternoon in front of Lowenstein. Fordham College at Lincoln Center (FCLC) students gathered outside the building, enjoying the mild weather and reading, listening to music or chatting with friends. The one thing they did not appear to be doing was visiting the traditional hotdog and pretzel cart on the corner.
Meanwhile, the vendor at the Halal food cart on Broadway and 60th Street was busy filling orders from a line full of hungry people, both students and employees from the surrounding businesses. Just a few blocks away on West 58th Street, a gyro vendor was quickly taking orders from workers on their lunch break.
And they aren't the only ones cashing in on the hunger pains of the Upper West Side community. Food trucks have begun lining the streets near campus, part of a citywide trend toward restaurants going mobile. Now instead of only having the option of a hotdog or a  pretzel for lunch, students can get an entire, cheap meal on-the-go.
So how are FCLC students reacting to this influx of choice?
"I'd much rather spend my money on a full meal than on a pretzel," said Jenny Hirsch, FCLC '10.
"It's definitely better than the same old pretzel carts," said Heather Houlton, FCLC '11. "I like having affordable options."
"Any opportunity to get more for my money is great, especially as a college student," said Jess Bender, FCLC '11.
"I think having food trucks close by is really convenient," said Vanessa Le, FCLC '11. "I don't have much of a break between classes, and I like having the option of getting a meal and still making it in time for my next class."
It's obvious that students and New Yorkers in general are interested in this new mobile trend, as traditional street vendors have experienced a downturn in business. According to a cart vendor on the corner of West 55th Street and Ninth Avenue, "Business has been slow."
There may be a good reason for the decline in popularity of traditional food carts. For approximately the same price as a pretzel and a can of soda, students can purchase an entire meal at these new food trucks and carts. They serve a variety of dishes, from tacos and pizza to waffles and brownies.
The La Cense Beef Burger Truck is located on the streets of Midtown at 48th Street and Park Avenue, from 11 a.m. to 3 p.m. It serves 100 percent grass-fed burgers.
"I'd  choose this over a standard cheeseburger any day," said Martin Bucharowski, FCLC '10. "For seven dollars, I can have a meal made with better ingredients than at a restaurant."
Not in the mood for burgers? Super Tacos on West 96th Street and Broadway is open Monday to Friday from 6 p.m. to 2 a.m. and Saturday and Sunday from 12 p.m. to 2 a.m. The taco truck has a price range of one to six dollars.
Jiannetto's Pizza Truck, located on 47th Street and Madison Avenue in the afternoons, is widely known for its grandma-style slices. It also sells rice balls, subs and garlic knots. Prices range from two to seven dollars.
For dessert, Wafels & Dingels has made its name among young people in the city. With almost 4,000 followers on the social networking Web site Twitter, it draws crowds of customers on its rounds throughout the city, usually starting at 8 a.m. and ending at 10 p.m. Prices range from three dollars for a mini waffle to five dollars for a Brussels waffle.
"They have the best waffles," said Amie Shen, FCLC '12. "It's also convenient, cheap, and fast."
The Treats Truck offers an assortment of cookies for one dollar each. Chocolate chip, caramel and oatmeal are among the selections. Brownies are $2.50. The truck changes its schedule every week, but can usually be found at various places in the city from 12 p.m. to 6 p.m.
On Broadway and West 60th Street, students can purchase bagels and various baked goods at 5 Star Wagon for approximately one dollar each. A medium coffee is also just a dollar, making it a perfect stop for commuting students in need of a cheap wake-up.
Students appear to be enjoying the accessible options, which are only expected to grow as the trend catches on.
As Hirsch devoured a meal of falafel rice purchased at the cart on Broadway for five dollars, she put a thumb up in approval. "Pretty unbeatable," she said.