Extras, Extras! Read All About Them!
Student Extras In The Filming of "Wall Street 2" React To Working With Douglas, LaBeouf and Stone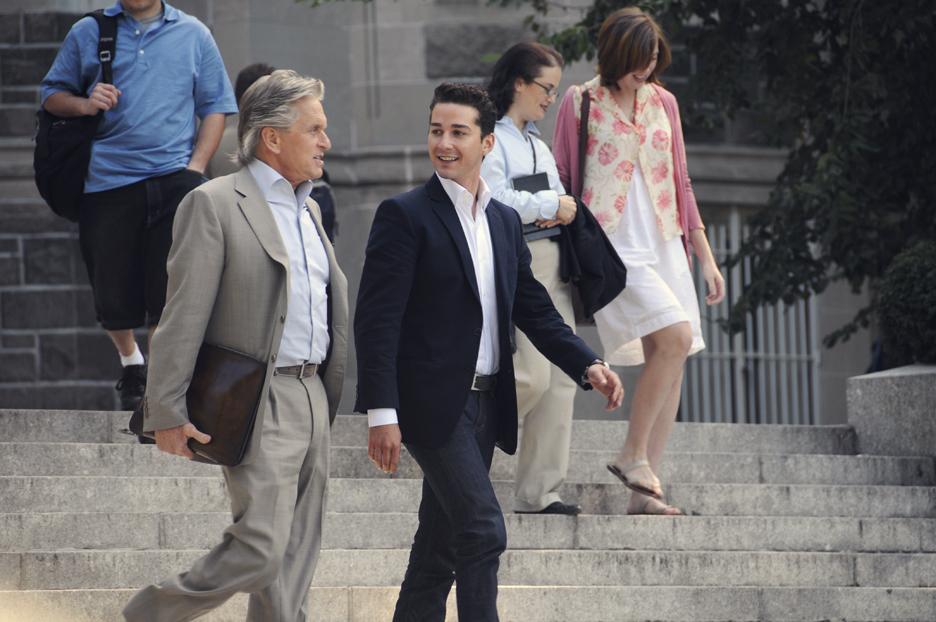 Published: October 22, 2009
Like many students, I paused to take a look at a "Want to be in 'Wall Street 2?'" flyer in the hallway before entering my classroom. Like many students, my heart answered the question with a clear and resounding, "Yes." Yes, I do want to be in a film with Michael Douglas, Shia LaBeouf, Susan Sarandon, Frank Langella, Carey Mulligan and Josh Brolin! Yes, I do want to be in a film directed by Oliver Stone about the power of money, the desire for revenge and the rebuilding of relationships!
I knew that this could be my big break into the world of film extras; soon, I would take the world of movie background acting by storm. I confidently e-mailed my information and picture to the casting company, while visions of sugar plums and a late night phone call from Oliver Stone himself, asking me to take over Shia LaBeouf's role, danced in my head.
It seems that at some point in our relationship, the casting company and I grew apart; correspondence between us seemed very one-sided and there was a lack of communication on the casting crew's part. I received no e-mails. I received no phone calls. I was not chosen. I was, however, granted an audience with some of the chosen, and I asked them many questions and lived vicariously through them.
Colleen Thornhill, FCLC '12, was one of those chosen to participate in the filming of Wall Street 2 on Oct. 10. She, along with at least 250 other extras (no more than 50 of whom were Lincoln Center students and no more than zero of whom were me), was part of a lecture scene in Rose Hill's Keating Hall, in which financial tycoon Gordon Gekko (Michael Douglas) delivers a speech about "the economy and how the U.S. has screwed it up," Thornhill said.
Mike Ciuni, FCLC '12, and Peter Muller, FCLC '10, were also chosen instead of me. And they're not that much better-looking than I am. Thornhill, Ciuni and Muller were told to bring backpacks, wear summery clothes and show up at Keating Hall in the morning. They spent most of the morning in the holding tent in the parking lot. "The first six hours were pretty much a break. They had fruit and granola bars for us. Then from 1:30 to 2:30 p.m., we had a really nice lunch," Thornhill said.
All three of the chosen were impressed by the lunch. According to Muller, "The lunch was actually really good—different salads, different vegetables, a rice dish, chicken, fish and really nice desserts like huge brownies and cakes." However, there is no such thing as a free lunch. Ciuni said that the hour from lunch was taken out of their paychecks, which came out to $101.50 for 12 hours of work.
Filming began at 3 p.m. The students were ushered into seats and given instructions about how to react to Gekko's speech. "They told us to act how we would when listening to a lecture. I was tempted to pretend to fall asleep, because sometimes that's how I listen to lectures," Ciuni said. Did they seriously pick this guy over me?
There seemed to be a particular emphasis on laughter. According to Thornhill, the film crew would say things like, "We want you guys to laugh a little more here; you know, a little chuckle. He hasn't drawn you in just yet, but he's starting to." Ciuni thought the laughter seemed very forced—at one point they were told to laugh louder and more intensely, and he felt that the jokes in the speech were undeserving of such laughter. Hopefully, this awkwardness will not appear on the big screen when the film is released next April. Hopefully, Gekko's line about how the U.S. has ruined the economy will not be followed by loud intense laughter.
In addition to being in a scene with Douglas, the chosen were on set with LaBeouf and Stone. Thornhill and I had a brief conversation about LaBeouf and Stone:
Thornhill: "Shia walked by me three times. He took a lot of smoking breaks. He looked really good, too. Oliver Stone also walked past me."
Me: "I'm assuming Stone didn't look quite as good."
Thornhill: "No, he didn't. He was wearing designer jeans and a necklace, though."
Besides being stylish, Ciuni said that Stone seemed to be pretty relaxed about the scene, and let it play out on its own. He did go whisper something to Douglas a couple times, though, when Douglas was having trouble with a particular line. "Michael Douglas has always been a very in-charge, slick kind of guy. It was awkward to catch him in a moment of weakness," Ciuni said.
LaBeouf was just another member of the lecture audience, and Muller sat two rows in front of him. "I was within range of his conversation, and he was just joking around and having a good time. People would turn around and just jump into the conversation," Muller said.
None of the chosen were sure if Keating Hall was going to actually be recognized as Keating Hall of Fordham University in the film or if it was just going to be used as a generic lecture hall. "One of the extras was clearly wearing a Fordham shirt, but then again, there was also someone wearing a Texas Tech shirt," Muller said.
Muller is likely to get some screen time; he was one of about 15 extras who were told to give Gekko a standing ovation. Like me, Muller is just a man with a dream. He agreed that this could be his big break, and he stated that he was definitely looking to make an appearance in "Wall Street 3." You heard it here first, folks.