NYC Eats: Community Food and Juice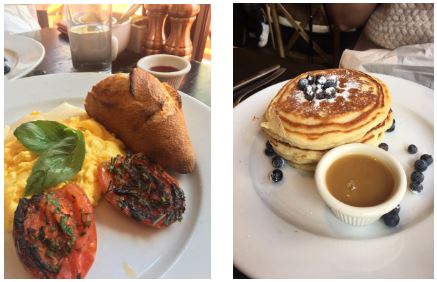 Community Food and Juice is a spot that any brunch-loving New Yorker needs to check out. While it may be a bit of a trek on the subway to get up to West 113th and Broadway where the restaurant is located, it was definitely worth it.
The restaurant was up near Columbia University, so there were a lot of other students hungry for brunch as well. The walls were filled with pictures of fresh fruit and vegetables, which goes along with the healthy, organic items on the menu. Even getting something like the waffles feels healthier than just your typical waffles. The waffles at Community Foods and Juice are called "7 Grain Waffles" and come with whipped cream made with coconut milk. It is nice to know that all of the dishes are made to be as healthy as possible and that everything is homemade! Even though the food is all healthy and organic, it is still affordable.
When we finally ordered I was in a savory mood, so I decided to get the Farmer's Plate, which comes with scrambled eggs, cheddar cheese, roasted tomatoes and a french baguette. My friend got the blueberry pancakes, so I was excited to get to try a couple of different things. We also got a side of bacon because brunch just feels so wrong without it!
The food came pretty quickly, and it looked just as good as it tasted! The eggs were fluffy and cooked just the way I like them, and the combination of the eggs and cheddar cheese was amazing. The french baguette was a nice touch, I asked for some jam for it and they brought me house-made raspberry jam that was just delicious. The best part of my meal was surprisingly the tomatoes. I am definitely not a tomato lover, but I will eat them on occasion. The roasted tomatoes that came on my plate were roasted perfectly. They were sweet and tasted delicious with the eggs, cheese and the bread.
The pancakes were out of this world and possibly the best pancakes I have ever had! They were so thick, fluffy and buttery, and they came with a side of maple butter which only made them better. I asked my roommate Maura what she thought about the pancakes and she told me they were "the fluffiest pancakes I've ever had!" Pair these sweet pancakes with the crispy bacon and you have a match made in heaven!
Community Food and Juice is definitely somewhere that I will be returning to. They have so many different options just for brunch alone, and I am sure that their lunch and dinner options are just great as well. There is really something for everyone here, and no matter what you get I am sure you won't be disappointed!