Dhani Harrison: Not "Another John Doe"
thenewno2's Lead Guitarist/Vocalist Talks About Wolfmother Tour, Stickam and His Bicycle Gang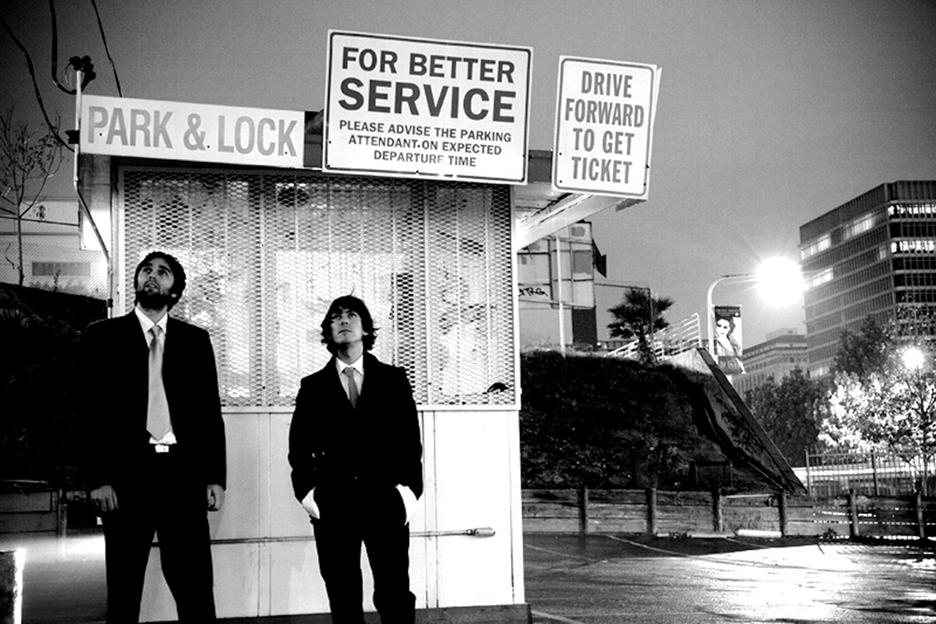 Published: October 22, 2009
Despite his lineage, the "Do-It-Yourself" approach to succeeding in the music industry has been the conscious choice of Dhani Harrison, vocalist and lead guitarist of electro-rock band thenewno2. thenewno2 (pronounced "The New Number Two"), whose name is a reference to the 1960s British television show, "The Prisoner," released their first full-length album, "You Are Here," in August of 2008 after 2006's EP001. Currently, the band is preparing for a tour that will stop at Terminal 5 on Nov. 8.
Since the release of "You Are Here," the band has performed on "Late Night With Conan O'Brien," had two songs featured on Rock Band 2 and been lauded in numerous music magazines.
From his band's still-under-construction studio in California, Harrison spoke to The Observer about thenewno2's upcoming tour with Wolfmother and their commitment to remaining in charge of their creative musical philosophy.
Observer: To start off, how's the preparation for the tour going so far?
DH: Oh, it's been good. We've got a new rhythm section for this tour. We've got Nick Fyffe on bass, [who] used to play for Jamiroquai, and Frank Zummo, who just came off tour with Motley Crue. So they're more of a powerhouse kind of rhythm section. We're also in the process of building a studio and getting ready for this Web site launch we're doing, which is a sort of online, live videos-streaming, community-based Web site for our band. It's kind of like if you crossed iChat with Facebook. You'll be able to watch rehearsals. So we've been working our asses off trying to prepare for this kind of pirates-y tour and then just getting ready for all of the content coming with it.
Observer: How did it actually happen that you'd be opening for Wolfmother?
DH: Just through normal channels. We'd been offered The Killers at some point earlier in the year, which we couldn't do, and then we were going to go on tour with Glasvegas, but that fell through.  Eventually, we found the right tour for us, which we put together with Wolfmother, so we have to put out our best rock side since we're going on tour with them.
Observer: The last time you guys were in New York in February, you played Union Hall and Mercury Lounge. Do you think you'll have to adjust at all from playing these smaller venues to a larger one like Terminal 5?
DH: No, I'm looking forward to that. I mean, it's actually harder for us to fit in a smaller area. The Brooklyn Union Hall show was so much fun, but the size of the stage really doesn't do wonders for the amount of equipment that we put on [it].  It kind of fits better to have a bigger stage.
Observer: Do you think that there are going to be any challenges without having Oli Hecks and Jason Hiller on this tour?
DH: First of all, it's weird not having Oli and Jason because they are so close and we've all been playing together for so long now. But basically, this band changed so many times since the first version of it, and Nick [Fyffe] played on the record [as] our bass player.  He's kind of a returning member. It's always challenging… every different setup has its strengths and weaknesses. I feel that for this tour, this is gonna be the strongest set up we can put out. It'll become more apparent where we're lacking or exceeding once we've done a few shows, but I think, even though we'll be missing the guys on the road, we'll be able to deal with it the way need to.
Observer: thenewno2 has seemingly accomplished a lot in a short amount of time. In less than a year, you've released your album, had two songs on Rock Band, toured, performed on Conan, played huge music festivals and been featured in a number of magazines.  Do you feel that you face certain challenges as your band gains more notoriety?
DH: This year has been a very busy, quick year, but we did a lot of preparation in the two years leading up to this year, and that's what I think allowed us to survive and come out of it stronger. Now that we've got our own home base—we just built a studio—I think it's going to become a lot less hectic and this is when we're going to start turning out a lot more work.  Rather than doing all these little things that get you into the position where you can work and be noticed, I'd rather be in the studio making more and more records.  It's gonna shift away from the media and everything… we'll go back to being secret newno2 musicians and hopefully come up with some great new content.
Observer: Is there anything with the new record that you're experimenting with or a new direction with the music?
DH: I'd like to try and work with some of the Wu Tang [Clan] again.  That was really, really fun, and those guys are just crazy and really talented.  There's a couple tracks that I'd done with RZA that never got released that I was looking to hope get finished and maybe put out an EP. You know, some collaborations and a couple of girl singers and some people from Iceland that we've been working with… kind of some of the stranger, more fun things we could be doing. I'm into making as much weird stuff as possible.
Observer: I really think that thenewno2 is a great example of this generation's "Do-It-Yourself" type of band.  What do you think are the pluses of marketing yourself by yourself?
DH: You're right, we kind of took it one step at a time and then we'd go a bit further, go a bit further, until we realized that we'd kind of done it all ourselves and that there's no point giving it up at any point. I get to be the boss of myself, and I get to just say, uh, "Which song do I want to release as a single?" We had "Yomp" as the single. Some people from a record company go, "No, you have to have this song as the single" or "You have to do a video this way." We get to do whatever we want. Doing it yourself and your way is a very important thing. People can make laptop albums and you can do videos, and there's CGI, and whatever we want, we can do. You're really only as good as your concept, so if you've got someone washing it down then it's not going to be as good as if you just go and lock yourself in a room with a bunch of crazy people for a year and see what happens.
Observer: You've really utilized the Internet a lot to reach out to fans, particularly through the use of Stickam and your MySpace's 'Fan Art' album. Why do you feel it's so important to forge that online relationship with the people who follow your music?
DH: The Stickam thing that we're about to launch is gonna be even better. We're launching an online community and the people are going to be able to contribute in a whole new way.  It does give us a chance to have feedback. People have been very sweet online, and we're loyal to our fans. I like to hear what people have to say because people have been so supportive of this "Do-It-Yourself" kind of project. The media often gets it confused because of my father and things, but the true fans from the Internet really get the point.
Observer: I watched most of the shows last September when you were having your residency at the Key Club.  Do you think you're going to be showcasing more concerts online?
DH: It's going to be like that except with better audio. We just had board mixes. We have a studio here now and we're going to be [working] with HD cameras and doing shows from. Now, the sound you're going to get from there is going to be a lot better because we'll have a chance to live mix it. And it's all in HD now. So it's going to be better for the user, now that everything's been upgraded.
Observer: You guys came out with quite an impressive and excellent video for "Yomp." Was it you and your bandmates that came up with the concept or was it mostly Adria Petty's idea?
DH: It was actually my idea when we were sitting in a Mexican restaurant. It's just this Mexican restaurant I go to everyday. I was honestly practically living there, and we were looking at some of the Day of the Dead things. Adria Petty and John Gutierrez and I have a bicycle gang so, whilst riding our bikes, we'd be discussing all these ideas for videos, and she was working on Anjulie and Beyonce and all this stuff, so I said one day, "Why don't we do a Day of the Dead video where we just get dressed up as skeletons?" And then, by pure coincidence, my girlfriend had a friend called Andrea Helgadottir who's this amazing makeup artist.  She did all the makeup for those incredible Bjork videos, [like] the one where she's got all the mirrors stuck on her face. Basically, she's been Bjork's makeup artist for 20 or 15 years, and she was staying, so she said, "Why don't I just paint you guys like skeletons?" We actually got the idea, put it together, and shot it in three days, and then we shot it in Adria's back lot… it was a very improv kind of idea.
Observer:What does thenewno2 plan on doing next?
DH: Next record, next level I guess. Just keep doing it, do it better. I'd like to look for some movies to score and try to start working on a soundtrack.
Observer: Are there any soundtracks or scores in which you might find some influence?
DH: Jon Sadoff, who's in the band on keyboards, writes soundtracks. He scores movies, so he is extremely steeped out on the soundtrack [idea]. I'm a big fan of Yo Yo Ma. My favorite soundtrack I think of all time is the "Crouching Tiger Hidden Dragon" soundtrack which is just this really, really sad cello music, but I also love "American Beauty." The song "People" was written after listening to that "American Beauty" soundtrack with all the piano intros and stuff. That kind of took a direct influence from that.
Observer: Since you'll be traveling around the nation a lot while you're touring, do you think that Wilson [the broom your band has nicknamed and propped on-stage during shows] will make the cut through airport security?
DH: Wilson? Well, I think we're bussing it so I don't know if Wilson's gonna make it. We kind of retired Wilson because we have this policy which is, "Jeff Lynne, No Broom" or "Broom, No Jeff Lynne." And uh, Jeff started turning up to a lot of our shows, and broom and Jeff Lynne make for a bad show. Jeff Lynne, no broom. That's our policy now. He's already on the tour bus. So he'll be there. In part.
O: Thank you for taking the time to talk to us today. We're looking forward to seeing thenewno2, even without Wilson, next month at Terminal 5.
DH: We can't wait. Come check us out and we'll try and bring the noise.